LITERATURE
»
Full Dark, No Stars
- Stephen King's new novella questions mankind's ability to trust others.
[02.21.2011 by Bridget Doyle]
MUSIC
»
The Top 30 Albums of 2010
- Fashionably, fabulously late, our favorite music (and believe me, there was a LOT) of 2010, the year that some have called the best year for music ever. And only some of those fools work here. Plenty of usual suspects, lots of ties and a few surprises that I won't spoil, including our unexpected #1.
[12.24.2010 by The LAS Staff]
Richard Florida
Who's Your City?
Basic Books
?
August 15, 2008
What matters most to you: wealth, happiness, friends, family, work? However you rank those options, new research by celebrity academic Richard Florida argues that you've got it all wrong. In his most recent book,
Who's Your City?
, Florida posits the novel, although not entirely pioneering (see work from the late Jane Jacobs) theory that place matters more than anything, as it serves as the gateway for most of our desires. In fact, it is place that will lead to the realization of those other desires; your dream job or dream partner can't be found just anywhere. Additionally, Florida argues, place not only provides the context in which ideal mate/friend choices can be made and economic opportunities lead to thriving professional lives, but influences happiness levels as well. This psychological aspect to Florida's research is certainly welcoming, and adds a whole new dimension to his influential research.
In
Who's Your City?
Florida champions a social theory contrary to that of best-selling author Thomas Friedman (see
The World is Flat
), illustrating that the world is not flat, but spiky. For those unfamiliar with the competing theories, in a simplified overview Friedman states that through the influence of globalization (and especially the Internet) almost anyone in any location can compete in the global market. The importance of place, Friedman argues, is on the whole becoming increasingly obsolete. Florida, on the other hand, postulates that the world is far from "flat" and that cities and emerging mega-regions drive the world economy through what he terms the "creative economy." Thus, although the Internet may connect people to a much higher degree than before, particular areas of the world still attract the most influential talent. Both theories are certainly compelling, and offer policymakers, academics and job-seekers a litany of indicators as to where the global economy may be headed. When viewing one of the much-cited composite satellite images of the world at night, however, it is hard to argue with Florida's theory. All of the world's major economic and creative centers can be easily identified from space.
For those unfamiliar with Richard Florida, the so-called "creative class" - essentially those workers not in the manufacturing, agriculture, or service sectors - is an important foundational concept. Jobs in the creative class encompass the approach to most abstract and difficult problems, decisions, and resolutions, and they include not only the more traditional creative fields such as art and music, but also the more subtly creative fields in which journalists, investment bankers, and marketing consultants operate. While Florida may categorize many of these jobs as "creative," he also champions the idea that each and every person is in some way a creative type, and in turn can impact or change their employment situation for the better through a number of different avenues. It is this freedom of alteration that leads Florida to believe that the creative class is currently pioneering the global economy, and the author states his case with substantiating data provided in
Who's Your City?
, and in his two previous works,
The Rise of the Creative Class
and
The Flight of the Creative Class
.
In our post-industrial world, the creative economy is certainly expanding rapidly. Florida cites figures showing that in 2006 31-percent of workers were members of the creative class, while 45.7-percent were employed in the service sector, and 23.1-percent in manufacturing. However, the percentage of total wages paid showed a substantial incongruity with the populations engaged in each industry: the creative class garnered 49.8-percent, the service sector 30.6-percent, and the manufacturing sector 19.6-percent. From Florida's projections, the only sector predicted to have positive growth over the next decade will be the creative wing, while agriculture, service and manufacturing jobs will all be in decline. The creative sector, like its industrial counterpart, is also clearly concentrated in certain areas, especially within the United States. Not surprisingly, these concentrations of creative capital are remarkably similar to the mega-regions - areas of the world in which a staggering amount of economic activity originates - that Florida champions throughout in his book.
Though his entire premise is based on the benefit of these mega-regions, the uneven dispersion of talent does have Florida worried. He points out that 27-percent of the US population has attained a college degree yet, even with the increase in education levels over the last few decades, the spread of these graduates doesn't apply evenly throughout country. Regions such as San Francisco and Washington DC perform well; in both cities nearly half of their residents have college degrees. However, other areas, like Cleveland (4-percent) and Detroit (11-percent), perform extremely poorly. These statistics, like the night-time satellite composite, provide substantial evidence to bolster Florida's theory that some places are better at attracting creative talent than others. As a result, the United States is likely headed for staggering increases in inequality rates for various regions, in terms of economic activity and opportunity. Throughout the text Florida does an admirable job of pointing out these discrepancies, but he fails to expand on the inequalities in the same manner as in his previous works on the creative class. In the end
Who's Your City?
appears to be directed more at individuals than regions, cities and/or businesses.
Along with establishing place as perhaps the most important consideration for the development of adult life, throughout the book Florida also hammers home the concept of the mega-region, where creative jobs flourish. Many of these mega-regions have economies that rival most nations. The State of California, in which Florida distinguishes two mega-regions, has long ranked in the top ten largest economies on the planet, outpacing the entire national GDP of both Canada and Russia, members of the G8. More interestingly is the fact that the Tokyo and Bos-Wash (Boston to Washington DC, including New York) mega-regions each produce over $2-trillion in economic output every year, and if counted as individual states would be the third and fourth largest economies in the world. There are also four other megas that produce over $1-trillion a year: Chi-Pitts (Chicago to Pittsburgh, $1.6-trillion), Am-Brus-Twerp ($1.5 trillion) in Europe's low countries, Japan's Osaka-Nagoya ($1.4 trillion) and greater London ($1.2 trillion). These megas don't just produce an astonishing level of activity, they drive the global economy. This unquestionable distribution of jobs, wealth, and ideas between a limited number of geographical areas are what prompts the world to spike in the way that Florida describes:
.:
The spikiest, most innovative centers in the United States are California's Silicon Valley and North Carolina's "research triangle" near Durham, Raleigh, and Chapel Hill. However, these places also boast the nation's highest levels of inequality as well.
.:
The top 40 mega-regions are home to 1.5 billion people, or 23-percent of the global population.
.:
The world's ten largest megas produce 43-percent of the world's economic activity, 57-percent of patented innovations, and 53-percent of the most cited scientists.
For all of its fresh-faced insight into the dynamics of global creativity and production, one of
Who's Your City?
's major sticking points is the nature in which Florida constructs his mega-regions. Why are some cities and regions included within a mega while and others are not? The concoction of some megas seems extremely selective, and some cities/regions seem to be included for "research" purposes while others are shut out of the equation completely. For example, the divide between some of the regions becomes arbitrary when analyzing Florida's map of North American megas. The Tor-Buff-Chester region dovetails with the Bos-Was mega, which itself stretches so far South that it could easily interact with the Char-Lanta mega as well. The Chi-Pitts mega looks like a mangled spider web stretching from Minnesota nearly to the Atlantic Ocean, while the so-called Southern Florida mega is primarily located in mid-to-Northern Florida.
The European megas seem even more arbitrary. From a quick look at Florida's map, the Rom-Mil-Tur mega seems to encapsulate the whole of Italy. Lon-Led-Chester almost spans all of England, while the Prague mega stretches into Germany and a bit of Poland as well. Additionally, the Barce-Lyon mega does include Barcelona and Lyon, but also includes most all of the eastern coast of Spain, and the whole southern coast of France, while extending into central France as well. The issue is not that Florida hasn't accumulated plenty of data when researching the distribution of the creative class, but rather that the inclusion/exclusion aspects of the boundaries for the subsequent mega-regions are never thoroughly explained.
One of the most interesting and relevant aspects of
Who's Your City?
is the interdisciplinary nature of Richard Florida's research. In the latter half of the text he includes results from a survey, conducted in conjunction with the Gallup organization, polling a cross section of adults regarding place and happiness. The results of Florida's study have left psychologists somewhat stunned, as an economist has finally handed them an olive branch and, at the same time, also realized that psychological research has widespread implications in the world of economics. Interdisciplinary research has taken hold of the academic community in the past decade as more and more researchers attempt to explain their findings through not only their primary disciplines, but auxiliary fields as well. Hopefully this is not some ephemeral phenomenon in academia. If
Who's Your City?
is any indication, it won't be; Florida has finally found a supplementary feature that will expand his audience and in turn make his groundbreaking research relevant to much larger segments of the population.
In researching the background of his theories, Florida and the Gallup organization performed one of the largest (if not
the
largest) studies ever on the relationship between place and happiness. Throughout the relevant literature on happiness, Florida considers place the "missing link" in the chain of determinative factors. In fact, he believes place forms the third part of the triangle of well-being, along with personal relationships and work. In perhaps the main finding of the study, Florida found that place is
more
important to happiness than either income or the level of education a person has attained. Some other interesting findings from the survey include:
.:
Income only has a relatively small effect on how happy people are with their communities.
.:
Older people, for the most part, are happier with their communities than younger people.
.:
Renters were more satisfied with their communities than homeowners.
.:
Married couples are happier than singles with the place they live.
.:
People are much more concerned with economic security than physical security in regard to overall community happiness.
One of the findings that Florida's research most strikingly accentuates is that, on the whole, people are happy with where they have chosen to live. Citing such findings, tha author goes on to suggest that whether it be conscious or not, we tend to seek out places that fit our psychological needs. While our choices of place may satisfy our desires, however, those choices may not always be the most positive outcomes for the communities themselves, as certain regions can as a result become increasingly homogenous over time. Some revealing patterns from Florida's research show that different regions tend to have their own personalities which, given the indications of the survey, may be more rooted in people than place. For example, the American Deep South is largely filled with extroverted, agreeable and conscientious people. The Northeast has the largest concentration of neurotic people, and a good portion of those "open to experience" as well. "Open to experience" is a personality trait also concentrated along the West Coast, and in Colorado, Southeast Texas and Southern Florida. Sure, you all different types of people can be found in locations all over the United States, but, as Florida points out, regions take on distinctive personalities and many areas have larger concentrations of particular personalities than others.
While the cyclical relationship between personality and place is an interesting phenomenon, it is also a bit ominous. What happens when regions become increasingly distinct and homogenous over time? Answering this and other important questions is certainly beyond this writer's analysis, and in many regards also beyond Florida's book, which does a respectable job of presenting the phenomenon but can only scratch the surface of such complex issues. Being surrounded by people who share common interests, sense of community and lifestyle choices is desirable, but at what point does such a collective personality begin to exclude others who do not subscribe to the same interests or lifestyles? Creativity certainly thrives within and through diversity, not homogeneity.
The old adage by William Cowper, that "variety is the spice of life," addresses the potential pitfalls of communal homogeny nicely, but the other side of the issue is perhaps even more troubling: Florida's finding that areas which contain the most diversity and creativity tend to be the areas where the inhabitants possess decreased levels of social capital and community commitment. Thus, policy makers, businesses, and other leaders in these cities and regions have extremely difficult problems to address, those of which tend to have multi-layered and even more complex solutions.
Beyond the statistical findings, another impressive aspect of
Who's Your City
(and all of Florida's books, for that matter) is the author's writing style. One major problem in academia remains: the inability of most researchers and analysts to relate their work to the lay population. Academia is similar to Law in that to be able to understand how a system operates one must first understand the common principles and terminology used. One fundamental reason that many academics are not afforded a substantial amount of publicity and media interest is that they are often reluctant to break from their haughty vocabulary, and thus tend to alienate both journalists and the wider public. Florida, however, handles the transition from research to relation with ease and grace; he willingly decreases the academic jargon and replaces it with understandable, easy to read and intelligent writing. Taking this into consideration (listen up, academics), it's no wonder that Florida has multiple
New York Times
best-sellers to his credit.
In addition to the wealth of information on his creative class theories and the results of his place and happiness studies, Florida also provides categorical breakdowns of the best places for singles, married couples, and empty-nesters to consider settling. Once again the author is very thorough, as he breaks each of these down by large, medium and small regions, examining which places would be the best fit for each category. He also provides the same place information for gay and lesbian singles, couples and empty-nesters as well. Not content to simply number a list of overall rankings, Florida also lists places in each category that are "best buys" - those regions that tend to have the same amenities, but require less of a financial outlay. Whether you agree with his selection of places or not, the tables provide a decent starting point for those looking to relocate to a place that better fits their interests and lifestyle.
Before considering
Who's Your City?
, Florida's previous research had already factored in to my own life to a large extent. Several years shy of my 30th birthday, I've already made three major moves in my life. My first move was to college, where I trekked from Dallas, Texas to the University of Missouri, in Columbia. After my undergraduate studies I relocated again, to Washington, D.C., where I pursued my MA degree. This move was especially important to me, particularly because I attended George Mason University, where Florida taught at the time, and where I began to pay more attention to his work. My most recent move was across the pond to Stirling, Scotland, where I am currently pursuing my PhD in Law. All three moves were the result of a difficult decision making process, yet all of them worked out splendidly in the long run, mainly because of the opportunities and environment each place provided. Currently, I'm smack in the middle of the Glasgow-Edinburgh mega-region, and couldn't be happier, but the time to relocate will likely come again. One thing is certain: for the next move I make, I'll be consulting more of Florida's work beforehand.
VIDEO:
Author Richard Florida speaking as part of the
Authors@Google
series.
Reviewed by
Brian Christopher Jones
A student living in Scotland and working toward a PhD in law.
See other reviews by Brian Christopher Jones
If you'd like to help spread the word about LAS, or simply want to outfit yourself with some adhesive coolness, our 4" circle LAS stickers are sure to hit the spot, and here is how to get them:
-->
Send an with $2 in PayPal funds to cover postage. Don't worry, we'll load you up with enough to cover your town. Then just be patient. They will arrive soon.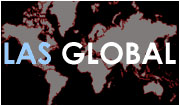 LAS has staff and freelance writers spread across North and South America, Europe, and a few in Southeast Asia as well. As such, we have no central mailing adress for unsolicited promotional material. If you are interested in having your project considered for coverage, please contact us before sending any promotional materials - save yourself time and postage!