LITERATURE
»
Full Dark, No Stars
- Stephen King's new novella questions mankind's ability to trust others.
[02.21.2011 by Bridget Doyle]
MUSIC
»
The Top 30 Albums of 2010
- Fashionably, fabulously late, our favorite music (and believe me, there was a LOT) of 2010, the year that some have called the best year for music ever. And only some of those fools work here. Plenty of usual suspects, lots of ties and a few surprises that I won't spoil, including our unexpected #1.
[12.24.2010 by The LAS Staff]
LOSTATSEA.NET
>
FEATURES
>
October 23, 2009
---
---
Holy shit, 2010 is just around the corner. As far as music goes, the past ten years have been pretty stellar, in more ways than can be addressed in a few paragraphs or even a 50-album list. I'd considered writing a piece slagging previous decades for their shortcomings, for all the times the record industry co-opted a style of music only to drive it into the ground so that another generation could resurrect it and start the cycle all over again. But why bother? If the past ten years have taught us anything, it is that the music industry that ushered popular music into the modern era has now been left, like a crotchety old father giving his daughter away at the altar, to die an undignified, grumbling death. Metallica shit a brick over file sharing ten years ago, and the RIAA is still yelling at kids to get off their copyrighted lawn.

While it will always be branded as the plague that killed the majors--and it was--technology didn't revolutionize popular music with peer-to-peer swapping alone. More than anything the dissemination of musical ideas online, both through illegal downloads and the explosion of DIY resources, is what has brought us to where we are today. Eleven of my (admittedly somewhat arbitrary) Top 25 albums of the past decade were released in the first two years, only five of them since 2005. The odd thing is, the past few years have, in terms of quantity of quality music, far eclipsed those first few. Year-end lists are getting harder to make because there isn't just more music, there is more good music. Not only are there more creative and genre-defying releases than ever, they are also easier to find, enjoy, and take inspiration from. Today if someone doesn't like what they're hearing on the radio they can not only make their own music, they can release it and score a marketing deal with Apple, all without leaving their parents' basement.

There has been a massive amount of global upheaval in the past decade, most of it far more impacting than the post-major success of Spoon and Wilco. But music matters a great deal to a great many people, and the sonic landscape of today is almost unrecognizable compared to what it once was. In the past ten years we've seen the impact of technology everywhere, from Napster to Myspace to Pitchfork to Auto-Tune. We've seen a mash-up with the old industry model (EMI & The Beatles) meeting the new one (Roc-A-Fella & Jay-Z) head-to-head. We saw our friends' bands go from playing on the weekends and waiting tables during the week to touring the world and making house payments with the profits. We saw the rise of ringtones and Guitar Hero. We saw Radiohead's name-your-price experiment. We saw the legitimate proliferation of the "post-" prefix to the point of irrelevance. We saw Janet Jackson's breast and Michael Jackson's funeral. It's been a weird ride. We can still point to the era of Hendrix and the Fab Four as the birth of modern music, but the last ten years have been nothing short of a rebirth, and it was fantastic. Let's hope the next decade is as remarkable as this one has been. -- Eric J Herboth
[Monday, 19 October 2009]
---
---
50. Sigur Rós - takk… (Geffen, 2005)
[
website
]
Music doesn't get much better than this. That's the point of this list, right? If I ever want to hear music that is truly going to inspire me to do something worthwhile, I listen to
takk…
. After having perfecting their imaginative sound on the previous, well-lauded albums
Ágætis Byrjun
and
( )
,
takk…
combines the best of the Sigur Rós' compositional and experimental impulses, and even some rock ones. Already known for their mastery of peaceful, melodic harmonies, this contemporary symphony infuses twice as much dynamism throughout than anything the band had done before. The surprisingly axe-slashing "Glósóli" and drum-battering "Sæglópur" are two examples of the band's growth, incorporating early light elements and then simply
mutating
. But ethereal and airy tracks such as "Hoppípolla," "Sé Lest, Mílanó" and "Andvari" are perfect foils to buoy all the shifts in dynamic range but still manage to hold their own as more traditional highlights of the band's rich catalogue. Perhaps the most astounding thing to non-Icelandic natives here, is that the group has made people fall in love with things they can't even decipher, a monumental achievement for an avant-leaning band in a song-by-song age that's led around by ringtone-sized hooks. The title
takk…
, means 'thanks'; but it is surely listeners who should be thanking Sigur Rós for delivering such a fulfilling monster. -- Brian Christopher Jones
---

49. Deftones - White Pony (Maverick, 2000)
[
website
]
Though unfairly lumped in with the lunkhead nu-metal movement from the get-go, Deftones blew themselves out of the muck with
White Pony
. The Sacramento band combed through an array of influences previously unknown to metal, from Cocteau Twins to Depeche Mode in addition to the usual hardcore, in turn distilling a record that earned them "thinking man's metal" kudos. In between the disjointed, razor-sharp guitar chugs of "Feteciera" and the closing atmospheric gurgles of "Pink Maggit," the moody five-piece served up pastiches from the tender, wholly electronic "Teenager" to the sinister "Passenger" (which actually found a use for lead Tool Maynard James Keenan), to the rather bombastic centerpiece (and surprising radio staple) "Change (In the House of Flies)." Singer Chino Moreno (who possesses one of the most versatile vocal spectra in rock this side of Mike Patton) and his bare-knuckled cohorts gave everything they knew to
White Pony
, which may explain why they've sadly failed to recapture its genius since. -- Kiran Aditham
---
48. Beirut - Gulag Orkestar (Ba Da Bing!, 2006)
[
website
]
Sometimes I wonder if all of this nouveau-world music insurgence of the past few years has been a dream. Listening to
Gulag Orkestar
certainly doesn't do much to dispel the notion of a dream-state; from the somber opening trumpet serenade of the title track through to the distorted echoes of "After the Curtain," the album resonates like the half-imagined soundtrack to some half-recollected dream. Perhaps it's a side-effect of globalization and the dilution of regionality's flavorful expression that makes Beirut's partially removed and exotic-yet-still-Euro-American sound so tantalizing (and there's no escaping "Balkanization" as a descriptive term when it comes to this album), or maybe it is the Neutral Milk Hotel-ish familiarity of Zach Condon's accordion-and-brass-led stompers. But whatever the impetus,
Gulag Orkestar
possesses the warm, inviting familiarity and distant longing of a previous life only half-lived.
Yet for all of its instrumental flavor,
Gulag Orkestar
is as infectious as any pop album of the last ten years, a surprising accomplishment for an album as tight as anything a fresh-off-the-boat Eastern Bloc artist might have stitched together. When Condon does accent his flatly-mixed, gypsyesque marches with vocal tracks, his gymnastic voice dilutes and flows into the cracks between instruments as if the music was coming full circle and he himself were being played like a piece of dented but finely-tuned post-war brass. One of the most surprisingly transcendent compositions of the past decade,
Gulag Orkestar
has the privileged distinction of being an immediately realized construction that, at the same time, doesn't need to continually reveal itself to always feel fresh and invigorating. -- Eric J Herboth
---

47. The Avalanches - Since I Left You (Modular, 2001)
[
website
]
No matter how original or creative the idea, it's probably been done before, and while this may deter plenty of would-be musicians, the concept of using the vast array of already-created music was these Aussies' source of inspiration: several thousand samples were used to make this album, which features snippets of everybody from Madonna to Raekwon. Sample-based music this good can't be legal, and in the Avalanches' case, it wasn't. Despite very few of these samples having the proper permission,
Since I Left You
managed to surface, so much that it's now rightfully considered an electronic/dance cornerstone. -- JJ Lang
---

46. The National - Alligator (Beggars Banquet, 2005)
[
website
]
Like many esteemed songwriters, the National's Matt Berninger painstakingly documents the minutiae of existence. He traffics in lost love, bruised egos, empty sex, et al., and the result is life's nitty-grit, polished with poetry and sparkling reverb. His booming baritone, in the mode of Cash and Cohen, is a wellspring of worn wisdom. He's beautifully backed by the brothers Dessner and Devendorf, ensuring the National have nary written a weak song since.
Alligator
reveals itself as their most cohesive collection, showing a fortitude and confidence rarely seen in music this forlorn. To wit, Berninger won't gracefully disappear in a room, and may well end up being carried on the arms of cheerleaders. -- Ari Shapiro
---

45. Grandaddy - The Sophtware Slump (V2, 2000)
[
website
]
Is it just me, or does a lot of the music that defined the last decade touch upon--if not in direct themes, then metaphorical ones--the digital dawn of the 2000s? Perhaps it is just nostalgia, but there is something about those early decade albums that perfectly represents the blending of humankind's traditional pace of discovery with the anxiousness of the Tivo'd data blips of today's pixelated containment. "Adrift again 2000 man," begins
The Sophtware Slump
, a perfectly concise implication of detachment to kick-start a record that landed square at the beginning of the Aughts, at a point when technophobia, mesh John Deere hats, skateboarding, and John Cusack in
High Fidelity
all converged at the peak of popular culture. The fit was perfect. Grandaddy's songs--all stoic and referential, jubilant and noisy, sampled and looped, strummed and distorted--brought sleepy, bearded folksiness to the door of blissed-out Californian pop, using a can of rusty nails and some fiber-optic cable to tie it all together. With the help of some sad, drunken robots. -- Eric J Herboth
---

44. Clap Your Hands Say Yeah - Clap Your Hands Say Yeah (self-released, 2005)
[
website
]
This is the little self-produced, -released, -promoted and -distributed band that could, and you've heard the story if you're reading this list. Impact of good music, et cetera. There is no easy way of categorizing CYHSY, whose sound is so prismatic that one glimpses Neutral Milk Hotel, Talking Heads, New Order, Joy Division...even Dylan to these ears in places. Alec Ounsworth's voice, even though quite peculiar and oddly pitched, isn't a labor to enjoy on these surprisingly easy tunes. Instrumentation is perfectly ad hoc, in equal measures quirk and craft. Overhype notwithstanding, this Internet-sold debut lived up to expectations, despite being just a great indie-rock album and nothing more. Maybe it isn't a groundbreaking one, but it shows good music can go a long way towards other feats than originality. Even if it's self-produced, -released, -promoted and -distributed. -- Adrian Perez
---
43. Primal Scream - XTRMNTR (Astralwerks, 2000)
[
website
]
Long validated in the UK, Primal Scream has mostly been a band of two extremes: one that can put out a lush, psych-dance macrocosm like
Screamadelica
, then quickly retreat to its Stones-jacking garage roots with iffy results. While the musical hopscotch has been maddening to say the least, it was 2000's pivotal
XTRMNTR
where Bobby Gillespie & crew left the drug-fueled haze and retro riffing in the dust for sheer hypersonic aggression. From the opening salvo of "Kill All Hippies," a spy theme knockoff anchored by a processed trip-hop beat and Gillespie crooning, "You got the money/ I got the soul/ Can't be bought/ Cant be owned," it's obvious Primal Scream is enjoying the opportunity to pretend they're a different band, complete with rewritten rhetoric, like if the Sex Pistols made a
Sgt. Pepper's
. From this political-scare bent, the band's musical prowess emerged along with the cheeky personas. With Stone Roses alum Mani onboard for bass, the Scream was able to balance an obvious dancefloor target like "Swastika Eyes" (in two versions!) with the epic, freeform "MBV Arkestra" and never fall of the rails--proving chaos, revolt and ingenuity can be truly harmonious. -- Kiran Aditham
---
42. Sleater-Kinney - One Beat (Kill Rock Stars, 2002)
[
website
]
One Beat
was Sleater-Kinney's first grab for full-blown technicolor greatness. From the opening title track, a lusty, militant call for a new world order which redefines 'statement of intent,' to wrenching closer hymn "Sympathy," the trio's sixth album was proof possible for indie-rockers to get fiercer with age. Don't be fooled by the pop stylings and clean boost of studio squeak: they were necessary to stop S-K from sounding terrifying, as they reconfigured their nervy mini-dramas into something huge, bright and razor sharp.
Although much is made of the catalyzing influence that 9/11 and the birth of Corin Tucker's first child played on the trio's treatment of the personal-as-political, in truth the solidifying of their sound was coming into evidence two albums earlier. The power of
One Beat
is that it sounds intense and single-minded enough to come off more as a watershed than a logical progression. The result is a record that stands as a monument to a truly great band, capable of surpassing gender and genre to express their worldview with keen insight and thundering urgency. And their next album made this milestone sound fucking puny. -- Gillian Watson
---
41. Grizzly Bear - Yellow House (Warp, 2006)
[
website
]
Yellow House
is strange and confounding as anything. Here, the still-formative group made quasi-chamber music to be studied as an artifact. The only way one can really approach a work as open-ended as
Yellow House
is to take what they want to take from it; don't mistake this one for being universal. (Consequently, a lot of people hate it as well). Sure, maybe it's universal in the way any re-known work of art is universal. But it's more personal; for a while there I lost myself in it. Be careful, and maybe tie yourself to something before entering. Make sure to serve Lady Gaga's "Just Dance" as dessert. Because everyone needs some mandatory dessert. -- Dan Kober
---
---
Oh, 2000s. You came just in time. On the cusp of a new millennium, rock went bust, girl power grew powerless, the Latin pop craze fizzled, and it seemed all we had left was rap-rock and "The Thong Song." So, we partied like it was 1999 and turned our gaze to the bright horizon of the coming century. For better or worse, we bid the Nineties farewell: boy bands and their synchronized gyrations; rap's east coast/west coast feuds; the whip-smart wordplay of seminal indie-rock; the second Brit-rock invasion. We ushered in the 2000s iPod-less. Clearly an ever-expanding arsenal of technology would present the Aughts with unprecedented issues and advancements to be dealt with. But the story of the decade isn't so much about departure from the past as much as it is about continuum.

For all the change, things seemed to remain the same. MTV still favored non-music video programming. Justin Timberlake usurped the King of Pop's throne... by emulating MJ's signature falsetto. Ashlee Simpson pulled a Milli Vanilli. New York's rap royalty Jadakiss and 50 Cent traded barbs. The DIY ethos prevailed but in a different context; the tedious practice of hand stapling home-crafted zines was replaced by indie tastemakers blogging via desktop publishing software. Bands jammed econo but now with MySpace buzz preceding them. The mallbrats of the 90s traded their autographed pop posters and denim for Hot Topic-approved wares and emo band merch. Actors became singers and singers, actors. Death in the music world, both suspicious and predictable, surfaced. The mainstream had once again co-opted untapped, underground talent causing the underground to restructure and reconsider their art. And essentially, the 00s were merely the younger brother of the 90s, only with better hair and an eagerness to do it better.

If this decade has taught us anything, it's the value of looking back at what has come before. Did early nineties grunge die with the suicide of Kurt Cobain or the break-up of Soundgarden? Or, in the bigger picture, did grunge persevere and resurface 15 years later with lo-fi, noise-rock? Walk around any hip city in the States and you'll likely wonder how you found yourself in the Pacific Northwest circa 1993. Coiffed country stars are still strummin' about heartache. Hip-hop artists still spit incredulous rhymes. Pop stars still 5-6-7-8. And that's refreshing. -- Lara Longo
[Tuesday, 20 October 2009]
---
---

40. Yeah Yeah Yeahs - Fever to Tell (Interscope, 2003)
[
website
]
Not only a standout album of the decade, Yeah Yeah Yeah's'
Fever to Tell
documented their transition from noise-punk champions to incognito electro-dance rockers. Before the clean lines of
Show Your Bones
and synth throb of
It's Blitz!
, this 2003 full-length had
claws
of brazen riffage. Though raucous and full of movement, the trio's sound rarely left the orbit of simplicity, borrowing from the New York art-punk scene they originated: few chords, martial drumming, and snarling vocals, all as loud as possible.
Upon release,
Fever to Tell
managed to garner some well-deserved attention while maintaining the band's grungy basement appeal. The flamboyant Karen O. squawked and strutted through "Rich" and "Date with the Night" while guitarist Nick Zinner and drummer Brian Chase anchored with stoic but earnest backdrops. Showing a tender, emotionally accessible side, Ms. O. dreamily, now famously, weeped, "They don't love you like I love you," to an opiated tribal drum on "Maps." And because of this dichotomy, this album makes an equally great soundtrack to late night, malt liquor-imbibed house parties as well as next-morning, cigarette-breathed introspection. -- Lara Longo
---

39. Bloc Party - Silent Alarm (Wichita, 2005)
[
website
]
"It's so cold in this house," moans Bloc Party frontman Kele Okereke on the first track. The chill permeates his band's debut album: guitarist Russell Lissack snaps off glacial shards from his instrument, Gordon Moakes' backing vocals are so dead-eyed they're almost robotic, and Matt Tong's hi-hats (look up 'powerhouse drummer' in the dictionary, and there's his picture) are like splashes of freezing water. Yet they're set up in an engaging opposition (a 'positive tension', if you will) betwixt Okereke's blood-sweat yelp and warm, insistent basslines. The layers of ice melt away over the course of the album's thirteen tracks to uncover the tenderness and romantic desperation that give the LP its distinctive personality. There are politics without hectoring; there is sex, but it is grandiose; there is love, and it hits you in happy waves. The arrival of this debut out of near-nowhere, original, perfect and fully-formed, flanked by subsequent UK chart success, is one of my favourite WTF moments in indie history. -- Gillian Watson
---
38. Wolf Parade - Apologies to the Queen Mary (Sub Pop, 2005)
[
website
]
Canada has been a goldmine for collectivist indie these past ten years, splitting the creative force amongst various incarnations, supergroups and other small vans' worth of broken social scenes. This strangely anthemic, Isaac Brock-produced debut from yet another incestuous bunch is among the most traditional to make the grade. Songs are workmanlike, trading esoteric for function and form. What makes it such a wildly great ride is the character of the players. Band jumpers Spencer Krug and Dan Boeckner feed off each other so sublimely, even when they're not switching up vocal duties. The crew plays proggy rock--which is usually wound as tight as a Neal Peart snare skin--as loose as a bunch of shaggy mountain men from the great white north. Eh? --Ari Shapiro
---

37. The Blood Brothers - Burn, Piano Island, Burn (2003)
[
website
]
Indie fucks love to talk shit about the Blood Brothers, but when it came out,
Burn, Piano Island, Burn
was light-years ahead of its contemporaries in most subcultures. You can forget the novelty of two singers; the real draw was the rest of the band backing those screams up with music that rang dynamic, divergent, and exhilarating. Blended elements of hardcore subgenres were all present, but the Brothers went out on a limb to make it catchy and creative shit. In 2003,
Burn, Piano Island Burn
was the perfect album for someone who loved the bracing sound of hardcore, yet longed for something that could bridge the gap into more artsy, experimental territory. And she'll deny it, but the Blood Brothers are the reason that to this day Lara Longo still wears a spiked, white belt. -- Kevin Alfody
---
36. M.I.A. - Kala (Interscope, 2007)
[
website
]
With her defiant, socially aware anthems and signature Fly Girl attire, M.I.A. stormed the mid-2000s with hip-hop beats and world fanfare. Ever since, the Sri Lanka-born artist has become one of the decades' foremost purveyors of subversive, tongue-and-cheek rhyme. Her sophomore effort was a canon of assorted flavors, a marriage between the tribal and the modern day zeitgeist thanks in part to superproducer Timbaland, and India's leading composer, A.R. Rahman. Named for her mother, Kala, (
Arular
, was named for her father's code name as a Tamil Tiger) M.I.A.'s personal conceits come through subtly; her unaffected vocals on "XR2" reveal a London youth in the club scene, recalling "Brick lane massive/ We were like grime." The slow groove of "Come Around" evokes the "What's up? Holla" sentiment of just hangin' out, before launching into heavier content.
While
Kala
was certainly timely and politically-charged, M.I.A. playfully satirized on it without didactic dribble: on "20 Dollar," she mused "War, war, war/ Talkin' 'bout y'a'll's such a bore/ I'd rather talk about moi," over an anvil of an electro-tinged beat. Sarcastic, yes, but not defeated or cynical. She offers celebratory chants ("World Town"), speedy verses ("Boyz"), kooky
urumee
noise and clucking vocal effects ("Bird Flu"), and of course her instant-classic sample from the Clash's "Straight to Hell" on "Paper Planes," a ubiquitous hit nearly a year after its release. In her current, Jay-Z-like retirement, M.I.A. could easily close the book on her career with
Kala
as her definitive parting shot. But it won't be. There's still too much to make people aware of, too much to defy. -- Lara Longo
---
35. Ghostface Killah - Fishscale (Def Jam, 2006)
[
website
]
It's already a cliché to talk about how good
Fishscale
is, and may even seem overblown given the power of Ghost's debut,
Ironman
, or fellow Wu classics like
Only Built 4 Cuban Linx
and
Liquid Swords
. But this was the first time Dennis Coles' intricate crime narratives, outlandish lingo, and untamed bursts of just cathartic, whining
emotion
all came together into a masterwork with nary a stumble until,
fine
, maybe the bonus cut. Yes, a few of the productions were recycled from MF Doom and J Dilla worktapes. But when Ghost blesses a beat with his panicked, oblique stanzas, something magical occurs that no other working artist can duplicate. Who else would imagine Spongebob "in the Bentley Coupe" or make you smell the onions on the t-bone steak in the apartment of a shooting?
Fishscale
is full of such explosive, hilarious, even touching narratives. And it's not unsafe to call it the best Wu-Tang album ever released. -- Jonah Flicker
---

34. Okkervil River - Black Sheep Boy (Jagjaguwar, 2005)
[
website
]
It's fairly amazing that Okkervil River found critical success with a pitch-black, quasi-concept album based around a song written by a heroin-abusing folk singer. It's a bit of an understatement to say that
Black Sheep Boy
is a trip through some seriously dark emotional territory. Fortunately, the quality of the band's hyper-literate and nuanced storytelling captivates the listener while Will Sheff keeps things from devolving into melodrama by singing with an otherworldly conviction, like when he shouts the mysterious name "Cinda Moore" after the initial chorus in standout "Black." It's definitely heady and bleak stuff, but when life sucks and you need proof that things could always be worse, you can't do much better than listening to Okkervil River. -- Kevin Alfody
---

33. The Mountain Goats - We Shall All Be Healed (4AD, 2004)
[
website
]
The second record John Darnielle released in the Aughts that adheres to a theme (of five: failing marriage, drug casualties, abusive childhood, paralyzing breakup, biblical allegory compendium) isn't his most autobiographical (
The Sunset Tree
) or his most musically accomplished (
Tallahassee
), but it's best at what he's best at and what we listen to him for: his words and how he uses them. From "reflective tape on our sweatpants" to "carpenter ants in the dresser," his photographic memory is bested only by Ghostface Killah, and Darnielle merely settles for noir storytelling about half as often. It's his least cohesive narrative, normally a red flag, but Darnielle's fragments are glorious, rich with biblical tangents ("Pigs That Ran Straightaway Into the Water, Triumph Of"), tweaker logic ("That's great! We can always use some more electrical equipment!"), picaresques like the one where he shoots a robber on his liquor store shift ("I would do it again/ I would do it again") and a rousing close to chapter one: "Get in the goddamn car!" But the title is the soupcon of warmth that noir lacks: he's not just observing these allegedly real fuckups. He forgives them. -- Dan Weiss
---
32. The Futureheads - The Futureheads (679, 2004)
[
website
]
The Futureheads look set to become a footnote known only for their brilliant reconstruction of Kate Bush's "Hounds of Love"; a disservice to the wiry excitement of their eponymous debut. The Sunderland quartet, unfairly lumped in with the UK post-punk revival, are clearly indebted to the class of '79 with their scraping guitars and songs you could plot on the XTC axis, but that's not to say they're merely skillful copyists. "The Futureheads" means distinctive factory math-pop shot through with stoic idealism, an indefinable chest-beating melancholy, and wit so sharp you could use it to cut metal.
Just as Gang of Four took disco and hammered it down to brittle sheets of punk-funk to make you think, this band were canny enough to remodel the Britpop bombast that had captured a nation into anthems-slash-arguments. Yet any band that could switch from the scathing punk of "Meantime" to the surprisingly haunting bargain-basement barbershop of "Danger of the Water" had to have something special. So far, they've failed to live up to this initial promise. But this album still stands as a reminder of how music can still mean so much it makes your eyes water and your fists clench. -- Gillian Watson
---
31. The Mountain Goats - Tallahassee (4AD, 2002)
[
website
]
This is the best-written album of the decade, but it's also the gentlest and most successful example of John Darnielle's skittish embrace of the studio. The band on many of these songs just slithers past in the dark: the electric bassline of "Southwood Plantation Road," the faded rustle of cymbals at key moments of "Game Shows Touch Our Lives," the organ that makes "Old College Try" a weary sunrise. (And then there's "No Children" and "See America Right," in which nothing slithers and there is no dark.) No other Mountain Goats album after Darnielle's switch from acoustic-guitar-and-boombox-mic so carefully matches sound to story, or is so attuned to the tide of Darnielle's voice and heart. So his brutal love story, about an alcoholic couple moving into a decaying house in Tallahassee, Florida, is in good hands. It starts in the middle (driving down to Tallahassee, there are already "loose ends by the score") and doesn't end. It doesn't have a plot so much as a collection of photographs: of the determination ("Southwood Plantation Road"), fear ("The House that Dripped Blood"), tenderness ("Game Shows Touch Our Lives"), fury ("No Children"), and dreadful resignation ("Have to Explode") of people who love too fiercely to stop killing themselves. There's nothing much to like about them, but Darnielle is a Catholic, and it's a Catholic intensity with which he pursues the task of knowing these assholes, and, having known, forgiving. The wrecks of
Tallahassee
don't get redeemed any more than they get judged, because every good papist knows those are someone else's jobs. What they get is empathy, the highest honor hearts dispense. So the last words on the album are the only ones that belong as much to Darnielle as to his narrator: "Open your mouth up and sing for me now/ And I will sing for you." --Theon Weber
---
---

In Monday's intro, a colleague mentioned that a majority of his favorite albums on this list came from the first couple of years of this decade. Looking back on my selections, I realized a similar trend in my picks as well. I wouldn't necessarily argue that the albums at the beginning of this decade were so much better musically or artistically than those that closed out the Aughts, only that those that now seem iconic have had the benefit of passing time. There are definitely some recent albums floating about that have yet to be canonized, but that will eventually be hailed as classics.

What this list came down to, at least for me, was nostalgia. I don't want to date myself, but I am sort of thankful that I was able to come of age before the advent of the mp3. I am not knocking the format--it has lead to an absolute revolution in the quantity and quality of independent music--but I do think that a little something has been lost with the ease and speed at which music is now acquired, digested, and cast aside. Sitting here on the cusp of 2010, it feels like listening to music ten years ago was an almost magical experience.

By the turn of the century I defined myself more by the music that I was listening to than by just about any other metric. After having gone through a few exclusivist phases in my teens, I eventually realized that there was no need to focus on one genre or disparage another; if something was good it was good. I moved to a college town and lived near a couple of amazing record stores that, along with the blossoming of the Internet, gave access to a much more diverse musical selection. Because of the time in my life, a trip to the record store was serious business--CDs weren't cheap and any time I purchased one, I was spending money that I should have been using on such superfluous things as food, rent, and text books. I obsessed over what albums to buy, many of which came recommended by word of mouth, most completely unheard of. Now I could care less about an actual, physical product, but I still remember what it was like to head home, pop that new CD into the player, and leaf through the liner notes as I excitedly listened to each song for the first time. I don't mean to get too hyperbolical, but sometimes it was pretty damn close to a religious experience.

I know that growing up, taking on way more responsibilities, and becoming just a tad bit jaded have a lot to do with it, but it seems that I haven't been able to make as deep of a connection to more recent music. Of course things change, and I'm not dumb enough to say that an insane amount of access to an insane amount of quality music is not a good thing. Only that being blitzed by hundreds of bloggers dissecting every minor release and swapping hard drives filled with thousands of mp3 files takes a little of the fun out of what I think is great about music: discovery.

The last ten years have seen the release of what prior to the year 2000 would have seemed like an unfathomable amount of diverse, eclectic, and straight-up amazing music, and I think the entries on this composite list more than attest to that fact. I enjoyed and will celebrate all of it, but I can't help but get a little wistful when I think back to the albums that more or less changed my life at the turn of the century. I just hope that each successive generation of technologically advanced kids is still capable of treasuring music like the extraordinary thing that it is. -- Kevin Alfoldy
[Wednesday, 21 October 2009]
---
---

30. Battles - Mirrored (Warp, 2007)
[
website
]
Putting a number on
Mirrored
implies two things that aren't true. First, that presumes somebody understands this thing well enough to compare it to other music. Second, it implies that we know enough multivariable calculus to apply a number to an album that clearly exists in a higher dimension. Still, this album's awe-inspiring innovation is worthy of some serious recognition in a language we relative mouth-breathers can follow. The technical proficiency of drummer John Stainer holds together an otherwise unpredictable trip that takes full advantage of today's technology and tomorrow's production values. Without Stainer, this might be nothing but seemingly random bits of noise chipping off the sound of Ian Williams' infinitely tapping guitar. Bring Stainer back and the domino effect tumble of "Race - In" becomes a Bizarro World headbanger. Things only pick up from there. Maybe nothing else matches the immediacy of "Tonto" or "Atlas," but the first time the King Crimson-esque end of "Rainbow" resonates, a whole other universe unfolds in
Mirrored
for even more near-endless exploration. Bring a map. -- JJ Lang
---
29. Animal Collective - Merriweather Post Pavilion (Domino, 2009)
[
website
]
There may have been other records just as masterful in the intervening period between
Pet Sounds
and Animal Collective's belated formal breakthrough, but as
Merriweather Post Pavilion
was alone this decade in its spectrum of success, from in-studio virtuosity to outwardly happy-body-seizure-dancing good times.
Pavilion
accomplished what Animal Collective never could before: bringing the masses together, sharing smiles and sweat, reasserting for us how much we love being alive and feeding off our enthusiasm to replenish itself, again and again. -- Dave Toropov
---

28. Panda Bear - Person Pitch (Paw Tracks, 2007)
[
website
]
After the first minute or so of "Comfy in Nautica," I knew that
Person Pitch
would be in my playlist a while--I just didn't expect it to still be at the top of that list two and a half years later. Two epic-length suites, "Bros" and "Good Girl/Carrots" catapult
Person Pitch
from beautiful record to mind-boggling innovation, simply some of the most awe-inspiring compositions I've ever heard. Both twelve-minute tracks stir completely different sensations, as "Bros" revolves around campfire guitar and shook percussion while "Good Girl/Carrots" incorporates more beaty tablas, music boxes and pitch-shifted loops. But what truly makes Noah Lennox's vision so unique is how he uses his voice throughout, layered over and accompanying itself as its own ensemble, forming even more of the melodic fabric than the myriad of sampled instruments. While Lennox's day job, Animal Collective, indeed continues to gain popularity and transform modern alt,
Person Pitch
completely changes the notion of what could be considered craftsmanship of song. -- Brian Christopher Jones
---

27. Radiohead - Hail to the Thief (Capitol, 2003)
[
website
]
After almost twenty years, five full-lengths, countless world tours, and an inconceivable number of lists topped, Radiohead could only follow-up their heady, experimentalist
Kid A
and its darker partner
Amnesiac
in an unpredictable way: they went back to basics--sort of.
Hail to the Thief
marked the return to the band's original structure, a guitar-drums-keyboard base, following years of laptops and electronic dabbling. That's not to say
Thief
is a stripped-down Radiohead when such complexity abounds: the ghastly synths of "Myxomatosis" and off-kilter float of "Where I End and You Begin." More than a nod to the current events of the time (think: war on terror, impending elections, et cetera),
Hail to the Thief
works beyond political manifesto, mythologizing its way into
Brothers Grimm
-like territory: "In pitch dark I go walking in your landscape/ Broken branches trip me as I speak/ Just because you feel it/ Doesn''t mean it's there," narrates Thom Yorke's signature falsetto in the murky single "There There." In this realm, "2 + 2 = 5" makes all the sense in the world. -- Lara Longo
---

26. PJ Harvey - Stories from the City, Stories from the Sea (Island, 2000)
[
website
]
In some interview I read but now can't find (so you'll have to take my word for it), PJ Harvey said that all her music is informed by the blues because all her music is either the blues or self-consciously not the blues.
Stories from the City, Stories from the Sea
is her best album because it's an album that has nothing to do with the blues made by a woman who can't chase away those ghosts: an album full of fierce happiness, deployed as a shield. Every time Polly Jean howls that she's in love it's like she's trying to scare off the breakup. And if all those chestnuts about duality are true (that you can't have light without shadow, et cetera) then only a person under constant attack can really be blissful. So when our girl delivers her best couplet--"I can't believe life's so complex/ When I just wanna sit here and watch you undress"--she's cheating herself a little, because if life were simple it wouldn't be so lovely when her boy gets naked. -- Theon Weber
---
25. Spoon - Kill the Moonlight (Merge, 2002)
[
website
]
With a perfect four for four this decade, Spoon was as solid as any 00s artist, but
Kill the Moonlight
was perhaps their most measured and concise blow. The production that made
Girls Can Tell
a heartfelt and at times tense blue-eyed soul record was ratcheted up to a damn-near neurotic complex: songs built out of a minimalistic attention to detail, with "Stay Don't Go" basically a beat consisting of Daniel's own heavy-breathing. The songs themselves run the gamut from the very realistic lack of release in "Small Stakes" to the gorgeous mini-symphony "Vittorio E." It's difficult to say what all the delicious gobbledygook in between might mean in the coming years, but of all of Spoon's albums, this one sounds the most like it belonged to this decade. The muscular minimalism, the coy and almost ironic pairing of Britt Daniel's dead-eyed lyricism with a clever, non-committal vibe could only have been made by one band. And they went four for four this decade. -- Cory Tendering
---
24. At the Drive-In - Relationship of Command (Grand Royal, 2000)
[
website
]
There will never be an album like this again in two ways. One is the obvious, that At the Drive-In split down the middle creatively; if the band constantly sounded like two sides roughing for supremacy, it's because they were. Omar Rodriguez-Lopez and Cedric Bixler-Zavala could barely stand the constrictions of a three-minute punk song and opted out for the no-right-side-up prog of the Mars Volta, and the rest of the band followed Jim Ward to disappointingly normal arena ventures with Sparta, who maybe peaked when they opened for Pearl Jam. Oil and water these factions, but more important to the mastery of
Relationship of Command
was sometime Korn and Slipknot producer Ross Robinson, for once poking his head out of detuned seven-string purgatory to attempt to envision those thunder-blunt dynamics with a style other than grinding and chunking.
The resulting hi-fi punk appears to zoom back into view with every drum fill and burst capillaries every time the Zack de la Rocha-like Bixler screams something about smokestacks or scissors, guitars filled with otherworldly space and small touches--a reggae bridge on "Pattern Against User" or the allegedly cried-through spoken verses of "Invalid Litter Dept.," about murdered
maquiladoras
found along the roads near factories they worked in and autopsied--giving the whole breath a widescreen production that even major dollar-clockers like Green Day never took advantage of (perhaps for the best considering how they do now). No album, punk or metal, has ever felt like this, not even ATDI's earlier, thinner output. We should celebrate that they squeezed one out of them when they did. -- Dan Weiss
---
23. The Strokes - Is This It (Rough Trade, 2001)
[
website
]
Casablancas, Fraiture, Hammond Jr., Moretti, and Valensi answered their own rhetorical question, because yes, it is.
Is This It
combined alt-radio accessibility with an NYC-affected-or-not, cold-shoulder look. No one else invokes the simple joys of "cool" like the Strokes managed here, and it paid off: "Hard To Explain," "Last Nite," and "Someday" received tons of airplay, so I got shoved into fewer lockers at school when I wore my Strokes tee. Thanks, guys! --Dan Kober
---
22. The Thermals - The Body, The Blood, The Machine (Sub Pop, 2007)
[
website
]
When I hear
The Body, The Blood, The Machine
I want to jump around, embrace life, throw a brick through a Starbucks window. Maybe tell someone older than me to fuck off; the songs make me feel electric and young. The Thermals' music is always fun and infectious but there is an immediacy to this album that draws the listener in more than their others and makes each two-minute pop song sound anthemic. More than that, the urgency of their new political agenda reinforces the band's honesty: they rail against the corruption of our institutions
and
turn down a boatload of money from Cadillac. I'm sure the kid with a mohawk and an Asshole Parade patch on his leather would disagree, but
The Body, The Blood, The Machine
is the album that most carried punk's steadily declining flame into the twenty-first century. -- Kevin Alfody
---

21. Animal Collective - Strawberry Jam (Domino, 2007)
[
website
]
Strawberry Jam
is a case study in how to make an excellent pop-oriented album that is simultaneously completely confounding. "Peacebone," "For Reverend Green," and "Fireworks" are all songs that work because of, not despite, their untraditional samples-melting-into-percussion instrumentation. And between Avey Tare and Panda Bear's collective range, the voices veer colorfully from throaty shout to narrow squeal, often punctuated by the entire band interjecting hoots of its own. But on
Strawberry Jam
, the discord becomes ridiculously catchy, absorbing all of the tints and textures the band had refined up to that point and congealing them, so to speak, into a sublime, literal jam. -- Jonah Flicker
---
---

How does one go about making a list of the Top 50 albums of the past ten years? Really, what differentiates number 42 from number 37? It seems like such a pointless exercise in critical wankery and wonkery, but goddamn if lists aren't fun to read. You seethe and you fume, then exhale and sigh, then rant and rave as your eyes slip down the column of selections, And holy shit do these asshole writers really think Dance-Punk Album of '03 was two slots better than Indie Rock album of '07? What a bunch of douches.

So maybe the numerical values we assign here (mathematically, based on individual writer lists) don't really mean as much as the sweet little blurbs written by our ace wordsmiths (at least until you get to the top 10). But let's look at this as less of an exercise in futile rating systems and more as a celebration of the music of this great decade drawing to a close. Great? Yes, great. I'm a '90s nostalgist as much as the next 30-something who ensconced himself in indie rock and (scr)e(a)mo during his college years. Yeah, I still listen to Archers of Loaf, I threw on a Promise Ring record the other day and it moved me, and I saw Polvo on their reunion tour and felt old. But the past ten years were different somehow; more eclectic, more exciting, more scattered, and worth encapsulating in yet another infuriating, redundant, pedantic, thought-provoking, whimsical, forthright list.

You could argue that rehashing late-'70s post-punk and early-'80s mope-rock into dancey-punk-rock-electro-fizz-boom, as was done time and time again this past decade, isn't the most innovative gimmick in a long history of gimmicks. But the seasons change and the circle game goes round and round and all that shit… It's cycles, son. This one happened to re-cycle some damn good ideas. Not to mention the amazing resurgence of underground and commercial hip-hop at a time when Mase, Diddy, and Ja Rule seemed poised to forever pound our ears with Ashanti duets and Police samples. But that wasn't all. Great music came from every far corner of the world over the past ten years. We lost some legends, especially recently, but we also gained some legends-to-be. (Maybe, we'll see how that one plays out).

So this list is best read with a dash of doubt, a propensity to question, a healthful dollop of curiosity about things you may have missed, and, most importantly, a continuing love of new music. And no, rock and roll and hip-hp and dance music and Iberian Norteno polka are not dead. These Top 50 records are just some of the greatest hits of this past decade. The most exciting thing about revisiting these albums is in imagining what's to come over the next ten years. -- Jonah Flicker
[Thursday, 22 October 2009]
---
---
20. Unwound - Leaves Turn Inside You (Kill Rock Stars, 2001)
[
website
]
Leaves Turn Inside You
has to go wrong somewhere. Every piece of it is way too ambitious for a spiky '90s post-punk band. Unwound built their own recording studio for this album, and the band's heavy Fugazi influence joined forces with piling shoegaze guitars, an increased focus on math-rock precision and even some chamber orchestration. They were good, but how could anybody, let alone Unwound, be expected to live up to this album's expansive vision? Rather than just be Unwound toying with a broader technical spectrum,
Leaves
became Unwound conquering practically every emotion and presenting them all without losing sight of the overall sound this double-disc created.
There's a song on this album for almost any occasion, yet none of them do the album justice as a mere singular part. The firepower of "Scarlette," for instance, can't be matched by anything in Unwound's catalogue, but it can be polarized by "Below The Salt," an eerily pretty song that highlights the album's attentive production, just four tracks later. How Unwound managed to take the pressure of creating something this all-encompassing and make it work is a question second only to why more people haven't heard this album. Then again, in the end they had such a pressure valve to drain they broke up before you even heard the thing. -- JJ Lang
---
19. The National - Boxer (Beggars Banquet, 2007)
[
website
]
New York can be a pretty overwhelming and unforgiving place. It can feel like you are in the center of the world and just as easily isolate the shit out of you. Unfortunately, these days you don't necessarily need to be lost amongst a teeming mass of millions to get caught in the grip of 20-something malaise. With
Boxer
, the National made a near perfect record detailing what it's like to be young and unsure. Love and friendship can be tenuous connections, but sooner or later, we hope to figure it out. While this band is very much a product of their surroundings, one doesn't need to be cooped up in a Brooklyn apartment or staring out over the glittering Manhattan skyline to identify with the band's romantic, alienated tales of uncertainty and ennui. -- Kevin Alfody
---

18. The Knife - Silent Shout (Mute, 2006)
[
website
]
While "icy" has become the most overused cliché to describe
Silent Shout
, there's really no way to avoid it. You can just about see your breath listening to this record. Brother/sister duo Olof and Karin Dreijer, besides sharing a predilection for quirky disguises, offer a skewered take on synth-pop for their third opus, leaving behind the vibrancy of the previous
Deep Cuts
and its irresistible "Heartbeats" for something almost deathly. The Stockholm pair nevertheless seduces you with the dark, trance-y title track, the beautifully doomed "Marble House" and the menacing, yet bouncy "Like a Pen." Through it all, Karin's voice is elastic, the balance of melody/texture/beat stays immaculate and the listener is left with a truly mesmerizing if not, well, chilling aftershock. -- Kiran Aditham
---

17. Radiohead - Amnesiac (Capitol, 2001)
[
website
]
This is the band that defines the ennui of their time more accurately than any other. Mid-nineties rock barometer?
The Bends
. Pre-millennium tech isolation?
OK Computer
. Which leads to the twin pillars of new-century "post"-rock. But the album that stood in
Kid A's
long shadow comes across as plenty fulfilling on its own terms, half songs in the classic 'Head mold as forceful as anything the band had ever done ("Pyramid Song," "I Might Be Wrong") and half multi-faceted experiments that no recurring listener would dare call "filler" ("Like Spinning Plates," "Dollars and Cents"). If
Kid A
was the self-forming groundbreaker, the slight edge back to the rad and trad songs of
Amnesiac
was the ultimate mash up: space and Earth. -- Ari Shapiro
---
16. The New Pornographers - Electric Version (Matador, 2003)
[
website
]
Where A.C. Newman, Neko Case, and Dan Bejar solidify themselves as a classic songwriting triad rather than a charming one-off. Clamoring for neon, indie-pop timelessness, they lock in a successful synthesis of disparate musical backgrounds on they and their supporting cast's sophomore record. This is no new wave tribute band, but I must mention new wave because of the synths. The Cars would be proud. Case's best performance might still be the debut's "Letter From an Occupant," but leading the showstopper again here is "The Laws Have Changed," which threatens a (very) close second. Newman is his usual reliable self as a hook and chord-change machine. Bejar mumble-sings about bells on "Testament to Youth and Verse." This is the tightest these hyper-talented ragtags ever got it together. -- Dan Kober
---
15. Sigur Rós - Ágætis Byrjun (Fat Cat, 2001)
[
website
]
For the closing scene of
The Life Aquatic with Steve Zissou
, director Wes Anderson decided to culminate his eclectic journey to the depths of the ocean and self-exploration with a scene that called for Bill Murray on the verge of tears, a cartoonishly small, yellow submarine, a gigantic Leopard Shark, and Sigur Ros´s "Staralfur." Why Anderson chose this song could be construed as the essence of
Ágætis Byrjun
: a profound and peaceful journey propelling towards inner awareness and self-realization.
The album cover, a fetus floating in dark nothingness, invites you to understand the relevance of origin. In the dark context of the unknown, you can always rely on your origin, your nucleus, your soul, your being. The multi-layered instrumentation of
Ágætis
invokes a black canvas of calm space, filled with beautiful, ethereal noises, where Jonsi Birgisson´s angelical voice calmly dissipates from its point of origin and dimly sheds its hopeful light in the vast emptiness. Just like a small, bright submarine in the deep blue, shedding its light with the captain about to burst into tears. -- Adrian Perez
---

14. Godspeed You! Black Emperor - Lift Yr. Skinny Fists Like Antennas to Heaven (Kranky, 2000)
[
website
]
I readily admit that the years between 2000 and 2009 saw already somewhat meandering "post-rock" get pretty played out, devolving into inconsequential noodling. By decade's end, the whole subgenre had almost become an excuse for technical masturbation without much ingenuity or vision, and the scene's biggest players had become bored and stale representations of their former selves. However, as disco collapsed on a high note with
Off the Wall
,
Lift Yr. Skinny Fists Like Antennas to Heaven
(released before the exclamation point had migrated) will go down as a hell of a swan song for the era of post-rock heyday, if there is any justice in the world of print and pixels. I'd even go as far as calling it one of the most massive achievements in the history of rock music. The marriage of rock and roll dynamics with classical structure on GY!BE's magnum opus is a powerful swelling ocean, with opener "Storm" alone emitting a greater aura about the human experience than most groups putter out in their lifespan.
Heaven
is one of the few records that stands chuckling at the summit as hundreds of lesser tries fail to match its overwhelming authority and force. If you're going to have an epiphany you might as well have it here. -- Dave Toropov
---
13. Interpol - Turn on the Bright Lights (Matador, 2002)
[
website
]
In 2002, Interpol was perched upon the tip of the Joy Division-worship iceberg, a trope well worn and tired seven years on. But their debut album is the most honest and creative interpretation of their dour, late-'70s and early-'80s, post-punk predecessors, and Interpol still hasn't topped it. Songs like the eerie anthem "NYC" continue to thrill and chill as the decade comes to an end, a testament to the staying power of one of New York's hometown heroes. -- Jonah Flicker
---
12. LCD Soundsystem - Sound of Silver (DFA, 2007)
[
website
]
Behold, insouciance! If insouciance is a cousin of ignorance, and ignorance is bliss, then LCD Soundsystem is the spawn of insouciance, and this record is bliss. James Murphy's brand of wiseass dance music ensorcells your earbuds for 55.9 minutes, yes, but the truth is that it is merely propaganda for heterodox values. The record starts out like the robo-disco equivalent of flicking a cock back and forth, before Murphy ruins that lovely experience with a mid-album existential crisis which I could frankly care less about during beats so spirited and hypnotic. I am not the first to say it, but the guy is cognoscenti; he knows lots I don't know about production values and, duh, music history. Maybe you too were brainwashed by this schlub. -- Dan Kober
---

11. Outkast - Stankonia (LaFace, 2000)
[
website
]
With rap in disarray following the tragic deaths of Biggie and Pac and few talents at the end of the 90s stepping up as real contenders to the throne (who, Cash Money? No Limit?),
Stankonia
landed hip-hop right where it needed to be in the new millennium: in the hands of Big Boi and Andre 3000. Outkast's public breakthrough displayed such an unorthodox mix of styles that, up until the time, only Beck could be said to have done so much with such funky eclecticism. Which here pushed the limits of traditional genres, gluing together attractive elements of P-funk, Prince-style soul/rock fusion, and electro-oriented hip-hop, even drum 'n bass on "?" and the still-impossible call to action (and dancing) "B.O.B." Working uncommonly close with their production sounding board Organized Noize (akin to Public Enemy with the Bomb Squad at their peak), the Atlanta duo fashioned inspiration and innovative beats from anything lying around the studio: piano, guitar, horns, Erykah Badu, real drums. The creativity paid off: "So Fresh, So Clean", "Mrs. Jackson" and "B.O.B" could more than hold their own as both hits and musical statements if they came out today, or ten years from now, which is not to say the remaining hour or so doesn't sustain the warmly kinetic yet militantly futuristic groove all around. -- Brian Christopher Jones
---
---
What's there to say about consensus? It's bad for one thing--all that osmosis and conformity robbed us of, to name a few that Eric lamented: Jay-Z, Aesop Rock, the White Stripes. I'll throw in others: Kanye, Dylan, Lil' Wayne, Björk, the Dismemberment Plan (long may they rest). And a good chunk of us are unhappy, even nervous, about our winner because it's not Radiohead, who I guess will be suing us now for breaching their contract with the rock critics' union. But what's there to say? Kid A only garnered 2/3 as many votes as our #1, either because the people not deeply moved by it assumed it would get by on its own, or because they honestly played 25 other albums for pleasure more often. I myself prefer Neon Bible and Amnesiac to their landmark predecessors, because both are darker and stranger, and all the richer for it.

Claustrophobia focuses Thom Yorke on feelings rather than codes, which forced him to simulate something other than paranoia on "Pyramid Song," a track that contemplates the afterlife as gracefully as anything he's done, and "Packt Like Sardines in a Crushd Tin Box," which is bratty and replete with electronic pots and pans for his inner child to bang on. ("Life in a Glasshouse" ends Amnesiac in familiar Orwellian territory yes, but where else does Yorke have to return home?) And Arcade Fire, who we love, heated me up more in political mode than elegiac, but that's just personal. I don't begrudge my staff for preferring the one that deals with family and deaths. There's a lot more love in it. I'm also proud that Radiohead isn't totalitarian themselves for us. Kid A is a great record for sure, an inventive portmanteau that was undeniable with no singles and still was felt on charts around the world. That's love too, but it's OK to not love them best.

My complaints with the list are the usual indie-rock problems: not enough women, not enough black people, not enough rap, country, pop--have any of these ingrates even heard Be Your Own Pet's Get Awkward? M.I.A. has a knack for triumph in several of these categories. We'll need more like her. What's most surprising is how subdued and gimmick-free I found our picks. Two Sleater-Kinneys over the White Stripes in a decade where people are taking notice of Kaki King and Marnie Stern says something great about ladies crashing the guitar-god pantheon. The Hold Steady's immensely popular E Street revival-for-winkers proved indifferent or short-lived to our word junkies. Preferred were the far more intricate Okkervil River and two Mountain Goats touchstones--the growers of the decade--to them and the cursed Decemberists. And except for the undeniable Slim Shady, our rappers are more ice cool than mouthy. Andre 3000 and Ghostface may not have a four-for-four album streak like Kanye in them (well, maybe Ghostface), but they do have a surprisingly understated (for rap), yet universal appeal. Maybe we'll recognize Lil' Wayne as one of them in 2020. Not 50 Cent though.

If the list seems sappy--between Funeral, Kid A, Sigur Rós, Interpol, Wilco, Grizzly Bear, even a particularly moody Deftones record--well, wevhave seen some shit between 9/11 and Balloon Boy. Michael Jackson died, Britney Spears almost died, New Orleans and the economy suffered irreparably, which is to say nothing of the environment, the ozone later, or girls who work at McDonald's and end up raped on manager's orders. We had to cope somehow. Some of us even resorted to TV on the Radio, who in my opinion made a better Obama celebration than their Bush lament. I utilized Leaves Turn Inside You a lot. XTRMNTR too. But I don't expect everyone to use anger as comfort food. Judging by our picks, the unified (You Forgot It in People) and communal (Merriweather Post Pavilion) worked just as well. Even the remote desolation of Modest Mouse and the more introverted Microphones helped people feel less alone in theory, because even those depressives scored a "Float On" and once in a while a "your heart felt good" to balance themselves. And I hope PJ Harvey helps straighten out anything you need worry about our sex lives. -- Dan Weiss
[Friday, 23 October 2009]
---
---

10. Sufjan Stevens - Illinois (Asthmatic Kitty, 2005)
[
website
]
One of the many things that we'll undoubtedly have to relive in the coming decades was how profound the split between Christian fundamentalists and mainstream secular society was in the George Bush era. And while evidence to the contrary is scarce, Sufjan's innocent-eyed, busily orchestrated pop music could certainly have bridged a small gap for a time as liberal indie-kids fell in love with the lush orchestrations, the thoughtful lyrics and the soft Elliott Smith-like resonance with which Stevens sang his ambitious tunes. A song like "Casimir Pulaski Day," is devastating
because
it's sung by a devout Christian, openly questioning his faith as he watches his childhood sweetheart die of cancer, and unlike many of the gold-, frankincense-, and myrrh-gobbling Christian Rock faithful, Stevens doesn't mind blurring the boundaries between secular and religious--"Chicago" (the quirky indie-family drama trailer song of the decade) is a piano-driven road diary for the ages. Though subjects from John Wayne Gacy to the maturity it requires to love your stepmother may have fans scratching their heads as to what the heck I'm talking about with all this Christian stuff. -- Cory Tendering
---
09. The Shins - Chutes Too Narrow (Sub Pop, 2003)
[
website
]
The Shins found almost immediate success with their debut (
Oh, Inverted World
), especially the ubiquitous "New Slang," featured in
Garden State
and most infamously, a McDonald's commercial. But it wasn't until their second album, 2003's
Chutes Too Narrow
, that the Shins--who'd been a band since the 90s--really felt fully formed, in terms of style, production, and songwriting. From the tense, airy opener, "Kissing the Lipless," to the Kink-y '60s pop of "Turn a Square," James Mercer emerged as one of the finer songwriters of the decade. As of late, the band has gone through some lineup changes--Mercer recently fired 50 percent of his staff. Hey, times are tough. And while the band is currently working on new material,
Chutes Too Narrow
may remain their apex. -- Jonah Flicker
---
08. Wilco - Yankee Hotel Foxtrot (Nonesuch, 2002)
[
website
]
It took Wilco ages to get this record released, but we should all thank the gods they finally did. In fact, the ironic twist to this saga was that the label that finally released the album (Nonesuch) is owned by the same parent company (Warner) that rejected it originally. No matter, because the record Jeff Tweedy made--twenty years and two bands into his musical career--spoke for itself as one of the finest to grace the musical landscape of the Aughts, and won just as many interested parties as a free download on their website as it did when it finally entered the Billboard 200 at their highest-ever spot. That is, because the music was as strong and accessible as it was (supposedly) challenging. The troubled process behind the record was in spite of its phenomenal supporting cast, including the late Jay Bennett, who had a tenuous relationship with Tweedy but was instrumental to the band's success. The conspicuous duality of the record fuels its substance, as
Yankee Hotel Foxtrot
is both devouring in its complexity and deeply fulfilling in its purity.
Perhaps the most endearing aspects of the album are the open spaces and holes throughout, providing apt pauses or interludes when needed and helping retain the album's suspense no matter how many times the listener has heard it. This use of such breaths and silences on
Yankee
displays sophistication the band was lacking on the earlier records, which were strongly written but with less heft. Here that's no matter; try picking your jaw up from the first track, "I Am Trying to Break Your Heart," and prying away to the bevy of remaining treasures. -- Brian Christopher Jones
---
07. Sleater-Kinney - The Woods (Sub Pop, 2005)
[
website
]
What's the best Sleater-Kinney album? That's a trick question.
One Beat
has some of their most expertly crafted songs, highlighting a mastery of both pop structure and addictive riffs. And the five albums preceding aren't lacking for high points. But remember, I didn't ask which had the best songs; the question was which album was the best. This honor has to go to
The Woods
, the band's seventh and final effort, also the only Sleater-Kinney album to succeed completely on the self-contained terms of the "album" format, just killing throughout and not leaving much room for logic, which has won it almost as many detractors as it has gushing praise. To wit, what used to be an explosive chorus in an S-K song is now an entirely explosive song, like "Jumpers" or "Entertain."
This expansion was so difficult to pull off that it left band members emotionally spent both in and out of the studio (irreparably it seems; they broke up followng). Of course, individual songs on
The Woods
are anything but static, yet each one can be described by a unique unifying feel that adds up to brilliance when viewed as a piece of the whole. So their last hurrah bet the farm of 70s rock excesses, boosted to bleeding volumes. With these songs, an elongated bridge is nice, but an eleven-minute monster towards the end is so much more fulfilling. -- JJ Lang
---

06. Eminem - The Marshall Mathers LP (Interscope, 2000)
[
website
]
The reason this record is a classic and the preceding
Slim Shady LP
is only very good is that in between, Eminem got famous. Fame means attention, and you need attention to play a prank like this. (Imagine Orson Welles' "War of the Worlds" broadcast on like, IFC.) And
The Marshall Mathers LP
is about almost nothing but the fact that you are paying attention to it--and, if you think it's repugnant, why don't you stop? Even done badly, this sort of thing can be of cultural use every now and then, but Eminem was more than "of use" for two reasons. First there's the rhymes. Not just the bread-and-butter one-syllable end-rhymes in lines like "I never knew I would get this big/ Never knew I would affect this kid," but the assonance in the words "get" and "affect," which takes a poet to notice and a singer to highlight. Or the way a rhyme will morph over a rapid series of emphasized words and then jump back to the tonic: "eatin' me/ peacefully/ decency/ freaks see/ eatin'/ feedin'/ speak to me." Then there's the way that, when Eminem murders his wife (in the most honestly unnerving six minutes in '00s music), he's neither a badass avenger nor a cartoon psycho, but a pathetic, insecure wreck, sodden with the same bile that's probably welled up in you sometime--and yes, you feel for him, and no, you don't want to be him. This album is a gorgeous mirror that only shows your worst side: the most honest practical joke ever played. -- Theon Weber
---
05. The Microphones - The Glow Pt. 2 (K, 2001)
[
website
]
When you consider its themes of nature vs. technology (there's even a lyric about "the awful feeling of electric heat"), it's difficult not to imagine a woodland uprising when you hear
The Glow Pt. 2
. On his mini-masterpiece of headphone-comfy acoustic laments and Neutral Milk Hotel-caliber full-band freakouts, Phil Elvrum's unique point of view has never sounded more prescient or complete. Just listen to the one-two-three punch: "I Want Wind to Blow," beat all indie to the punch with Afropop rhythms and deceptively simple guitar parts. "The Glow pt II" forces itself into existence and then backs off into a seemingly tossed folksong (don't trust this first impression). "The Moon" with its overwhelming enthusiasm. Creative expression unmatched this decade--nearly, anyway. -- Cory Tendering
---
04. Broken Social Scene - You Forgot It in People (Arts & Crafts, 2003)
[
website
]
Before this decade, the musical cooperation in a small army of rotating musicians might have seemed a practice in futility--unless they played ska. But in the 2000s, the idea of the supergroup collective exploded across indie-rock, mostly due to the effortless expanse of
You Forgot It In People
, which still hasn't been equaled, not only as our times' peak of collective musicianship but also as the decade's best chilled-out, melodic pop. Kevin Drew and Brendan Canning's pack defied traditional pop conventions: why not forgo verse/chorus/verse? How about melding layers of orchestral arrangement with electronic vocal effects and rock-style percussion? Who says you can't have 15 contributors?
BSS's pièce de résistance offers the moody swell of "Lover's Spit," the explosive shimmer of "KC Accidental," the traces of sax and glitch threaded through "Almost Crimes." Amidst the busy landscape is drummer Justin Peroff, rooting the musical elements with his clean pulse and jazzy fills. Words become most valuable when used out of necessity. The repetitious verses of "Anthems for a Seventeen-Year-Old Girl" are a function of conveyance, i.e. what it's like to be fully consumed. An entranced Emily Hanes harps, "Park that car/ Drop that phone/ Sleep on the floor/ Dream about me" on a seemingly endless cycle. Even for us non-seventeen-year-old girls, that's wishful thinking. -- Lara Longo
---
03. Modest Mouse - The Moon and Antarctica (Epic, 2000)
[
website
]
Since "Float On" became a somewhat unexpected alt-radio staple and (OK, damn unexpected)
American Idol
sing-along, it's been easy to forget what a prolific and exciting band Modest Mouse was at the height of their muse. No steamboat captain weirdness or ex-Smiths accessory was needed for Isaac Brock's grand statement of purpose. The personality of
The Moon and Antarctica
always comes through, from the propulsive krautrock bounce of "Tiny Cities Made of Ashes," to the offbeat pop of "3rd Planet" through the mind-bending acoustic "Wild Packs of Family Dogs" and the epic "The Stars are Projectors," you can feel the anger (hunger?) for the then-new Epic signees to be recognized by a universe larger than their scratchy scene--on their own scratchy terms. The Pacific Northwest brought us a lot of great music over the last decade and a half but this was the monolith: a major label debut that was too difficult to sell but too brilliant to be ignored. -- Cory Tendering
---

02. Radiohead - Kid A (Capitol, 2000)
[
website
]
As we noted in the original review back in 2000, "
Kid A
is Radiohead in the aftermath of the apocalyptic disconnection of
OK Computer
--the latter was the fascinated horror at watching the analog, wood and bone world of the Cold War being coded into HTML and scrambled, and
Kid A
is what came out the other end." That analysis in the hard-to-fathom, pre-9/11 context of October 2000, reads accurately with no depth of field, as a simple music review.
OK Computer
was in fact about hurtling technological advancement versus humanity, alienation versus detachment, paranoia versus surveillance. But
Kid A
was the sort of new world atmosphere that followed, clawing in all directions with a post-digital blindness. Just a year later, such words would sound absurdly hyperbolic; in October of 2001 those exact sound bites-- "aftermath," "apocalyptic disconnection," "fascinated horror"--would loom over the world-changing events they preceded like a specter. In a musical sense, as Cory Tendering so pointedly puts it, with the release of
Kid A
, "suddenly, millions more people were aware that music could sound like
anything
." In a cultural context, the twittering, glitchy confusion of
Kid A
came three years after the violent wail of traditional rock's crash that was
OK Computer
, and was a weirdly prophetic metaphor for times a-changin'. Not much has been the same since. -- Eric J Herboth
---

01. Arcade Fire - Funeral (Merge, 2004)
[
website
]
In the 50+ years since rock and roll began changing the rules, every decade has seen its share of groundbreaking releases. And even with diminished consensus on what developments were good or bad exactly, the first ten years of the new century were no exception. However, Arcade Fire's
Funeral
is not one of those records. This ten-song suite didn't spawn a new genre, nor sound like it was beamed in from outer space, and it didn't make the hip cognoscenti start dressing differently. The achievement here is totally musical;
Funeral's
essential brilliance is in how stunningly it amalgamates all that came before it. It speaks to our collective consciousness, with momentum from the ancillary building blocks of rock, dreamy storytelling, set to music that singes the synapses. Coming off immense web hype and near-mythical live shows, the resolute Canadians dropped a bombshell rife with passion and artful vigor that didn't supercede their capabilities. Call it punk in temper, worldly in vision, soul in spirit, folk at heart, grunge in force, pop in essence... at the end of the wintry Montreal day, that's all moot: the defining album of the decade is best enjoyed undefined: as enjoyment. -- Ari Shapiro
---
---
---
---
--
The LAS Staff
A number of the Lost At Sea staff have worked and continue to work for various publications, both independent and commercial. Often very stifling in their narrow focus, conventional media outlets left our writers hungry for something bigger, more diverse, more communal. More active, because this is the twenty-first century and it makes sense. During it's short life LAS has accomplished many of its goals (but not all) and has in turn set new ones. Everything that we accomplish is through teamwork and cooperation, both with our regular staff writers and with our contributing writers. LAS is nothing short of a collective. Another contrasting point to some of the magazines out there is that we've checked our egos and scene ethics at the door. We welcome anyone and everyone to contribute and cover a wide range of topics. LAS does not follow your guide lines.

See other articles by The LAS Staff.
If you'd like to help spread the word about LAS, or simply want to outfit yourself with some adhesive coolness, our 4" circle LAS stickers are sure to hit the spot, and here is how to get them:
-->
Send an with $2 in PayPal funds to cover postage. Don't worry, we'll load you up with enough to cover your town. Then just be patient. They will arrive soon.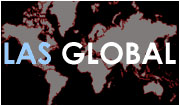 LAS has staff and freelance writers spread across North and South America, Europe, and a few in Southeast Asia as well. As such, we have no central mailing adress for unsolicited promotional material. If you are interested in having your project considered for coverage, please contact us before sending any promotional materials - save yourself time and postage!