LITERATURE
»
Full Dark, No Stars
- Stephen King's new novella questions mankind's ability to trust others.
[02.21.2011 by Bridget Doyle]
MUSIC
»
The Top 30 Albums of 2010
- Fashionably, fabulously late, our favorite music (and believe me, there was a LOT) of 2010, the year that some have called the best year for music ever. And only some of those fools work here. Plenty of usual suspects, lots of ties and a few surprises that I won't spoil, including our unexpected #1.
[12.24.2010 by The LAS Staff]
LOSTATSEA.NET
>
FEATURES
>
December 19, 2008
Kevin Alfoldy
|
Jon Burke
|
Joseph Coombe
|
Jonah Flicker
|
Clifton Gates
|
Preston Garland
|
Eric J Herboth
|
Brian Christopher Jones
|
Bob Ladewig
|
Lara Longo
|
Eric J. Morgan
|
Staff Lists N-Z
---
Kevin Alfoldy
's half-assed top ten list
10 - She and Him /
Volume One
- I've only heard about three songs from this album, but it doesn't matter. A big reason I live in New York is my eternal hope that one day Zooey Deschanel will randomly sit down on a bar stool next to me. We'll spend the evening getting to know each other and at last call my hand will be resting comfortably on her knee while she gazes dreamily into my eyes. Even if it were to actually happen, I'm sure I would blow it by asking her a little too persistently to recreate scenes from the movie Elf. Curse that movie for being so damn funny.
9 - Spiritualized /
Songs in A&E
- I listened to this album approximately four times in a row on a recent trip from San Francisco to Portland. It's probably the only reason I didn't end up driving my rented Chevy Cavalier off a cliff somewhere around Mt. Shasta.
8 - Bon Iver /
For Emma, Forever Ago
- Absolutely, heartbreakingly beautiful. This album deserves every bit of praise it has received this year.
7 - Fucked Up /
The Chemistry of Common Life
- I didn't exactly get in on the ground floor with this band, so I was able enjoy this album without worrying about labeling them sell-outs for sounding nothing like their earlier incarnations. When has anyone ever gone wrong by creating something wholly original?
5/6. Tie- The Notwist /
The Devil, You + Me
and Fuck Buttons /
Street Horrrsing
- These bands are a perfect contrast in what can be done through the use of technology in music.
The Devil
is like being wrapped in a warm electric blanket and
Street Horrrsing
is like smiling contently while the world gets ripped apart.
4 - Land Of Talk /
Some Are Lakes
- I had the damndest time reviewing this album a few months ago. Sometimes it's just hard to describe why you love something. And I love this album for so many reasons. It's probably the only reason I didn't end up driving a rented Dodge Avenger off the Santa Monica pier back In September.
3 - Why? /
Alopecia
- Does it get any more surreal than careening through the streets of Saigon in the back of a bus with your mother? It certainly does if you are listening to Why? while you are doing it. Sorry mom for being such a jerk. Why? is probably one of the most creative and unconventional bands going right now.
2 - Anything that Temporary Residence Limited released this year- And I have heard none of it. Not one album. But as of yet, these guys have failed to produce anything that isn't, at the very least, incredibly interesting. And I'm sure 2008 was no exception. If ENVY ever releases a sub par album, I no longer want to live.
1- All of the older music I listened to this year- I spent most of 2008 living out of a bag in various third world middle of nowheres, so I was kind of stuck in a musical black hole. Mostly I ended up listening to a lot of shit that my friends were kind enough to give me before I left. I'm sure there were tons of good albums released this year, but I didn't hear most of them. It's probably for the best- I can't imagine anything was better than
A Future Lived In Past Tense
[
x
].
---
Jon Burke
These are in no particular order:
1 - Bon Iver /
For Emma, Forever Ago
- Last year I had the most relaxing, introspective Christmas break of my entire adult life. I went with my friend Rachel to a cabin on an icy lake in the most remote part of Northern Minnesota. Everything was covered in snow and serene and no one was ever in a hurry to get anywhere. Bon Iver's debut takes me back to that cabin every time I listen to it. Minimal and sweet but never sappy, Bon Iver made the record I played most consistently throughout the course of 2008. For Emma is truly a masterpiece in subtle, gorgeous sleepytime music.
2 - TV On The Radio /
Dear Science
- TVOTR is proving to be unstoppable. Record after record they progress even further, digging though disparate genres only to produce their own unique sound. Listening to
Dear Science
, one is immediately struck by the heavy influence of Fela Kuti, Michael Jackson, Talking Heads, Radiohead and Peter Gabriel.
Dear Science
is the most progressive pop record of 2008 and continues TVOTR streak of outdoing their previous efforts with each new offering.
3 - The Uglysuit /
The Uglysuit
- The Uglysuit are at their best during long sonic flights of vocal harmonies and high flying guitars over piano. Their songs build from quiet Shins-esque, indie-pop into massive sweeping affairs that soar off into the stratosphere. They are certainly one of the most overlooked and underappreciated bands of 2008.
4 - Frightened Rabbit /
The Midnight Organ Fight
- FR are the most sensitive, sweet young lads to come out of Scotland in recent memory. The songs of breakup and heartbreak and meaningless fucking on
The Midnight Organ Fight
are painfully sincere. They are also amusingly vulgar and occasionally touching.
5 - Lil' Wayne /
Tha Carter III
- This is the best hip-hop album of 2008, hands down. The combination of Lil' Wayne's brilliant lyrical flow, his unique character and the killer production on
Tha Carter III
make this record nearly perfect. Kanye West's production on
Tha Carter III
is better than just about anything he's ever done.
6 - Bob Dylan /
Tell Tale Signs
- The Bootleg Series Vol. 8: This album serves as a reminder that Bob Dylan's garbage is better than most artists' product. Track after track on this double disc record featuring recent Dylan rare and unreleased cuts that didn't make the grade for albums like Time Out of Mind and Oh Mercy. The sheer songwriting on display makes Tell Tale Signs one of the best records of the year.
7 - Sun Kil Moon /
April
- Mark Kozelek continues his Low meets Neil Young brand of stretched out folk-rock. April is a rewarding listen because the intimacy of Kozelk's lyrics combines with his unabashed love for Jimmy Page and John Denver. Several tracks like Unlit Hallway feature tender harmonies from Will Oldham too.
8 - Titus Andronicus /
Titus Andronicus
- Simply put, The Clash + The Pogues + The Boss = Titus Andronicus.
9 - Nick Cave & The Bad Seeds /
Dig!!! Lazarus Dig!!!
- This was a real return to form for Nick Cave. This is the first album since the departure of Blixa Bargeld where his grinding, Germanic guitar wasn't missed.
Lazarus
' true hero is violin player, and Dirty Three leader, Warren Ellis who frequently uses his violin in place of a guitar and mandolin. Cave also pulls out all the lyrical stops in long narrative songs like the gravedigger thump of the title track and the bluesy groove of "More News From Nowhere."
10 - Jamie Lidell /
JIM
- Jamie Lidell just proves once again that he has a better knowledge of soul than just about anyone alive. Somehow Lidell can make one track sound like Al Green, another like Stevie Wonder and yet another like Marvin Gaye - all while maintaining his own original style AND a cohesive record.
---
Joseph Coombe
1 - Dr. Dog /
Fate
(Park The Van) -
Fate
finds Dr. Dog revisiting old territory, but their use of image and reference is a skill of almost literary technique. When I saw them play in Philadelphia this summer, I liked how they sit just on this side of becoming a jam band.
2 - Abe Vigoda /
Skeleton
(Post Present Medium) - Abe Vigoda along with No Age have remapped L.A.'s punk origins to include The Minutemen and The Urinals. The songs on
Skeleton
ride tropicalia beats but do not conform to any pop song structure.
3 - M83 /
Saturdays = Youth
(Mute) - On
Saturdays = Youth
, M83 appear to have found a softer side, like the fuzziness of memories the songs on the record evoke. While the album art recalls my most recent Urban Outfitters catalog, the music is the dreamiest of new wave fantasies come to life.
4 - Henry Clay People /
Working Part Time
(Jaxart Records) - This L.A. Band has a terrible name but makes incredible music. At first listen they may come across as obvious and in debt to a lot of really great indie rock acts, but further careful, considerate listens reveal a highly ambitious band borrowing from the best.
5 - Gaslight Anthem /
The '59 Sound
(Side One Dummy) - Rock n' Roll is religion. Ray Charles, Johnny Cash, Bruce Springsteen and Mike Ness are preachers not performers.
Sam's Town
and
Neon Bible
, other albums that try to make rock music something to believe in, sound nowhere near as good as this album, because The Killers and Arcade Fire are false prophets. The guys in Gaslight Anthem are saviors.
6 - Satisfaction /
Cougars, Sharks & Flying Sparks
(Self-Released) - Satisfaction pulls the California Imaginary directly from Brian Wilson's brain, all sun-kissed and sepia-tinged.
On Cougars, Sharks, and Flying Sparks
, they define the California pop sound by drawing influences from 60s surf melodies, 70s L.A. singer/songwriter sophistication, and 80s Huntington Beach hardcore energy.
7 - War On Drugs /
Wagonwheel Blues
(Secretly Canadian) - War On Drugs oscillates between rock sincerity and experimental noise. While neither dominates nor reaches perfection, the band continues on, set on a destination. Songs that describe coastlines and beaches are a metaphor for the horizon the band reaches for.
8 - Jaguar Love /
Take Me To The Sea
(Matador) - Take Me To The Sea is not really a departure from Johnny Whitney's previous band Blood Brothers. Postmodern imagery and Whitney's distinctive wail show up in songs like "Highways of Gold" and "Bats Over the Pacific Ocean," but the songs are more rooted in the familiar format of the pop song than their hardcore past, which is actually way more subversive.
9 - Wounded Lion /
Carol Cloud
(S-S Records) - Art punk disguised as pop, Wounded Lion write bangers that are tightly wound, yet ready to fall apart. "Carol Cloud" and "Pony People" replace the garage's rock star fantasy with a Coleco KidVid unconscious.
10 - Flying Lotus /
Los Angeles
(Warp) - On
Los Angeles
, Flying Lotus becomes a worthy successor to J. Dilla's use of chopped beats, smooth samples and outer space vibe. Tracks like "Sleepy Dinosaur" and "Parisan Goldfish" are out there, far out there.
---
Jonah Flicker
1 - The War on Drugs /
Wagonwheel Blues
(Secretly Canadian) - This record seemed to come out of nowhere and completely blew me away. Adam Granduciel has combined the best elements of traditional American rock with innovative experimentalism and managed to come off completely unpretentious.
2 - She & Him /
Volume One
(Merge) - I can't believe this NPR-ready record is making it on my year-end list, but who can argue with Zooey Deschanel's sweet vocals and girl-group meets Motown meets Nashville songwriting, and M. Ward's inventive arrangements?
3 - Deerhunter /
Microcastle
(Kranky) - This time, believe the hype.
4 - Prodigy /
HNIC Pt. 2
(AAO Music) - Who needs Havoc? P discovers fire on his own, keeping it sinister, gully, and somehow thoughtful.
5 - Cut Copy /
In Ghost Colors
(Modular/Interscope) - Cheesy house music meets irresistible Australian indie rock. It's OK, to dance, really.
6 - The Lord Dog Bird /
The Lord Dog Bird
(Jagjaguwar) - Colin McCann's (Wilderness guitar player) four-track opus. Sure, it's rough, but that's the point.
7 - Wilderness /
(k)no(w)here (Jagjaguwar)
- Speaking of Wilderness... a triumphant return to form after a so-so sophomore album.
8 - MGMT /
Oracular Spectacular
(Columbia) - Radio sensations deserve their popularity, making keyboard-driven music that's both fun and poignant.
9 - Mighty Joseph /
Empire State
(Phantom Sound & Vision) - Vast Aire and Karnegie combine to force me to add another hip-hop release to my list in a year that didn't find many deserving considerations.
10 - Scarlett Johannson -
Anywhere I Lay My Head
(Atco/Rhino) - Terrible actress, mediocre singer, Tom Waits covers... a recipe for disaster turned intriguing by David Sitek's amazing production. How did two actresses get on this list?
---
Preston Garland
1 - Why? /
Alopecia
- For the 3rd year in a row, I called it early. I knew after the 3rd-or-so listen that this was the single best thing i would hear this year. It's not really a surprise, considering that only a few years prior I placed
Alopecia
's predecessor, Elephant Eyelash, at the no. 2 spot of my year-end list. But what was wonderful and intriguing about that record - it's ramshackle tone, defiant of any sort of proper genre classification - has been cleaned up and broadened on
Alopecia
, resulting in a completely singular record. Why? is no longer "Beck-esque", but any record that follows this can now be described as "Why?-esque". In an attempt to describe it to a friend, I once said that this record was a midpoint between Steve Reich and Hip-Hop, a place where songs almost become pieces; they groove but constantly surprise. The lyrics are so personal, it's hard to keep from blushing. After the shock of lines like "jerking off in an art museum john til' my dick hurts" wear off, the true genius of more subtle lines (a few listed below) become apparent. This album walks a delicate line between so many different things: confessional and coy, overblown and bare, elegant and raw, calculated and effortless. I can't wait to hear what comes next.
Best lines: "Only those evil live to see their own likeness in stone (my brother said that)" from 'By Torpedo Or Crohn's' - and - "You're a beautiful and violent work / with the skinny neck of a chinese bird / in a fading ancient painting / and if you're in heaven waiting / you made it there fighting / the tightest kite string in a bad storm with lightning" from 'These Few Presidents
2. The Dodos /
Visiter
- Describing the Dodos makes them sound potentially lame. They're a two-person outfit, probably best described as 'folk-punk', consisting a frenetic acoustic guitar player and a drummer with rhythms so solid that you could build a bridge out of them. They've garnered comparisons to a less experimental Animal Collective and the acoustic side of Led Zeppelin, but of the dozen-or-so friends I've converted into Dodos fans, no one has bothered to compare them to anything. The standard response: "These guys just kick ass." Yes, yes they do. I saw them live and confirmed that. And I recommend that you do too.
Best bits: the way "Jodi" feels like it's speeding up and slowing down in the verse parts, when in reality the tempo is held steady as a rock. the part in "God?" (favorite track) where, after asking "Oh God, where'd you go?" to an absent deity, you hear the singer yell "GOD!??!" from a mountaintop far away.
3. Marnie Stern /
This Is It and I Am It and You Are It and So Is That and He Is It and She Is It and It Is It and That Is That
- Once again, Marnie Stern shredded her way into my heart this year. This foxy female's 2nd album is a fine example of one my favorite qualities that a record can have: the feeling that it could fall apart at any moment, but never does. This elusive silver thread runs through the entire record, keeping her craaaaazy guitar work and cheerleader-esque yell/sing vocals perfectly in sync with Zach Hill's manic drumming. Plus, she's very sexy. Marry me, Marnie.
4. Flying Lotus /
Los Angeles
- Please, somebody give this guy Madlib's phone number. Seriously, if they collaborated, I think I might lose it. Stoners, listen to this. Fans of underground Hip-Hop, listen to this. Everybody else, listen to this.
5. Subtle /
ExitingARM
- I really don't get Doseone (Adam Drucker). He's a weird fucking dude, but after listening to dozens of projects that he's been involved in, his artistic merit is beyond reproach. When he sings, I have no idea what he's talking about, but don't really care. Subtle is one the most progressive bands out there today, and they just keep getting better.
6. Max Tundra /
Parallax Error Beheads You
- Yeah, so
Mastered By Guy at The Exchange
may be better, but who else is able to make such densely complicated super-happy pop music without it sounding annoying or contrived? This man has a lot of keyboards.
Best song: "Which Song"
7. Elbow /
The Seldom Seen Kid
- Elbow is the most underrated band I can think of. They've now put out four superb records, and I would venture to say they've never even written a bad song. Their lead singer, Guy Garvey (what a great name, right?!), sounds like Peter Gabriel at his best. They know how to use an orchestra AND a choir without overdoing it. They can be quiet and spacious without being boring or monotonous. They can be loud and noisy without losing the plot. Feelings of geniune melancholy and wistfulness are achieved without ever feeling sappy. Elbow are sublime. Every moment sounds just so.
8. Girl Talk /
Feed The Animals
- Yes, I like Girl Talk. It's fun. So fuck you, you pretentious prick.
9. Portishead /
Third
- It's not trip-hop anymore, but it's still darkcrazysexmusic. No. 1 record-to-bone-to from this year.
10. The Last Shadow Puppets /
The Age Of The Understatement
- This record may not be brilliant from start-to-finish, but its finer moments were on constant replay for me this year. Owen Pallett's orchestral arrangements harken to spaghetti westerns and the work of Ennio Morricone. Alex Turner's songs are ripe with 60's nostalgia, dripping with reverb and thick British-isms (i.e. pronouncing hankerchief as 'hanker-cheef'); coupled with Pallett's cinematic vision they reach a level of bombast and grandeur that is enviable.
Best Moment: On the title track, after Turner sings "And my fingers scratch at my hair / Before my mind can get too reckless / The idea of seeing you here / Is enough to make the sweat grow cold" under swelling strings that bring to mind pictures of trampling horse stampedes and rolling thunderclouds, he tilts toward the sky and lets out a chilling howl as the orchestra seemingly explodes in rapture.
Runners-Up
:
School of Seven Bells -
Apinisms
Like the Cocteau Twins? I do. So do these guys.
Santogold -
Top Ranking
Best mixtape I heard this year.
Neon Neon -
Stainless Style
Gruff Rhys from Super Furry Animals and Hip/Hop weirdo Boom Bip make a concept album about Tom DeLorean (yeah, the car guy) and it sounds like "Miami Vice."
Jay Reatard -
Singles '06-07
&
Matador Singles '08
(two albums)
Jay Reatard likes making loud, noisy pop music. And he does it well. And he does it a lot. His music makes me wanna punch someone in the face, then give them a hug.
Deerhunter -
Microcastle
/
Weird Era Cont.
yeah, it's pretentious, but it's actually really good too.
---
Clifton Gates
1. Why? /
Alopecia
(Anticon)
As I imagine has already been widely discussed, not all the songs on this album are cold killers. But then again is anyone really making no-fat albums these days? Even concept albums seem to be rife with interludes or, worse yet, skits. You could loop the first four tracks and have a compact version of the whole album, which is part of why its so brilliant because those four songs sound nothing alike but are all top-shelf jams. I'm not saying Yoni Wolf wrote the best album ever, far from it, but even though he's saying "A Sky For Shoeing Horses Under" rather than "shooting horses," I'm still waiting for someone to tell me why this isn't the best album of the year.
2. Fuck Buttons /
Street Horrrsing
(ATP Recordings)
This record is all kinds of messed up, but in its way is also extremely beautiful. Like an oppressive father, it probably doesn't make me a better person, and in fact might be messing me up a bit too, yet I can't stop loving it. "Sweet Love For Planet Earth" is almost 10 minutes long and I still think it is too short. This is going to sound gay, but when I tried to learn how to surf big waves this year I so much channeled that song. The rest of the album follows suit somewhat less brilliantly. If it weren't for the jungle track this would have been my #1.
3. Department of Eagles /
In Ear Park
(4AD)
This record is just the right mix of all the things that can get kind of annoying about talented people from New York these days. There's some anti-pop weirdness, some poignant and touching strummy stuff, enough of those sounds that computer nerds come up with to make it sound very 2008. I think the album cover is pretty perfect too, as the record is fairly melancholy but not really dark, and in fact has strong points of light to be found in it. Jesus, I think I'm going to cry.
4. Black Milk /
Tronic
(Fat Beats)
People kept saying that this was going to be another banner year for hip-hop, but all the big-ticket items I heard fell kind of flat. It was cool to see Nas and Ludacris and everyone else out on the campaign trail for Obama (doesn't anyone care what Ja Rule thinks anymore?), but those guys were bringing weak game. Was there a TI album this year? I didn't even notice. Was that Devin the Dude record this year? Who can remember. Detroit's too-hot producer Black Milk was the only MC/mixmaster stepping up with a quality addition to my "urban music" library. Lets get some Motor City color up in the top five.
5. Eluvium /
Life Through Bombardment
(Temporary Residence)
While none of these songs are really new, this is a 7xLP linen-bound set. Yea, a 7-album vinyl discography. Its also completely beautiful and is possibly one of the best impersonal gifts I have ever received. Plus Temporary Residence kind of phoned it in this year didn't they? Just read the description (
x
) and tell me you don't want one.
6. Parts and Labor /
Receivers
/ (Jagjaguwar)
To use a sports analogy, these New Yorkers had a rebuilding year. Sure, the lead guy still has the chemistry lab glasses and one of the longer-running hipster beards in indie rock, but P&L put most of their pedals out to pasture for this record. They also added a really attractive female member who, gasp, plays guitar and not bass. While going distortionless makes me pine for their early days, the girl was like a lottery pick in the draft. And I don't just say that because I tried to buy her a drink at a show once. I wonder why this band is so slept on.
7. M83 /
Saturdays = Youth
(Mute)
You can call these guys the next My Bloody Valentine or Slowdive or Depeche Mode for all I care, so long as Anthony Gonzales keeps making albums like these (preferably at a faster pace) I'll keep my mouth shut. Someone should help them out with their cover art though. Jesus, is that Boy George in the flannel and fedora? The 1980s might have looked like that, but they certainly didn't sound like this, which is why the Reagan Era sucked. I seriously called a French exchange student from my high school for no other reason than I thought she'd like this record. She'd never heard of M83, thought it was a machine gun, and told me not to call her again. Piss Off vous chienne!
8. JDSY /
Adage of Known
(Ghostly International)
The only thing more played out than one dude scrobblemashing a bunch of junk sounds and bleepy glitches together on his MacTop is trying to triangulate a fresh sound with references to other, more notable players. Any way you slice it, this is a tough call. Like if the Faint weren't all about guitars and high on the fumes of their syling gel? If you weirded out and de-hip-hopped the smarts of Prefuse 73? However you shake it down, JDSY is an interesting, if somewhat directionless, construction. Sims put his best track up front ("Else 2") and then drifted in to a bunch of distant smoke machine wand waving ("Staircase") and made plenty of nods to Nine Inch Nails, but even though a lot of douchebags with expensive jeans are probably into this album, its not half bad.
9. Deerhunter /
Microcastle
(Kranky)
I just read that an LAS writer took his dad to see this band. That doesn't surprise me. Although the guitarist looks like a character straight out of a Tim Burton film, Deerhunter swirl up pseudo-psychedelic rock tunes that lend themselves perfectly to both the Pitchfork-reading indie rockers of 2008 and their bank manager fathers who were busy acid-dropping in 1968. "Nothing Ever Happened" is the album's longest and best song.
10. TV On the Radio /
Dear Science
(Interscope)
Dan Weiss cleverly wrote: "With the lyrical content of U2, the sonic appetite of Beck, the dour-appearing universality of Radiohead and a penchant for covering the Pixies, it's easy to see in retrospect why everyone went nuts over them a few years ago, even if the content hadn't yet kicked in yet." Yeah, I'll bite.
---
Eric J. Herboth
01) The Notwist /
The Devil, You + Me
(City Slang)
I listen to it so often that it seems hard to believe
Neon Golden
, this German quartet's crossover delight, was released way back in 2002. Granted, in the interim there was 13 & God, the group they formed with Themselves, but more than half a decade is a long time to wait for such a fluid and organic follow-up to such a great album. I wouldn't say the wait was worth it, but it can certainly be forgiven. "Good Lies" opens the record perfectly, like a distantly held note carrying over from
Neon Golden
, and from there the album is equal parts fresh and familiar, bombastic and brooding, cutting and strumming. To boot, "On Planet Off" is one of my favorite songs from the entire year. Actually most of these songs have been my favorite of the year at some point.
02) Fuck Buttons /
Street Horrrsing
(ATP)
From the nearly ten-minute opener of "Sweet Love For Planet Earth," this UK laptop duo twists the heavier sounds of years gone by (think Mogwai, with whom they toured, or even the Deftones or Nine Inch Nails if you like) with the eccentricities and flourishes that today's digital tools provide. 2008 was the year of album openers, and "Sweet Love For Planet Earth" - which takes well over four minutes to begin reeling it in - is rivaled by only a handful. The album's second track, "Ribs Out," all jungle screams and tribal drumming, is also the album's shortest at just under four minutes. The next shortest is more than seven and a half minutes. The pair can push an idea well past its sell-by date, so there's some patience needed as things unwind, but
Street Horrrsing
's epic moments make it worth it. Plus I just like weird music.
03) Why? /
Alopecia
(Anticon)
Alopecia
is an extreme take on the 70/30 split. Seventy-percent of the album is some of the best music I've heard in the past few years, the other thirty-percent is fairly forgettable. Okay, maybe there isn't 30-percent filler, but there are definitely some snoozers. Of course that sharp contrast of extremes is what makes Yoni Wolf and his cadre of genre-less collaborators one of, if not "the," most exciting groups recording today. I defy anyone to come up with a good one-sentence description of this album, or an accurate comparison to another album. The closest I've heard is "tunes for hip-hop bike messenger librarian types," which is still not really that close. From the hypnotic low-end of "Gnashville" to the catchiness of "Simeon's Delimma" (a dark but beautiful love song in which a self-mutilating stalker on a fixed-gear follows his wary prey in her biodiesel Mercedes),
Alopecia
is nothing if not varied. I listened to this album, albeit with a finger on the SKIP button, more than any other 2008 release, no contest. Raising a glass to Wolf, I can simply say here's to the benefits of risks taken, and
Alopecia
is at #3 only because, as an editor, I knew the Euros needed the votes.
04) Flying Lotus /
Los Angeles
(Warp)
With so many guitar-based albums in the 2008 crop, I thought I was pretty much over the laptop/hip-hop hybrids that made the early part of the decade so exciting but quickly merged into one long Dan Deacon parody. Then along came Steven Ellison, aka Flying Lotus (who Josh Zanger
interviewed
in the spring), a guy so legit he's actually related to Alice Coltrane. From the opening synthetic vinyl hiss of "Brainfeeder," this album feels as comfortable as a night reading with a cup of green tea on an old couch under a soft light, but while it pulls a lot of familiar cards
Los Angeles
is also brisk and inventive. It reminds me of Cornelius' less abrasive moments, some of DJ Shadow's warmer sensibilities and, although a lot of people hated on it, that Avalanches record from forever ago has a few echoes here too. At times there seems no end to the layers of samples and tracks on this album, but where the less confident producer would line that shit in neon, Ellison knows how to blend everything seamlessly. It is really quite beautiful to hear something with such a diverse flavor that feels so monolithic and natural.
05) These Are Powers /
Tarot Tarot
/
Terrific Seasons
(Dead Oceans)
Having caught the band in a friend's loft a few years back, albeit in a slightly different triangular formation and operating under the name Knife Skills, maybe I shouldn't have been so surprised that even the presumptuous-sounding bits on These Are Powers' press release turned out to be legit. Seriously, who
wouldn't
curl an eyebrow or scrunch a nose at the dubious, self-anointed art-school genre tag of "ghost-punk"? But between front woman Anna Barie's fractured and largely indiscernible barks, yelps, hoots, and bellows, and the distant (and, yes, haunting) howl of Pat Noecker's bass (exemplified by the girth of "Peel Some Off"), the ghost-punk label sticks. The trio traffics in the enviable dead space between the cerebral artiness of Radiohead's experimentalist leanings, the bone-shaking feedback of Sonic Youth at their most defiant, and the cold echoes of Noecker's former band, Liars. Again, that might sound overly grand, but These Are Powers - so long as they don't two-pump chump like most decent New York art rock ensembles and slide off the map after the upcoming release of
All Aboard Future
- are shaping up as a force to be reckoned with. I'll cop to my #5 being more about the band as a whole than a single release, but if
Tarot Tarot
were longer, or if
Terrific Seasons
had been a bit tighter and released this year, 2008 would have belonged to These Are Powers. Consider yourself warned for 2009,
All Aboard Future
drops in February.
06) Deerhoof /
Offend Maggie
(Kill Rock Stars)
This band deserves a whole mess of bonus points, as do those of us who have stuck with them since, like, the 1990s. It is no surprise that the unit of weirdos, now stable as a quartet, toured with Radiohead a few years ago, as they have a distinctly different style but a similar sensibility of graceful maturation. Where albums like
Reveille
marked a distinct change in sound and each successive effort has been its own tag of refinement,
Offend Maggie
is by far the closest the group has come to the total package. The album is their most accessible, their most amps-to-eleven-sounding (thanks to Ed Rodriguez's second guitar), and also their most... confident? They were certainly always brash, but with age they've filled out, taken on that glow that beautiful pregnant women have. Which isn't to say they've gone all Whole Foods and Volvo Cross-Country, as they can still write songs about "Basket Ball Get Your Groove Back."
07) Black Milk /
Tronic
(Fat Beats)
Why hip-hop artists can't deliver a solid album anymore is beyond me. Instead we usually get four or five super-tight cuts peppered throughout a truckload of filler and name checks. That Al Sharpton screed was enough to bump
Tha Carter III
off my list entirely. Detroit export Curtis Cross has been tabling tight production work for a couple of years now, and his blade is sharp on
Black Milk
, his second solo album as MC, which he also produced himself. Like the beats he creates, Cross' flow is steady and reliable, buoyed at just the right depth in the mix of everything from Dwele's horns to DJ Premiere's scratches to tasteful 808 whacks and synth notes. There's still some junk, like "Without U," but other cuts like "Losing Out" provide balance.
08) Fucked Up /
The Chemistry of Common Life
(Matador)
Okay, I got talked into it. And, you know, there really should be some points awarded for making a real effort at creating something. See Deerhoof above. Every year there are dozens of Titus Andronicuses and A Place To Bury Strangerses and Clap Your Hands Say Yeahses who table passable but ultimately unadventurous albums, and then like an ingrown and infected toenail fester, become slightly embarrassing, and then just go away. Fucked Up take some chances and, yes, sometimes they completely Schrute it. But sometimes they hit it out of the park as well, which as anyone knows is difficult to do within the limited confines of "hardcore" music, and if you think there's no musicality in their mix you should check out their 4 songs from Daytrotter. Whatever the outcome, Fucked Up are certainly entertaining; not only did they play a 12-hour-long show in New York this year, they supposedly released a reel-to-reel tape version of
The Chemistry of Common Life
. Lists are about playing favorites. Is Fucked Up one of the ten best bands of 2008? Maybe not. But you can be assured they're far more important to the state of music than Titus Andronicus.
09) Land of Talk /
Some Are Lakes
(Saddle Creek)
Remember when the truly touching and diverse (yet somehow remotely connected) moments of the grunge years - from Nirvana to For Squirrels - washed over into the grand reservoir of rock music and created a bunch of snoozable tripe from the Toadies to Seven Mary Three? Well, imagine if the dam had been a bit higher, the flood had never come, and the Canadian government had been in charge of funding the spillway. That's kind of what you get with Land of Talk, a very un-hip, un-synthed, completely bombastic and driving and engaging trio that happens to be fronted by one of the sweetest voices this side of powdered sugar. There's no drum machines, no laptop glitches, no samples, just a solid rock record that is remarkable in its understated girth. There's no hidden track, but it closes with a ballad. Your roommate's band in college might have had the same idea, but they never wrote anything close to "Give Me Back My Heart Attack." Plus Alfoldy gave them a 9/10, which says a lot.
10) Bon Iver /
For Emma, Forever Ago
(Jagjaguwar)
It is kind of crazy that this album, a weirdly intimate little record with a back story of isolation and exhaustion, almost wasn't released. But as it turned out the nine songs (ten for iTunes buyers) originally intended as demos were bundled into an album and quietly self-released by creator Justin Vernon, were picked up for re-release a few months later, and within a year Vernon was performing one of them on
Late Night with Conan O'Brien
. Kind of like a Unibomber mash-up between the Beach Boys' druggier moments, Animal Collective's kitchen sinkisms, and a beardy Iron & Wine-ish vibe,
For Emma, Forever Ago
isn't as great as people have said it is, but its good, and its also probably the best soundtrack for dropping acid and driving a tractor through the woods since
The Sophtware Slump
.
-BONUS ROUND-
11) Parts and Labor /
Recievers
(Jagjaguwar)
It is tempting to distill everything down into one "main thing" that an album has going for it, but when you come up against a record like
Recievers
such tidy downscaling seems hopeless. Because this album has a lot going for it. High on any list of attributes would have to be the early unflagging energy, which is in turn bolstered by the almost brazen pitch of the album's tonality. There are even soaring man-vocals, ala Tears for Fears, to contend with. The result is a collection of songs that are very post-punk in their methodology, and slightly sneering in their (alternately) relentless barrage of red-level decibels ("Nowheres Nigh") and their pseudo-80s vibe of almost asinine constructions ("Wedding in a Wasteland"). When the band lets go their songs are rendered sharp as a razor with the almost squealing keyboard and synth notes that always find a way to pierce the din of buzz-saw guitars. But most of the time Parts and Labor seem content to stomp around on the middle ground, where their songs are strong but lack the spark of
Recievers
' blustery opening salvos. If there had been a few more lightning storms in this broody bunch, Parts and Labor would have made it further up the list.
12) Vivian Girls /
Vivian Girls
(In the Red)
Don't look now, but three girls from Brooklyn just made a hazy, ADD-timed, surf-rock version of Clinic's greatest hits. Granted, the trio's sound is more about cute tattooed hipsters with bangs taking cheery bong rips than Clinic's droning and slightly creepy organ, but there's the same sort of monochromatic bent to it. Sounds like backing music to some polka-dot-bikini'd babe jogging through 1960s SoCal surf, or the perfect score to a weird drug/murder scene in a Quentin Tarrantino film. Most of the songs are under two minutes, and since there was no new Thermals album this year I figured that was reason enough to give them a post-list shout.
---
Brian Christopher Jones
1 - Portishead /
Third
(Mercury) - Perhaps the most complete album of 2008, Portishead returned from a nearly ten year hiatus to record my top album of the year. The album drips with emotion, as the band delivers its most potent record to date. Complexity and experimentation reign supreme here, and the album will leave you psychologically drained after each spin. The spectrum of sensations is touched on Magic Doors, and I regard it as one of the top three tracks of the year. Then again, all the songs on this disk are enthralling. If it takes the Bristol band another 10 years for their next album, it would certainly be worth the wait.
2 - Sigur Rós /
Með suð í eyrum við spilum endalaust
(XL) - A somewhat drastic change from their previous records, this album cemented Sigur Rós into a somewhat Radiohead like status for many: a band that can continually evolve by pushing the limits of their genre while not alienating their listeners. From my LAS review: "No contemporary band combines classical instrumentation and post-modern rock better than Sigur Rós, and
Með suð í eyrum við spilum endalaust
is no exception. The album is a classic from start to finish, and only adds to the already monumentally impressive discography the band has produced in the past decade."
3 - Deerhunter /
Microcastle
(Kranky) - Bradford Cox was indeed busy this year, orchestrating not only this phenomenal record, but the debut album of his solo project, Atlas Sound (see below).
Microcastle
has an entirely different feel than previous Deerhunter albums, as it's more airy and lighthearted. Nevertheless, the band continues to produce some of the most interesting and provocative music around at the moment. Nothing Ever Happened is riveting, and the track of the year in my opinion. Other tracks on the record, such as Never Stops, Agoraphobia and Twilight at Carbon Lake, deserve immense praise as well.
4 - Vampire Weekend /
Vampire Weekend
(XL) - It was nearly impossible to avoid the earthquake this album created even before it hit the charts early this year. It was glorified by most critics, and the publicity the band received from this release was perhaps a bit too manic. However, the record did ultimately put a fashionable and compelling new-age spin on pop/indie/alternative music. The band is young, so expect good things (and hopefully some evolution) from them in the future.
5 - The National /
The Virginia EP
(Beggars Banquet) - Composed of mostly previously released B-sides, this album certainly quenched the thirst of National fans, and enticed new listeners as well. Although it's qualified as an EP, it stretches close to 50 minutes in length. The live renditions of Fake Empire and About Today are epic, and their rendition of Bruce Springsteen's Mansion on the Hill is fantastic. There are quite a few other luscious tracks on this album, but be wary of track 1, as it doesn't compliment with the remainder of the record in any sense.
6 - Atlas Sound /
Let the Blind Lead Those Who Can See but Cannot Feel
(Kranky) - From my LAS review: "If there is a single thing about Let The Blind Lead that stands out, it is its overall composition, which eschews rigid structure but possesses a particular elastic cohesion. Made up of tracks that are perfectly molded into fascinating, symphonic anthems that resonate uniformly regardless of placement yet adhere to the collection as a whole, the album fits neatly together however you order the songs. Listening to pieces in a shuffled sequence doesn't disrupt the consistency of Let The Blind, and in fact out of order play gives the work an added weight. While individual cuts find a way to mark themselves distinctly, the general mood of the album doesn't change drastically from track to track, and their randomization is as delightful as the original sequence."
7 - Department of Eagles /
In Ear Park
(4AD) - Although it took me a while to warm up to this album, it slowly crept into my list as one of the top records of 2008. The disk contains a somewhat experimental folksy charm, yet includes electronic elements and other majestic sounds to many songs which often times differentiate the material from anything I've ever heard. I regard the track Teenagers as one of the top three tracks written this year. Other notable songs on the record include Phantom Order and No One Does it Like You.
8 - Múm /
Go Go Smear the Poison Ivy
(Fat Cat) - Taken from my review on LAS: "The most impressive aspects of
Go Go Smear the Poison Ivy
are the sharp melodic changes and various abrupt sounds interjected into many tracks. Just when the songs feel so full as to rule out the addition of any other possible noises, along comes a drum, guitar riff, synth beat, cling or clang that fits perfectly into the track's bigger picture. Some of the sonic elements do appear odd and extraneous at first listen, but on subsequent spins the listener develops a craving for them, and it is that near perfect placement of sound which truly distinguishes Múm from other bands in their genre."
9 - Okkervil River /
The Stand Ins
(Jagjaguwar) - The Austin-based band once again proved their resiliency, producing another gem of an album. The band finds their folk roots on this record as well, a common theme among various indie artists nowadays. The track Singer, Songwriter is an absolute classic, and the accompanying songs cement this album as one of the best of 2008.
10 - Colourmusic /
f, monday, orange, february, venus, lunatic, 1 or 13
(Great Society) - This album fell into my lap one night after seeing the band live, and it's one of the best kept secrets of 2008. The Oklahoma-based foursome is extremely talented, and has compiled a catchy, expressive disk which challenges some of the more well-known groups on style and sophistication. Put in a Little Gas and Yes are probably the two most enthralling tracks on the album, and do a valiant job of intertwining ol' fashioned rock & roll with modern intonations.
---
Bob Ladewig
*01) Parenthetical Girls* -
Entanglements
// TOMLAB
Portland's Parenthetical Girls don't make the kind of music everyone can get into. This album lives in the thin line that separates uniquity and annoyance... but I am one of the believers. For three months I have been going back to this album and falling more and more in love with it. From the opening piano keys of *Four Words* to the final beautiful orchestral pop
strings of *This Regrettable End*, this band has created the most charming album of the year. Sure, there's no way a live show could ever capture the perfect beauty of the entirity of this album, but I will be forcing friends to listen to this album for years to come.
*02) Department of Eagles* -
In Ear Park
// 4AD
It's Grizzly Bear, part two. Yellow House is one of my most treasured albums and
In Ear Park
is a more juvinile version of that very same album. Daniel Rossen knows how to create wonderful chamber pop songs and I'm a sucker for beautiful harmonies and layered instruments. From the first time I heard *No One Does It Like You*, I was hooked - and now I've been skinned, deboned and left to marinate in the sweet sounds of Department of Eagles.
*03) Man Man* -
Rabbit Habits
// ANTI
It's Man Man, at their poppiest and friendliest. These guys put on the best live show I saw in 2008 and this album captures their live energy pretty darn well.
*04) Evangelicals* -
the Evening Descends
// DEAD OCEANS
Fun and creative, the Dead Oceans label (once again) has found a powerhouse of a band to add to their roster. This one was released in January and it has stayed in my rotation all year. Listening to this album is like witnessing a crackhouse bust - you don't know what to expect, but you can't wait to find out what they're gonna come out with next.
*05) Bound Stems* -
The Family Afloat
// FLAMESHOVEL
Chicago's own, Bound Stems took a giant step forward and released their sophomore album this year. To me, this album sounds like it was made by the Arcade Fire's experimental mid-west little brothers (and sister). It's beautiful and charming, but only in the way artsy-hipsters would enjoy. More people need to hear this record.
*06) Deerhunter* -
Microcastle
// KRANKY
I was (and still am) one of the few people who hated Cryptograms. All the noise drone transitions and layers of fuzz did nothing for me. I'm all for experimenting in music, but give people something to listen to, not just shitty noise.
Microcastle
is the great things Cryptograms tried to do, turned up to 200%. Dreamy, layered, lush pop music made by agoraphobic
extroverts. It's a contradiction of sorts that has given life to a unique album that I have fallen in love with.
*07) the Last Shadow Puppets* -
The Age Of The Understatement
// DOMINO
Retro pop should be played out by now, but for some reason Alex Turner's side project hit me at the right time and place and re-introduced me to the fun and machismo sounds of brit pop in the 60's and 70's. Honestly, how could you go wrong with guitar riffs that belong in James Bond films, layered on top of orchestra strings conducted by Owen Pallett? You can't - and that's why The Age Of The Understatement has stuck to me this year.
*08) Wild Beasts* -
Limbo, Panto
//DOMINO
Theatrical freak folkers, Wild Beasts have the ability to crawl right under your skin and cause a slight irritation, all the while digging a hole in your heart until they settle down for a warming nap. The voice of Hayden Thorpe could cause your untrained ears to bleed with annoyance, that is - until you start to crave the crazy sounds he makes as he excitedly chirps
and yelps out his poetic lyrics. It took me a few spins to dive into this record, but it was well worth it once I submerged myself in its beauty.
*09) The Week That Was* -
The Week That Was
// MEMPHIS INDUSTRIES
You don't have to be a fan of Field Music to enjoy The Week That Was, but The Week That Was will probably make you a fan of Field Music. Peter Brewis (Field Music) has created his side project with some of his mates and has found some of the most interesting sounds to create some complex pop album, in the style of someone who listens to too much Pink Floyd and/or Genesis...in the poppiest/best possible way.
*10) Pale Young Gentlemen* -
Black Forest (Tra La La)
// SCIENCE OF SOUND
If Andrew Bird raised a family, they would be Pale Young Gentlemen. This group of baroque hipsters from Wisconsin have released a wonderful chamber pop record. They go from quick and punky to slow and sleepy at the drop of a hat and everything in between. If you like your pop music with cello and a violin, look no further than the Pale Young Gentlemen.
---
Lara Longo
1 - Dr. Dog,
Fate
(Park the Van) - Soulful and heavy or ethereal and chompy, Dr. Dog brings a post-classic rock aesthetic to the musical landscape of 2008. Emotive and hooky, the Philadelphia-based band doesn't lose sight of their pop sensibilities even at their trippiest. "Army of Ancients" is a knockout and the dreamy "The Old Days" will leave you woozy.
2 - The Dodos,
Visiter
(French Kiss) - Stompy with mighty doses of strumming guitar. Pairs sophisticated vocals with celebratory instrumentals. Great from start to finish.
3 - Titus Andronicus,
The Airing of Grievances
(Troubleman Unlimited) - Proud New Jersey natives Titus Andronicus take the lo-fi, DIY approach. As the successors of garage rock, their hard and fast riffs are helping to revive a genre that hasn't seen this much excitement in years. This year, they've eclipsed their "working class" label and incessant comparison to Bright Eyes; their on-stage antics and off-stage cohorts (Spider Bags, Times New Roman) are causing quite a stir with angsty anthems and more than a few, to put it mildly, provocations.
4 - Ponytail,
Ice Cream Spiritual
(We*Are*Free) - From Baltimore's art rock scene comes Ponytail and their punk-paced, experimental noise rock. Though known for their frenetic live performances, the quartet is able to translate raw energy into
Ice Cream Spiritual
. Primal screams and mathy drum fills by the boatload. My iPod has had "Celebrate the Body Electric" on repeat.
5 - Bon Iver,
For Emma, Forever Ago
(Jagjaguwar) - A few months of solitude in blustery Wisconsin and Justin Vernon had himself a stunning album. While his personal tribulations reverberate throughout
For Emma, Forever Ago
, they do so in an unobtrusive, poignant way. Vernon combines grainy falsetto and lonely acoustic guitar for spot on, lovely melancholia sans the maudlin affect. Pensive and dusky, it taps into something universal about discontent; he sings, "When your money's gone/ And you're drunk as hell" earning empathy, not begging for it. Also noteworthy is the tender and beautiful track, "The Wolves."
6 - Department of Eagles,
In Ear Park
(4AD) - Melding folkish indie with unconventional soul, Department of Eagle's sophomore album is an expansive collection that's both melodic and charmingly convoluted. Introducing ominous stretches interspersed with powerful staccato make for an interestingly textured album. Some the best orchestral storytelling from 2008.
7 - The Hood Internet,
The Mixtape Volume 3
- Due to copyright laws, the dudes from The Hood Internet didn't technically "release" their third volume of mixes but, they did hit the web in October. No one does mashups as well as this team, period. In what other arena can She & Him meet Ludacris? Taking the best components of rap and R&B and mixing it with the best of indie and electronica, their hybridized yields are catchier, more organic and danceable than their original incarnations. Makes the hip-hop haters and rock naysayers of the world reconsider.
8 - Little Joy,
Little Joy
(Rough Trade) - Upbeat and drenched in twinkling guitar, Little Joy's eponymous debut is inviting to say the least. A composite of The Strokes and Los Hermanos, the group of three opt for a vintage sound through warm, lush harmonies and easygoing tempos. My pick: "Unattainable" and opener, "The Next Time Around."
9 - MGMT,
Oracular Spectacular
(Red Ink/ Columbia) - MGMT's eclectic Oracular Spectacular offers shades of rock, funk, and electronica refined through a pop filter. Balancing beat-heavy ("Electric Feel") with synth-happy ("Kids"), the duo with the big sound are, well, fun. With the economy and unemployment and wars overseas, MGMT's idea to "move to Paris, shoot some heroin, and fuck with the stars" is the best kind of escapism.
10 - Plants and Animal,
Parc Avenue
(Secret City) - Canadian psychedelia. Sounds like drugs.
---
Eric J. Morgan
1 Cut Copy -
In Ghost Colours
(Modular)
2 Shearwater -
Rook
(Matador)
3 Bon Iver -
For Emma, Forever Ago
(Jagjaguwar)
4 Crystal Castles -
Crystal Castles
(Lies)
5 Shugo Tokumaru -
Exit
(Almost Gold)
6 M83 -
Saturdays = Youth
(Mute)
7 Portishead -
Third
(Island)
8 Sigur Rós -
Með suð í eyrum við spilum endalaust
(EMI)
9 The Notwist -
The Devil, You + Me
(Domino)
10 R.E.M. -
Accelerate
(Warner Bros.)
Honorable Mentions
:
Coldplay -
Viva La Vida or Death and All His Friends
(Parlophone)
Fuck Buttons -
Street Horrrsing
(ATP)
Hercules & Love Affair -
Hercules & Love Affair
(DFA)
The Killers -
Day & Age
(Island)
Murder By Death -
Red of Tooth and Claw
(Vagrant)
The National -
The Virginia EP
(Brassland)
Pale Young Gentlemen -
Black Forest (Tra La La)
---
CONTINUE TO
STAFF LISTS N-Z
--
The LAS Staff
A number of the Lost At Sea staff have worked and continue to work for various publications, both independent and commercial. Often very stifling in their narrow focus, conventional media outlets left our writers hungry for something bigger, more diverse, more communal. More active, because this is the twenty-first century and it makes sense. During it's short life LAS has accomplished many of its goals (but not all) and has in turn set new ones. Everything that we accomplish is through teamwork and cooperation, both with our regular staff writers and with our contributing writers. LAS is nothing short of a collective. Another contrasting point to some of the magazines out there is that we've checked our egos and scene ethics at the door. We welcome anyone and everyone to contribute and cover a wide range of topics. LAS does not follow your guide lines.

See other articles by The LAS Staff.
If you'd like to help spread the word about LAS, or simply want to outfit yourself with some adhesive coolness, our 4" circle LAS stickers are sure to hit the spot, and here is how to get them:
-->
Send an with $2 in PayPal funds to cover postage. Don't worry, we'll load you up with enough to cover your town. Then just be patient. They will arrive soon.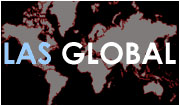 LAS has staff and freelance writers spread across North and South America, Europe, and a few in Southeast Asia as well. As such, we have no central mailing adress for unsolicited promotional material. If you are interested in having your project considered for coverage, please contact us before sending any promotional materials - save yourself time and postage!