LITERATURE
»
Full Dark, No Stars
- Stephen King's new novella questions mankind's ability to trust others.
[02.21.2011 by Bridget Doyle]
MUSIC
»
The Top 30 Albums of 2010
- Fashionably, fabulously late, our favorite music (and believe me, there was a LOT) of 2010, the year that some have called the best year for music ever. And only some of those fools work here. Plenty of usual suspects, lots of ties and a few surprises that I won't spoil, including our unexpected #1.
[12.24.2010 by The LAS Staff]
LOSTATSEA.NET
>
FEATURES
>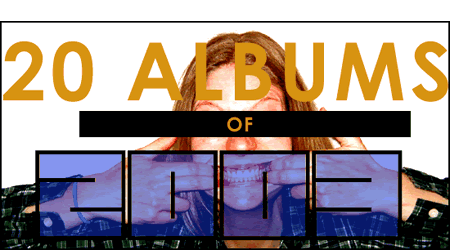 December 15, 2003
THE STORY OF THE YEAR
BY SARAH IDDINGS
Any of my friends will tell you, I have a knock-off of an A-type personality. An "A minus" personality, if you will. It's not so much I mean to be anal; it's just that I'm always eager. This list was no exception; I began compiling it before New Year's Eve ever cast hollow resolutions into my ear. I taped a list to my desk of releases I'd heard, or would like to hear by the year's end, and had already formulated Version 3.X by March. 
When taking this on, I was washed over by the thoughtful lists of forty reviewers, each earnestly piecing together what the year in music had meant to them. Narratives slid beneath the surface, as points shuffled our consensus with every vote. Clearly, there were many albums that shaped the year for all of us, unifying and broadening as the soundtrack played on. It was a wonderful experience I'm grateful to share, in the golden moment when I am not looking ahead to next year. With this in mind, Lost at Sea is proud to present our top 20 releases of 2003.
If you haven't already heard the albums on this list, we suggest you check them out. Also be sure to check out each staff member's individual lists and comments
here
. But enough dilly-dallying: on with the list!
---
(something is being weird with the code, please scroll down for the list)
---



01) Radiohead - Hail to the Thief (Capitol) - 140 points

It was indeed disappointing, but it was still better than a confounding percentage of the records released this year. If any other band had released this album, it would have been called two things: a Radiohead ripoff, and brilliant. The Brits have set the bar so high that even they are having trouble clearing it now. My only hope is that they can release another truly monumental album before they call it quits. [Eric J. Herboth]
-
SEE ALSO: LAS review






-





02) Ted Leo/Pharmacists - Hearts of Oak (Lookout) - 122

Hot damn. Ted Leo is a whiz when it comes to rockin' out, and a terrific lyricist to boot. This record is a great spin over and over: catchy, engaging, and intelligent throughout, and Leo's vocal range is a joy. One of the most original albums this year and one of the best. [David Spain]
-
SEE ALSO: LAS Review






-





03) The Shins - Chutes Too Narrow (Sub Pop) - 115

Great pop music from this indie band. If the opening track doesn't hook you in, you need to get your head examined. [Bobby Ladewig]
-
SEE ALSO: LAS Review






-





04) The Rapture - Echoes (Universal) - 112

Yeah, you heard of these guys. But shit, it's good. So many bands doing it, but the Rapture do their punk-disco best. [Jonah Flicker]
-
SEE ALSO: LAS Review






-





05) Murder by Death - Who Will Survive and What Will Be Left of Them? (Eyeball) - 111

Dante and Hitchcock brought visions of hell so chilling, so memorable and personal, that they frighten through the ages. This is the same classic horror and macabre storytelling set to verse. [Sarah Iddings]
-
SEE ALSO: LAS Review






-





06) The Decemberists - Her Majesty (Kill Rock Stars) - 109

On album number two, singer/songwriter Colin Meloy fully gives in to his pirate, war and vaudeville fantasies, creating an album that at once sounds refreshingly new and classically historic. The Decemberists certainly don't fall far from the Belle & Sebastian or Neutral Milk Hotel trees, but it's their unquestionable dedication to creating mood, scenery and language that sells their myths and stories. Meloy's faux-European accent gives each track some added authenticity, to boot. They're not reinventing the wheel, per se, but The Decemberists are by far the most exciting thing to come out of the KRS camp since Corrin Tucker wanted to be your Joey Ramone. [Jim Hanke]
-
SEE ALSO:LAS Review






-





07) Mars Volta - De-Loused in the Comatorium (Dreamworks) - 106

This is the most pretentious and self-indulgent record of the year, but despite this it's also one of the best. I didn't want to like it at first, but it is too well crafted and genius to not like. [Tom Nash]
-
SEE ALSO:LAS Review






-





08) The Postal Service - Give Up (Sub Pop) - 101

Although having obvious musical similarities to Death Cab For Cutie, Give Up may be more appropriately compared in sound and texture to that of other acts such as The Sea and Cake or The Notwist on their well-received 2002 release, Neon Golden. Elements of song-captivating electronic beats and keyboard melodies, along with whispy vocals provide Give Up with a constant musical theme but also enough variation to be catchy and enticing from song to song. [Josh Zanger]
-
SEE ALSO: LAS Review






-





09) Outkast - Speakerboxxx/The Love Below (Arista) - 85

Outkast continues to innovate with each new release. Although I would like to see more collaboration from Andre and Big Boi, the separate albums thing made me twice as happy. There are some dance masterpieces on this album, too, like Ghetto Musik and Flip-Flop Rock. If only they'd tour on this album. [Matt Bendett]
-
SEE ALSO: LAS Review






-





10) TIE Wrens - The Meadowlands (Absolutely Kosher) - 72

I was ready to give up on independent music - this year more than ever - but it seems that every time I've had enough an album like the Meadowlands comes along like industrial strength flypaper. The Meadowlands is a feat, both immediately recognizable and familiar in its elements of rhythm and melody but with arrangements and themes so deeply skewed towards the idiosyncrasies of its creators that it applies not only to our own lives but also solely to the band members themselves, all at once. It is as much ours as it is theirs. The Wrens have truly made a record of all our failures and triumphs; one that I see persevering for years to come. The Wrens saved music in 2003. [Mark Skipper]
-
SEE ALSO: LAS Review






-





10) TIE Cursive - The Ugly Organ (Saddle Creek) - 72

There is a vulnerability at the core of Tim Kasher's music. It's amazing that it hasn't been washed out by now, yet songs that proclaim the sting of "his latest whore", or lament over the loss of his daughter to another man show that he is not only a modern storyteller, he is a potent autobiographer. [Sarah Iddings]
-
SEE ALSO: LAS Review






-





11) The White Stripes - Elephant (V2) - 70

This is just about the only indie/industry big-hype sophomore album that really made an impression on me this year. "Seven Nation Army" is a great way to start an album and Meg White's vocal contributions to the album are a pleasant surprise. An all around solid record, this double-LP had me manning the turntables often this summer. [Eric J. Herboth]
-
SEE ALSO: LAS Review






-





12) Cat Power - You Are Free (Matador) - 62

Simple, yet elegant. Eddie Vedder, yet good. [John Steinbacher]
-
SEE ALSO:LAS Review






-





13) Death Cab for Cutie - Transatlanticism (Barsuk) - 61

Best or worst DCFC album? Let's just say that Ben Gibbard is becoming one of the finest songwriters around, raising the bar again with his intelligent, simple perspectives on life, love, and loss. His catchy pop songs are simply vessels for his mastery of lyricism, together making a potent combination and continually challenging himself with each consecutive release. [David Spain]
-
SEE ALSO: LAS Review






-





14) TIE My Morning Jacket - It Still Moves (ATO) - 58

This record is everything good about - if you must call it southern, well fine - rock all rolled into one. It's tuneful, crushing, gorgeous, exploratory and expansive. It picks you up and spins you in circles like a small child locked at the wrists with an older cousin, then sets you back down, dizzy and giddy. [Mark Skipper]
-
SEE ALSO: LAS Review






-





14) TIE Mogwai - Happy Songs for Happy People (Matador) - 58

Mogwai just gets better and more innovative with each release. Happy Songs for Happy People proved to me that they are, indeed, the best band across the sea right now. [Matt Bendett]
-
SEE ALSO: LAS Review






-





15) TIE Calexico - Feast of Wire (Quarterstick) - 51

The trek through the desert at dusk awaits, and Calexico will be your soundtrack. Beautiful, wide-open production highlights this collection of astoundingly smart music making. No one else on the planet can match Calexico's blend of genres into a coherent whole. [Mark Skipper]
-
SEE ALSO: LAS Review






-





15) TIE Absinthe Blind - Rings (Mud) - 51

The first round of shockwaves from My Bloody Valentine may have peaked for many in the mid 1990s, when bands like Failure and HUM were in their prime. But for fans of My Bloody Valentine (not to mention Spiritualized and Lassie Foundation) who have been lingering ever since Absinthe Blind offer up a saccharine nugget of powerful, extraterrestrial harmonics for the headphones. [Eric J. Herboth]
-
SEE ALSO: LAS Review




-





16) TIE Andrew Bird - Weather Systems (Grimsey) - 44

In all, the feel of Weather Systems is artistic, bold, and organic. Bird obviously embodies a passion for music's elasticity and range. What's more, for all of the love he puts in, he should get it in return, deserving reciprocal appreciation for such mastery. [Sarah Iddings]
-
SEE ALSO: LAS Review




-





16) TIE Holopaw - Holopaw (Sub Pop) - 44

Whether John Orth is crooning about clinging to something in quiet desperation or recalling a place or feeling with sweet nostalgia, the longing he describes is real and extremely palpable. Holopaw's debut is definitely one of the finest, most moving and sincere albums I have heard in a very, very long time. [Danielle Marusa]
-
SEE ALSO: LAS Review






-





17) Four Tet - Rounds (Domino) - 42

The solo project of Fridge's Kieran Hebden is a lo-fi laptop experimentalism that is out there without being unreachable, obtuse without being impossible to get your head around. Anyone who doubts the potency of Rounds need only crack it open - the opening track, "Hands," is a true tour de fource in atmospheric wazoww. Melody, crunch, glitch and noise packed into one tight, digital cube. Dee-licious. [Cassie Glanney]
-
SEE ALSO: LAS Review


-





18) TIE Jay-Z - The Black Album (Rockafella) - 40

Although it is not out of the ordinary for hip hop artists to boast their own celebrity, Jay-Z's latest work acts as an aural last hurrah of huge proportions. Prior to putting out the album, the rapper revealed that it would be his last release before a musical retirement and whether or not the departure persists, The Black Album is something special. [Josh Zanger]
-
SEE ALSO: LAS Review


-





18) TIE Damien Jurado - Where Shall You Take Me? (Secretly Canadian) - 40

The itch got scratched. On 2002's I Break Chairs, Jurado went electric and put out a rock record that released his inner demons. On Where Shall You Take Me? Jurado blows the dust off his acoustic guitar and strips his sound bare to reveal simple songs of desolate beauty.

His keen insight allows him to write heartbreaking vignettes about troubled souls who often cannot overcome their human frailties. The album's spare instrumentation brings those stories into stark relief that would be unbearable to hear were it not for Jurado's gift for melody and the glimmer of hope he gives his characters. [Peter Lindblad]
-
SEE ALSO: LAS Review


-





19) TIE Do Make Say Think - Winter Hymn, Country Hymn, Secret Hymn (Constellation) - 39

Imagine a quiet parking lot, glazed in opaque neon from the pattern of streetlights spaced evenly across the asphalt, maybe a few scattered cars, the hum of traffic off on a highway somewhere, and this music playing in the background. If you live in an empty town or near the outskirts of some sprawling metropolis, this band could be the soundtrack to your life. [James Hoey]
-
SEE ALSO: LAS Review


-





19) TIE Prefuse 73 - One Word Extinguisher/Extinguished (Warp) - 39

One Word Extinguisher, along with the Extinguished B-Sides, are the fruits of a good year that the ATL and Scott Herron helped make that possible. These two albums are inseparable in my mind now, but the simple truth is that these albums are as listenable as they are creative, plus they've got beats for days. [Mark Skipper]
-
SEE ALSO: LAS Review


-





19) TIE Songs: Ohia - Magnolia Electric Co. (Secretly Canadian) - 39

Songs:Ohia is an interesting beast, from its inception as the brain child of a heavy-metal bassist through its continual development as the closest thing the American indie scene has to a true Neil Young. Jason Molina's voice could melt steel and his songs are sheer beauty. [Eric J Herboth]
-
SEE ALSO: LAS Review






-





20) The Constantines - Shine a Light (Sub Pop) - 38

The Constantines are vibrant and catchy, playing fairly straight up rock that surpasses so much of the flavor of the month electro-this and garage-that. It's so refreshing to hear a guitar band that is able to make good music and textured songs that rely mostly on boozy melodies and dual guitars - the heart of rock and roll. The Constantines' beat is strong and steady. [Jonah Flicker]
-
SEE ALSO: LAS Review
---
THE BEST OF THE REST:
The remaining vote-getters and their scores.
37 points
The Forms
-
Icarus
(Threespheres)
Rachel's
-
Systems/Layers
(Quarterstick)
36 points
Dizzee Rascal
-
Boy in da Corner
(Matador)
Exploding Hearts
-
Guitar Romantic
(Narnack)
35 points
Arab Strap
-
Monday at the Hug and Pint
(Matador)
34 points
Explosions in the Sky
-
The Earth is Not a Cold Dead Place
(Temporarary Residence)
The Strokes
-
Room on Fire
(RCA)
Yeah Yeah Yeahs
-
Fever to Tell
(Interscope)
33 points
Stephen Malkmus
-
Pig Lib
(Matador)
32 points
The Blood Brothers
-
Burn Piano Island, Burn
(Second Nature)
31 points
Sufjan Stevens
-
Greetings from Michigan
(Asthmatic)
30 points
Denali
-
The Instinct
(Jade Tree)
M83
-
Dead Cities, Red Seas & Lost Ghosts
(EMI)
29 points
Grandaddy
-
Sumday
(V2)
The Life & Times
-
Flat End of the Earth
EP (54'40 or Fight!)
The Unicorns
-
Who Will Cut Our Hair When We're Gone?
(Alien8)
28 points
Microphones
-
Mt. Eerie
(K)
27 points
Xiu Xiu
-
A Promise
(Kill Rock Stars)
26 points
Books
-
Lemon of Pink
(Tomlab)
Iron & Wine
-
Sea and the Rhythm
(Sub Pop)
Sun Kil Moon
-
Ghosts of the Great Highway
(Jetset)
25 points
American Analog Set
-
Promise of Love
(Tigerstyle)
The New Pornographers
-
Electric Version
(Matador)
Pleasure Forever
-
Alter
(Sub Pop)
23 points
Portastatic
-
Summer of the Shark
(Merge)
22 points
The Weakerthans
-
Reconstruction Site
(G7 Welcoming Committee)
21 points
From Monument to Masses
-
The Impossible Leap in One Hundred Simple Steps
(Dim Mak)
The Jealous Sound
-
Kill them with Kindness
(Better Looking)
Throwing Muses
-
Throwing Muses
(4AD)
Viktor Vaughn
-
Vaudeville Villain
(Sound-Ink)
20 points
Pretty Girls Make Graves
-
The New Romance
(Matador)
19 points
Tomahawk
-
Mit Gas
(Ipecac)
18 points
The Silver Mt. Zion Memorial Orchestra & Tra-La-La Band
-
This Is Our Punk-Rock, Thee Rusted Satellites Gather + Sing
(Constellation)
17 points
(Smog)
- Supper (Drag City)
Volta Do Mar
/
Murder by Death
-
Konrad Friedrich Wilhelm Zimmer
(Arborvitae)
15 points and below
:
Please consult individual writer lists.
---
This was fun; we should do it again next year. In the meantime, be sure to check out the
individual writer lists A-M
and the
individual writer lists N-Z
to see how we arrived at our composite Top 20 albums for the 2003 Year-End Music Report. See you again for another year-end list in December 2004!
--
The LAS Staff
A number of the Lost At Sea staff have worked and continue to work for various publications, both independent and commercial. Often very stifling in their narrow focus, conventional media outlets left our writers hungry for something bigger, more diverse, more communal. More active, because this is the twenty-first century and it makes sense. During it's short life LAS has accomplished many of its goals (but not all) and has in turn set new ones. Everything that we accomplish is through teamwork and cooperation, both with our regular staff writers and with our contributing writers. LAS is nothing short of a collective. Another contrasting point to some of the magazines out there is that we've checked our egos and scene ethics at the door. We welcome anyone and everyone to contribute and cover a wide range of topics. LAS does not follow your guide lines.

See other articles by The LAS Staff.
If you'd like to help spread the word about LAS, or simply want to outfit yourself with some adhesive coolness, our 4" circle LAS stickers are sure to hit the spot, and here is how to get them:
-->
Send an with $2 in PayPal funds to cover postage. Don't worry, we'll load you up with enough to cover your town. Then just be patient. They will arrive soon.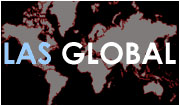 LAS has staff and freelance writers spread across North and South America, Europe, and a few in Southeast Asia as well. As such, we have no central mailing adress for unsolicited promotional material. If you are interested in having your project considered for coverage, please contact us before sending any promotional materials - save yourself time and postage!