LITERATURE
»
Full Dark, No Stars
- Stephen King's new novella questions mankind's ability to trust others.
[02.21.2011 by Bridget Doyle]
MUSIC
»
The Top 30 Albums of 2010
- Fashionably, fabulously late, our favorite music (and believe me, there was a LOT) of 2010, the year that some have called the best year for music ever. And only some of those fools work here. Plenty of usual suspects, lots of ties and a few surprises that I won't spoil, including our unexpected #1.
[12.24.2010 by The LAS Staff]
LOSTATSEA.NET
>
FEATURES
>
October 2, 2007
Although I have a history of becoming enamored with films to the point of infatuation, my vehement disdain for television is well established. It's not that the boob tube is a completely foreign object - as a kid I watched
M.A.S.H.
with my father on those nights when I was allowed to stay up past Jerry Slabe and Judy Frasier's WCIA news sign off, and I distinctly remember being too young to wrap my head around the idea that
Cheers
was never coming back. Of course there was also
Seinfeld
and more than a few dates with Charlie Rose and Ken Burns on PBS. But, by and large, I've taken offense to the way broadcast television insults my intelligence,and have found cable - with its
Monster House
s and Hallmark movies staring Tracy Gold - to be of little improvement. As of late, however, I've found myself being entertained by the small screen from time to time, and wondered if the times are indeed a changing.
In my defense, I should point out that my friends haven't been helping with their recommendations. For every decent series like
Six Feet Under
that someone turns me on to there exists a litany of horrendous
Grey's Anatomy
s and
Scrubs
and
Prison Breaks
that I can't find a narcotic enabler strong enough to let me stomach. Even when the small screen is good it is rarely great. After much praise from my contemporaries and hearing someone refer to it as "one of the best shows ever made" on NPR, I downloaded the first four seasons of
The Wire
and rather enjoyed it, but it's still pretty much a cop show. Which makes me find it that much more odd that I've become as enthralled with the half-hour NBC sitcom
30 Rock
as I have.
Outside of
Seinfeld
, comedies always rub me the wrong way, and they seem to follow me around as well. The frequency with which
King of Queens
and
Home Improvement
(under the name
Tool Time
) and their ilk are shown on German television is enough to make a person want to shoot themselves. Dumb, W.A.S.P.-centric sitcoms are just annoying, and the whole African American genre of BET and WB shows aren't much better. But
30 Rock
, which takes that weird high-brow-for-the-everyman humor of
Seinfeld
and plops it down in what is essentially a venue change for
NewsRadio
, just seems to click, due in part to the fact that although it takes place on a fictitious TV program it references the cultural and creative void of television far more than it sings its praises. In an episode with a race relations theme, there's even a cut-away to a scene from
Black Frasier
, a fictitious show from BET.
Built around nuggets of comedy rather than uproarious climaxes, there are a litany of little comedic morsels tucked away in each episode of
30 Rock
, but the thing of it is that the show rarely hits an entire episode out of the park. No matter; it doesn't need to. Granted, there were weeks in season one - the pilot, the race relations/boyfriend dismissal of episode eight, and the riotous episode 18 - that were non-stop funny, but the show regularly (more often than not in the early going when zingers took a slightly back seat to character development) has lulls that can drag on a bit before being rescued. One good example is the show's second episode, which is a yawner for the first three-quarters but is tidied up with a hilarious full-cast party aboard a stolen yacht (don't worry, there were no casualties - "Grizz was in the Navy").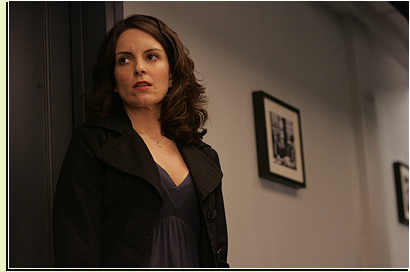 Having ended its debut season with "Hiatus,"
30 Rock
is set to launch its sophomore season this Thursday, October 4th, at 8:30pm (7:30 central) on NBC, and based on its first year out the show has a lot to live up to. When the show left off
The Girlie Show with Tracy Jordan
, the fake show within
30 Rock
's show, had just wrapped for the summer programming break having narrowly escaped losing its head writer, Liz Lemon (played by Emmy Award winner, writer, and executive-producer Tina Fey), to the wonders of Cleveland, losing its star, Tracy Jordan (
Saturday Night Live
's Tracy Morgan), to a powerful cabal of black celebrities known as the Black Crusaders, and losing its "network dude" patron Jack Donaghy (film veteran Alec Baldwin) to heart failure.
Led by Fey, who conceived the show, which is based loosely on her own life, during her tenure as head writer for
SNL
, the show is heavily anchored by its three stars, albeit not cripplingly so. Fey's role as Liz Lemon is
30 Rock
's unmistakable epicenter, steering the show much in the same way her motherly character is left to shepherd her listless co-workers. Lemon's primary concerns are in the workplace with the man calling the shots and the man bringing in her show's ratings, the sudden and simultaneous appearance of whom she must absorb into the established clockwork of her show, which much to her chagrin is re-branded by Jack from
The Girlie Show
to
T.G.S. With Tracy Jordan
.
After the initial turbulence of absorbing Tracy's outlandish ego into the fold, the second half of the season begins to focus more on Lemon's personal life, which in terms of dating is pretty paltry. Along with falling for a "superfluously handsome gentleman in a kick-ass elevator loft" whom she thinks might secretly be looking for a girl "who does weird stuff in bed because they think they have to," a homosexual "beard," or possibly a body from which to harvest black market organs but who turns out to be her biological cousin, Lemon is also set up on a blind date with a lesbian and linked to both a guy who plays the video game Halo under the name Slutbanger and a statutory rapist. All of which eventually leads to the rather predictable introspection about her feminine clock; "What if my junk goes bad?," she confides in her best friend, who subsequently puts out the word that Liz is looking for a baby daddy. Things ultimately improve for Lemon, although not without a few twists and turns, but eventually she's left pretty much where she started - alone in New York.
Alec Baldwin's early success as the network executive calling the shots has been well documented, his deadpan and detached delivery earning the kudos it has received. Although he's a big-wig at "NBC-Universal-K-Mart" with an official title of "Vice President of East Coast Television and Microwave Programming," Jack primarily spends his time revolutionizing home appliances, navigating social circles flanked by an endless cycle of hollow, super-hot women half his age, and bedding 40+ celebrities. Early episodes are balanced between Jack's battles to assert influence on Lemon's show and the obscurities of his personal life, which is alluded to include a sexual relationship with Condoleeza Rice (whom we of course find out has a sexual fetish for "Abu Ghraib" fantasy role playing) and is stated to include "having 'lunch' with Martha Stewart and 'dinner' with her daughter Alexis." Later in the season the show provides insights into Jack's personal life and "Fighting Irish" family - his mother's side of which he refers to as "Murphys... a bunch of mud farmers and sheep rapists" - before the prodigal exec is abandoned by Lemon and shot down in Icarus-like fashion by a subsequent pet television fireworks special that sends Manhattan into the terrifying clutches of 9/11 flashbacks.
The third prong on
30 Rock
's tridential attack is the underestimated Tracy Morgan as the outlandish Tracy Jordan, a left-field comedian often in the trough of tabloid fodder for anti-social behavior like biting child actor Dakota Fanning on the face or falling asleep naked on Ted Danson's roof. Jordan has risen from a life in foster care (where he lived with "two other dudes and a girl with messed up fingers") to a less than respectable but financially lucrative recording contract (the title track from the
Jordan Family Christmas
album has a raunchy video and a chorus of "imagine Christmas wishes/ shooting out of your eyes") and film career with lead roles in flicks like
Fat Bitch
,
Who Dat Ninja?
and
Honky Grandma Be Trippin'
to finding himself as the black-man-out on a corporate sitcom. Morgan's character is the show's primary vehicle for delivering lines about "sex pooping" or a "sneaky Taiwanese tranny who stole my wallet" or when someone needs to say something coarse like "my wife and I like to play rape." But Tracy also frequently displays his cunning by playing on Lemon's white guilt (which should only be used "for tipping, and voting for Barack Obama") and pretending to be illiterate to get out of work early, and he serves as the perfect springboard for both milking and stepping on African American stereotypes - he does steal televisions "because the Jets lost" but will also lie to a room full of rich white executives in order to raise money for diabetes research. The bulk of
30 Rock
's best quotes come either from Baldwin or Morgan, with Tracy Jordan spitting out confounding proclamations like "I want to hold a mirror up to society, and then win World's Record for biggest mirror" and "affirmative action was designed to keep women and minorities in competition with each other to distract us while white dudes inject AIDS into our chicken nuggets," as well as numerous linguistic twists like "this is untoward--this is not toward" or referring to his perceived mentoring role with Kenneth as the "mento" to the page's "manatee."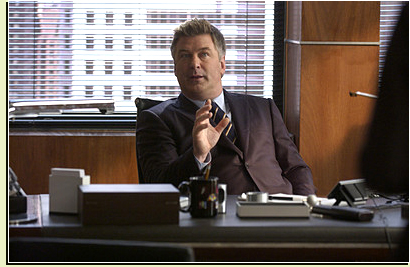 Like
Sports Night
and
Entourage
before it (neither of which I've seen, so don't correct me if I'm wrong),
30 Rock
's premise is built on that of the entertainment industry's inner workings. Although Tracy expresses his interest in delivering HBO-style content, the real world facts of broadcast television dictate a litany of restrictions to such - from the mysterious and censoring "ratings people" at the FCC to the military-industrial complexities of NBC's parent corporations, which include General Electric as well as the fictitious Sheinhardt Wig Company and Pokerfastlane.com. In episode five the
T.G.S.
producers find themselves at odds with NBC's demands that the show be used to sell hard goods like "one of GE's direct current drilling motors for off-shore or land-based projects." Although an elaborate compromise involving Jack's ill-advised participation in a live television broadcast is reached, that's not the point of the yuks; the laughs come with the absurd and repeated offhand mentions of Snapple and a walk-through from a guy in a Snapple bottle costume.
Beyond the world of television and media,
30 Rock
also pokes fun at other facets of its society - like the American worldview (a German prince, played by Paul Reubens, is depicted as a mutated inbred with no joint fluid, and Jack's season-ending love interest is a meek, phony, hollow-boned British meddler) and its domestic obsession with "patriotism" (Lemon remarking that, "I love America. Just because I think everyone should drive hybrid cars and gay guys should be able to adopt kids doesn't mean I don't love America.") There are actually quite a few political jabs and commentaries laced throughout the season, but it is done more as a grudging acceptance of American culture's rotting corpse than as stump speaking. That point is perhaps best driven home with cameos by FOX television commentators Chris Matthews and Sean Hannity.
Executive produced by
SNL
mogul Lorne Michaels,
30 Rock
is, to use a bit of terrible baseball jargon, also notable for its penchant to wind up with an inside-the-park homer on plans laid for sacrifice bunts. Although several attempts are made to feminize Fey's character with stabs at her dating life (although she comes close, I don't know that Lemon ever lands a kiss in season one), those soggy story arcs are always saved by the show's many tangents. One episode which finds Lemon struggling at a singles bar (she surmises a group of Wall Street types are from the firm "Daterape, Cokington, Cheeseball and Jag") is one of two episodes completely stolen by Dean Winters in his role as Dennis Duffy, Lemon's on and off but currently back on again boyfriend, the Beeper King of Manhattan. Of course mentioning Winters is a nice segue with which to resume dumping shovel loads of shit on television, as he has also been cast in a cameo as Raymond Caine, the brother of
CSI: Miami
's Horatio Caine (played by one of the worst actors in modern history, David Caruso) and has been a regular on some absurd housewife/redneck fantasy show about New York firefighters for the past three years. On
30 Rock
, however, Winters' role as Dennis has some amazing dialogue, best exemplified by his goodbye letter - which he reads aloud in front of Lemon and her entire staff after being dumped and thrown out of Liz's apartment:
"Dear Liz Lemon: While other women have bigger boobs than you, no other woman has as big a heart. When I saw you getting ready to go out and get nailed by a bunch of guys last night, I knew for sure it was over between us, and for the first time since the '86 World Series, I cried... I cried like a big, dumb homo. And if it was up to me, we'd be together forever. But there's a new thing called 'women's liberation' which gives you women the right to choose and you have chosen to abort me, and that I must live with. So tonight, when you arrive home, I'll be gone. I officially renounce my squatter's rights. I'll always love you, goodbye and good luck."
Of course that episode is capped by Dennis' unwitting role in a
Dateline
segment about sexual predators ("Let me tell you about 20 year-olds: half of them are 16").
Fey, Morgan and Baldwin are anchored by a smattering of such supporting roles that more or less follow the successful mold of oddball comedies passed; there's the absurdly beautiful blonde ditz behind the receptionist's desk, a Theo Huckstable type Harvard-educated black guy, and a coolly funny weird guy that looks every bit the part of someone who lives with his mom and takes a bunch of Cialis before a long night alone on Valentine's day. The latter character, Frank, is an expert in all things nerdy and obscure, with little interest in personal grooming and a trove of trucker hats emblazoned with obtuse slogans like "Alabama Legsweep," "Extra Cheese," "Rods," and "UFO Expert." Frank is played by Judah Friedlander, a popular East coast comedian who is known for his expertise in all things nerdy and obscure, having little interest in personal grooming and a trove of trucker hats emblazoned with obtuse slogans. Friedlander essentially plays himself, but he's interesting enough that it works.
Another endearing, if slightly confusing quality of
30 Rock
is that the source of the show's firepower seems to run contrary to its setup; the show's supporting cast often delivers gut-busting performances, although not the way one would predict. Behind the show's three main roles are a number of dead spots, with Jane Krakowski's character Jenna Maroney employed sporadically, primarily when the plot calls for a superficial and skanky airhead, and Scott Adsit's producer Pete Hornberger relegated to a peripheral orbit that rarely intersects with the meat of an episode. On the contrary, Jack McBrayer, as Kenneth, the eager-to-serve-television page, is only marginally related to the creation of
T.G.S. With Tracy Jordan
but figures into many episodes as prominently as the show's marquee stars and has rightfully become a keystone in
30 Rock
's construction. Filling in the show's many holes is an army of established actors in cameos and bit parts, from Dean Winters' Dennis Duffy to
SNL
's Will Forte as the recurring Dr. Leo Spaceman and multiple roles by fellow
SNL
alum Rachel Dratch, to Ghostface Killah, Paul Reubens, Al Roker, LL Cool J, one of the gay guys from
Will & Grace
, and some guy named Will Arnett in a beyond-episode stealing performance as Devon Banks, NBC's Vice President of West Coast News, Web Content, and Theme Park Talent Relations and Jack's arch-rival.
While there were an abundance of well-cast bit parts in
30 Rock
's first season, with appearances by Conan O'Brien, Isabella Rossellini, Rip Torn, and a host of others, Fey has indicated that the 2007 season will cut back on high powered cameos in order to further develop the characters at hand. We'll have to see if that is indeed the case, as the season premiere this Thursday includes an appearance by none other than Jerry Seinfeld. One thing is for sure, however:
30 Rock
is as well written as anything I've seen on television, and especially so for a 30-minute weekly sitcom. With all of his Kim Basinger court squabbles, Alec Baldwin's award-winning role as Jack Donaghy is sure to revive a resuscitation-worthy career, Tracy Morgan has finally moved past the rarely used
SNL
ethnic prop who could could hardly keep a straight face and into his own as a comedic star, and Tina Fey has taken a rocket ship ride from television's footnotes to the A-list of the entertainment world. As crazy as it is for me to say it, I love this show. I love it so much that I want to "take it behind the middle school and get it pregnant." To consider
30 Rock
anything less than a hit would be a disservice. Unfortunately for me, I can only stand watching television shows after the fact, a season at a time, and so like
Lost
I won't be able to watch a new episode of
30 Rock
until next summer. No matter; I can always watch season one again.
To catch up on what you might have missed thus far, NBC has made the entire first season of
30 Rock
available to North American viewers
for free online
, and for those outside of the New World the show is easy to find on peer-to-peer file sharing networks in the complete season bundle. SEE ALSO:
www.nbc.com/30_Rock
--
Eric J Herboth
Eric J. Herboth is the founder, publisher and Managing Editor of LAS magazine. He is a magazine editor, freelance writer, bike mechanic, commercial pilot, graphic designer, International Scout enthusiast and giver of the benefit of the doubt. He currently lives in rural central Germany with his two best friends, dog Awahni and cat Scout.

See other articles by Eric J Herboth.
If you'd like to help spread the word about LAS, or simply want to outfit yourself with some adhesive coolness, our 4" circle LAS stickers are sure to hit the spot, and here is how to get them:
-->
Send an with $2 in PayPal funds to cover postage. Don't worry, we'll load you up with enough to cover your town. Then just be patient. They will arrive soon.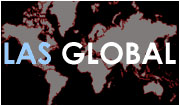 LAS has staff and freelance writers spread across North and South America, Europe, and a few in Southeast Asia as well. As such, we have no central mailing adress for unsolicited promotional material. If you are interested in having your project considered for coverage, please contact us before sending any promotional materials - save yourself time and postage!