LITERATURE
»
Full Dark, No Stars
- Stephen King's new novella questions mankind's ability to trust others.
[02.21.2011 by Bridget Doyle]
MUSIC
»
The Top 30 Albums of 2010
- Fashionably, fabulously late, our favorite music (and believe me, there was a LOT) of 2010, the year that some have called the best year for music ever. And only some of those fools work here. Plenty of usual suspects, lots of ties and a few surprises that I won't spoil, including our unexpected #1.
[12.24.2010 by The LAS Staff]
LOSTATSEA.NET
>
FEATURES
>
December 21, 2007
Jon Burke's Top Ten List
1.
No Country for Old Men
Cormac McCarthy's
No Country For Old Men
reads like a movie - cinematic Southwestern locales combined with heavy action and the most badass villain since Hannibal Lecter. The Coen Brothers took McCarthy's book and created one of the few perfect "novel to film" adaptations. This film deserves every award they throw at it.
2.
The King of Kong: A Fistful of Quarters
Nerds. Classic video games.
King of Kong
is a documentary film that feels more compelling and cinematic than about 95 percent of the movies in theaters this year.
3.
Day Watch
Day Watch
, the sequel to
Night Watch
, the Russian supernatural sensation the perfectly blended artistic cinema with supernatural action and horror. The intricate plot, the gorgeous effects and the gripping storyline put both films well ahead of better financed fantasy fare like
The Chronicles of Narnia
.
4.
Bug
Bug
is William Friedkin's best film since
Sorcerer
and his best horror film since
The Exorcist
. Friedkin takes Tracy Letts' play and turns it into a chance for Ashley Judd and especially Michael Shannon to slowly drag viewers into a hellish realm of paranoia and psychosis.
5.
Red Road
Red Road
is my favorite film of 2007. Without resorting to excessive violence or shocking storylines, director Andrea Arnold created one of the tensest and most devastating films I've ever seen. The story of surveillance and loss portrayed in
Red Road
is disturbing and fascinating and completely engrossing. See this film.
6.
The Lives of Others
Another story of surveillance, along with
Red Road
,
The Lives of Others
addresses the ever increasing conflict between security and privacy.
The Lives of Others
is another slow burner that will stick with you for days after watching it.
7.
The Bourne Ultimatum
The
Bourne
flicks have provided audiences with intelligent, entertaining action since 2003's
The Bourne Identity
.
The Ultimatum
may conclude the series but it serves up every ounce of suspense, action and pleasure that the two previous films offered.
8.
Knocked Up
I saw this film with Lost At Sea's very own Josh Zanger. We laughed. We cried. Afterward he tried to get me pregnant… Screw you, Zanger.
9.
Zodiac
The most underrated film of 2007.
Zodiac
is a perfect police procedural drama - a three hour episode of Law & Order with David Fincher's visual style and some amazing performances from Mark Ruffalo and Brian Cox. Also, how did they manage to make Chloe Sevigny not look like a whore?
10.
300
Too much has been made of this movie.
300
is NOT as good as nerds like me have made it out to be. That said, the gorgeous Frank Miller style and super heroic feel of the film will forever alter the direction of cinema. It is a cinematic milestone and thus it belongs on my list.
---
Jonah Flicker's Top 10 Reasons To Still Go See Movies In Theaters Even Though Cell Phones Ringing, Annoying People Talking, and Confused Old People Wandering In During The Last 15 Minutes Of The Movie Seem To Be Occurrences More Common Than Ever
10)
Zodiac
(David Fincher)
Best use of Donovan's "Hurdy Gurdy Man" in a film.
9)
The Simpsons Movie
(David Silverman)
Much better in a compact 30 minutes, but still pretty damn funny.
8)
Sicko
(Michael Moore)
Manipulative but potent and entertaining.
7)
American Gangster
(Ridley Scott)
Fuck Russell Crowe. Except when he does movies like this.
6)
Superbad
(Greg Mottola)
The Apatow/Rogen machine's funniest work.
5)
Rescue Dawn
(Werner Herzog)
Perhaps his most "Hollywood" picture, but shades of
Fitzcarraldo
abound.
4)
Margot at the Wedding
(Noah Baumbach)
Surprisingly good, much more acerbic than
The Squid and the Whale
.
3)
The Darjeeling Limited
( Wes Anderson)
The formula continues to work.
2)
Knocked Up
(Judd Apatow)
Repeat viewings reveal awesomeness.
1)
No Country for Old Men
- Joel and Ethan Coen
True to McCarthy's novel, stark, scary, stupendous.
Jonah Flicker's Reasons To Stay Home and Watch DVDs, In No Particular Order:
The Wendell Baker Story
(Luke and Andrew Wilson)
Complete hackneyed, cliched crap. This is why the Wilson's should stick with Wes Anderson.
Redline
(Andy Cheng)
Bad meaning good? No, bad meaning bad.
Lars and the Real Girl
(Craig Gillespie)
Don't fall for it. Shame on you, Ryan Gosling.
Black Snake Moan
(Craig Brewer)
The Green Mile
meets
Shaft
, and not in a good way.
---
Zack Hall's Top Ten
10.
2 Days in Paris
- Julie Delpy
A lovely, more plot-intensive romp around Paris with Julie Delpy (
Before Sunset
). Adam Goldberg proves he can play more than the Hebrew Hammer. A great first production effort for Netflix.
9.
Lake of Fire
- Tony Kaye
2.5 hour long abortion documentary. Not the most pleasant film, but excellently researched and assembled over the past 15 years. From the director of
American History X
.
8.
Knocked Up
- Judd Apatow
Just got a kick out of this one.
7.
Exiled
- Johnny To
Excellent Hong Kong Western about childhood friends banding together to stop each other from killing one of their former gang mates. Beautiful gunfights from the modern master of the gangster film. Great film about masculine love.
6.
Michael Clayton
- Tony Gilroy
Astonishing acting by the excellent Tom Wilkinson and Tilda Swinton make this swankily distraught corporate thriller worth a watch. Also starring one assuredly miserable Dr. Doug Ross.
5.
Black Book
- Paul Verhoeven
Better-than-Lust, Caution sexy action flick about a Jewish woman in World War II who seduces Fascists.
4.
The Assassination of Jesse James by the Coward Robert Ford
- Andrew Dominik
I just can't resist a cameo (and soundtrack) by Nick Cave in a film about homo-erotic masculine jealousy. Excellent performances. Very
McCabe and Mrs Miller
.
3.
I'm Not There
- Todd Haynes
The most satisfying creative exploration of the year. It's refreshing to see films that do something different with style and structure in these times of
Transformers
(which consequently gets my pick for best long-form commercial of the year).
2.
Eastern Promises
- David Cronenberg
Who doesn't love violence and full-frontal? From the king of grotesque modernism. Great double feature with the first Viggo-Cronenberg outing,
A History of Violence
.
1.
No Country For Old Men
- Joel and Ethan Coen
The only one on this list destined to become a classic. Beautifully executed adaptation full of great performances.
Zack Hall's Runners Up:
Juno
Ratatouille
Before the Devil Knows You're Dead
---
Eric J Herboth's Random List Of Films I Saw and Have Something To Say About
Knocked Up
At the risk of offending half of the writing staff, this film is pretty much an exemplification of what is wrong with both mainstream cinema and people. I've made a mental note not to stay at the homes of anyone who recommended this film, as they're likely the kind of people who find it funny to pass gas on someone's face while they're sleeping.
Knocked Up
is dumb, sophomoric humor that isn't even funny, pitched to low-brow/low-I.Q. American guys who think every girl is a brainless fuck hole, and I guess also to American women who are, well, brainless fuck holes with tramp stamp "tribal" tattoos who traipse along behind their Frat Dude boyfriends like dogs on leashes. I didn't even bother watching the entire film and I still felt, like, totally a bunch dummer after it. This was almost as bad as
The 40 Year Old Virgin
.
The Lives of Others
Brace yourselves, for my fellow countrymen have, rather than siphoning it off like so much blow up Paris Hilton's nose, actually contributed to culture, entertainment, and political discourse. No, I'm not talking about the recent resurgence of Einstuerzende Neubauten (which is good!) or the Rich Prosecco "canned wine" (WTF?) that the aforementioned ditz is now hawking, but rather the debut film from director Florian Henckel von Donnersmarck (yeah, I wish that was my name too). Without a doubt the best film I saw in 2007 (although it was released domestically in 2006 and already won the Academy Award for best foreign film),
Das Leben der Anderen
has a great story arc, beautiful cinematography, superb acting, excellent pacing, and it made a strong political statement as well. If my fellow Landsleute produced more original (read: not a cheap knockoff of an American or British version) art like this, I might actually bring myself to buy a mobile phone and even refer to it as a "handy."
Into the Wild
I predicted going in that this Sean Penn-directed road movie was going to be a wash, and I was right. Not that the story of Chris McCandless' suburban naiveté and search for a truly free life is not a compelling one, because it is - in fact, the book is one of my must-read recommendations for any potential vagabond, a much more enjoyable text than author John Krakauer's more popular ego wankathon
Into Thin Air
- it was simply too obvious that it would be a yawner on the screen. To make matters worse, Sean Penn delivers what my PhD-in-film friend calls a "one shot director" mess, trying to insert every stylistic option available (slow motion, split screens, intense close-ups) as if this were his first movie and he might never get the chance to man a camera again. This is just one of those stories that is too good to be given the easy way out at the cineplex and should be consumed as it was born, in the written word.
Superbad
After railing on the Miller Lite fare of
Knocked Up
above, you might be expecting me to tear this film a new one, but I'm not wearing my predictable pants today. I don't want to say that Seth Rogan and Evan Goldberg's ode to teenage pussy-and-beer gettin' has gravitas, because it doesn't. But it does have a certain
je ne sais quoi
that left me nearly, to borrow a phrase from the target audience, totally pissing in my pants, bro. Susan Howson was right when she pointed out that the film's life lessons, tacked on in the last ten minutes, are flimsy and forced. But having been a teenager with a penis myself once, I can say that this film is at the least believable. If you had told me it was a documentary about kids in some wasteland like Schaumburg or Modesto I wouldn't have batted an eye. On the other hand, the nice woman from that horrid white trash suburban mom medical drama who stars in
Knocked Up
would never actually sleep with some fat stoner douchebag like Seth Rogen's "Ben Stone" character (oh my god, was that wordplay in that name?!) in real life, let alone keep his potentially bar-crawling, bong-ripping, troop-supporting, Phish-listening, Republican-voting, Game-Cubing, Target-shopping child. I guess what I'm saying is that the girls in
Superbad
are believably average looking, the guys are believably inept at approaching said girls, and the dialogue, although probably more appropriately attributable to 8th graders than high school seniors, is about a bazillion times better than Judd Apatow's drivel.
The Hottest State
Allow me to embarrass myself by admitting that I
bought
Ethan Hawke's first book, at a book store, when it first came out. I know, I know - but it was a long summer of reading Tolstoy and Dumas, and I needed to digest something penned after the invention of the wheel that wouldn't require much thought. The book was pretty lousy, and the film isn't any better due to the source material of the former Mr. Uma Thurman. The reason I bring this whole thing up is that I didn't think there could be anything more ridonkulously pandering to fat ass Americans than when John Cusack bought the rights to
High Fidelity
and then switched it's tale of an obsessive audiophile from London to Chicago. That is until Ethan Hawke took
his own book
and changed it from Paris to New York. Is it simply impossible for American audiences to relate to a story set in a foreign country? The do speak English in England.
No Country For Old Men
Read what everyone else has to say, and then if you don't go to see this film you can't be my friend. Ever.
The Bourne Ultimatum
Ben Affleck is not a good actor. Matt Damon is no DeNiro, to be sure, but he is the face in the driver's seat for the film adaptations of Robert Ludlum's Bourne series, a trio of super-fast paced action thrillers made for the literary as much as the macho, which for some reason I thoroughly enjoy (I'm literary and macho, thanks for asking).
The Bourne Ultimatum
's rooftop-and-balcony chase in Tangiers is the best action sequence I've seen since… I don't want to say
The French Connection
, but maybe
Ronin
.
Curb Your Enthusiasm: Seasons 1-Forever
Okay, so this isn't a film, but I haven't had something this weird and hilarious come into my life since Kevin Alfoldy flew into the Frankfurt airport a bazillion hours later than scheduled. With this HBO half-hour comedy series Larry David makes his calling card,
Seinfeld
, look like
Party of Five
. They are all amazingly funny, but my personal favorites are the episode in which Larry gets high with his dad and a ghetto prostitute, and the one where the producer of
The Producers
walks in on him cracking up in a diner booth with the retarded guys from the car wash and the woman in the burka. Someone needs to invent a new word for all the great guest spots in the series, because "cameo" doesn't quite cut it. Discovering something this amazing - the show even exonerated a man named Juan Catalan (real name!), who was facing charges of premeditated murder in Los Angeles - seven years after it started almost makes me consider watching television again. Almost.
---
Susan Howson's Top Five Movies that I Couldn't Really Review This Year Because I Was Just Too Busy Emoting
I tried, I really tried, but the keys got all slippery from my tears, whether they be from joy or sadness, and my heart beat so fast that the words just could not be heard overtop of its pounding tattoo. Was 2007 the year we embraced our emotions? Or did we just create these moving pieces in order to cause our dates to cuddle close? Can you handle your soul ripped open and laid out to be examined before your very eyes? Now is the time to pop in a DVD, look around with wet lashes, and accept the fact that you will feel a pang every time you think of this film -- now...and forever!
5.
Enchanted
I'm just going to go ahead and risk credibility right at the outset. Enchanted is a Disney film that is meant for kids and their parents to enjoy together, but, besides being Pixar-quality funny, stars Amy Adams and James Marsden invoke the feel-good fever of our Disney childhoods set against a 2007 Manhattan backdrop. Your emotion: unfettered glee. Caution: You might also feel a little ashamed of yourself as Disney exposes you for the cynical brat that you are.
4.
Juno
It's possible that Juno might not call up emotion in every filmgoer, but if by chance you have the good fortune to have been a teenage girl and/or an ardent fan of early 1990s Seattle rock, you will not be able to escape it. Those adolescent female memories that you've been trying to repress are no match for this fantastic film, which sets a young girl's confusion and insecurity in comparison with a woman's overwhelming desire to nurture. I can't even talk about it anymore. Jason Bateman sings a Hole song. Your emotion: nostalgia for your teenage years or the 90s, or if you're one of the lucky Gen Y'ers, both! Caution: Might induce attacks of baby fever on the prone.
3.
Stardust
Unicorns and princes and witches. I saw this twice in the theaters and couldn't once bring myself to tarnish its sterling memory by picking it apart. Your emotion: utter joy and a yearning for more funny, smart fantasy films. Caution: Coming back to reality after Stardust is a bitter, bitter pill to take.
2.
The Namesake
Technically a 2006 release but unavailable until 2007 in the United States, I almost boycotted this film because of its heavy promotion, which depicted it as a movie in which parents just don't understand. Wrong! They understand a ton! And you know why? They've been through a whole hell of a lot! And guess what? Maybe it doesn't get any better. Maybe things continue to fall apart! But that's just the way life is, for them, for you, and for the rest of us. Your emotion: Grief, familial love, and paranoia. Caution: You might become a tad clingy after all of this. And you might dump your well-meaning girlfriend for not understanding your culture.
1.
Away from Her
Scarier than any horror movie I have ever seen, this fantastic maiden voyage for actress-turned-director Sarah Polley shows us the effects of Alzheimers on a successful, loving, and aging couple. I honestly started crying about five minutes into this film and didn't stop until well after it was over. I even cried during a sandwich break. Your emotion: Stark terror as you realize the likelihood of one of these fates eventually happening to you. Caution: Immediate Enchanted chaser required.
Here's hoping 2008 wreaks a little less havoc on my feelings, because I, for one, feel like I deserve a break. Happy New Year!
---
Bob Ladewig's Top Five List
1.
No Country For Old Men
The cinematography alone is award worthy, but this Coen Brothers film also has a great story and great acting.
2.
The Life of Reilly
A documentary of Charles Nelson Reilly's one-man show. The last time Reilly ever performed his one-man show live, actually. As charming a film subject as he was a TV personality.
3.
Hot Fuzz
Yes, please. I'll have more of this.
4.
Superbad
For a high school sex romp comedy, this one has heart and charm. Plus, Michael Cera is great at performing awkward moments.
5.
Juno
Another reason Michael Cera is so good. A great soundtrack and an awkward/touching story.
---
Eric J. Morgan's Five Movies From 2007 That I Wanted To Be Great, But Weren't
1.
1408
This adaptation of Stephen King's scary short story was all over the place. John Cusack does the best he can with the material, but the film's script simply goes in circles and leads to nothing of importance, only confusion from the viewer. A modest disappointment, similar in style and tone to another Cusack disappointment,
Identity
.
2.
The Golden Compass
Phillip Pullman's
His Dark Materials
series is one of the most engaging in the fantasy genre, but the film adaptation fell relatively flat. Dakota Blue Richards is wonderful as the young Lyra, but the rest of the cast, including Daniel Craig and Nicole Kidman, seem out of place (and underused). Furthermore, the religious criticism prevalent in the novels was mostly removed from the film, which gives it much less bite. It looks unlikely that the two sequels will be made after middling reviews and a poor box office showing.
3.
Hannibal Rising
Hannibal Lecter is one of film and literature's most interesting villains. But the back-story on Lecter's transformation into a notorious serial killer and cannibal is facile and moderately disappointing. The film is, admittedly, a fun experience, but ultimately it offers too easy an answer for Dr. Lecter's eventual tastes. Gaspard Ulliel, who played the sappy French solider in
A Very Long Engagement
, just wasn't right for the part of young Lecter.
4.
Into the Wild
The story of Chris McCandless, a.k.a. Alexander Supertramp, is fascinating, but Sean Penn paints a far too sympathetic portrait of McCandless in his adaptation of John Krakauer's book.
Into the Wild
is a mix of
Walden
and
Grizzly Man
, retracing the route as McCandless abandons modern conventions in his search for meaning amongst the natural world. Sean Penn's screenplay and direction are earnest, but ultimately he is far too kind to McCandless, offering up a sort of tribute instead of casting a more critical light on the young man's short life. Eddie Vedder's overly romantic soundtrack didn't help, either.
5.
The Lost City
Andy Garcia's homage to Havana, Cuba during the Batista era and Fidel Castro's 26 of July revolution looks wonderful, but the script is rambling and full of the worst film clichés. Bill Murray's role is completely awkward, and the film is far too long to work. Garcia obviously put his heart into the film, but that wasn't enough to save it from mediocrity.
---
Rachael Neile-McGrew's Best Film I Saw
No Country for Old Men
Javier Bardem has been on my radar since
Before Night Falls
and the Coens are masters in letting imagery tell the story (which really is what film is all about). Theirs are the only films that I will
always
see in the theatre the film (
Ladykillers
excluded. I call
No Country for Old Men
the best film of 2007. Thoughtful with the perfect amount of violence.
Blood Simple
grown up. Though I am not sure about a Best Picture Oscar, as I called
Children of Men
as the shoo-in last year and it walked away empty handed. So if I just jinxed the Coens, sorry.
Rachael Neile-McGrew's Best Film I Did Not See (Yet)
Michael Clayton
From everything I read, and with that cast, I am still surprised I missed this. It's okay though, because they will probably roll it out again after it gets its fair share of Oscar nods.
Rachael Neile-McGrew's Film That I Wasn't Expecting To Be That Good, But Exceeded My Expectations
The Simpsons Movie
Though unabashedly a HUGE Simpsons fan, I really wasn't expecting the movie to be as good as it turned out to be. I feel my worries were justified, considering the last four seasons as proof of declining quality in the storylines, but bringing back the old-timers to pen the screenplay was a very smart move.
Rachael Neile-McGrew's Best Movie for What It Was
Tie:
300
and
Ratatouille
Except for the "talking" scenes,
300
was too much fun to watch. Who knew Greek history could look so cool and gay?
Ratatouille
makes up for
Cars
, the first Pixar film that fell flat with me. As formuliac as animated films can be,
Ratatouille
still made me smile and clap my hands like a little kid.
Rachael Neile-McGrew's Best Movie I am Still Waiting to be Released
Tie:
Sweeney Todd
and
There Will Be Blood
I have been a big
Sweeney Todd
fan since a friend played the soundtrack for me freshman year, so add Tim Burton and Johnny Depp, and yes, I will see this, and try not to sing along. And that will be hard.
TWBB
is based on a book by one of my favourite writers, so yes, I am expecting something good. However, Paul Thomas Anderson can be a mixed bag - I walked out on
Magnolia
, but really liked
Punch Drunk Love
. So who knows, but I also really like Daniel Day-Lewis and am interested in seeing Paul Dano speak for a whole film.
Imran Siddiquee's List Of Films That Made Lasting Impressions In 2007
No Country For Old Men
There are so many images from this masterpiece that have stayed etched in my subconscious from the moment I saw them: The bleakness of the western countryside as Tommy Lee Jones recites his opening monologue; Javier Bardem's crazed expression as he strangles a police officer; A man being chased by a lavishly lit truck in the dead of the night. Yet for all it's cinematographic glory, it's the moral conundrums of the film which haunt me the most. Chief among them: is there room for any type of morality in our time? And if not, is that such a bad thing?
Ratatouille
I saw
Bambi
when I was five years old.
The Lion King
and
The Jungle Book
have been favorites of mine for years. Yet
Ratatouille
is the only animated film that has ever brought me to tears. It's a feast for the senses, but at its heart it tells a very human tale of overcoming and inspiration. Sometimes I find Chef Gusteau talking to me in my dreams.
Away From Her
The shot of a beautiful Julie Christie standing at her window staring off into the snow is another one of those lasting images of 2007. This was perhaps the most heartbreaking film I saw all year. You rarely see films with two leads over the age of 60, but director Sarah Polley proves that we should be seeing far more.
Gone Baby Gone
The final shot - with Casey Afleck sitting miles away from an orphaned girl on the couch - was a perfectly succinct summation of the film's themes. If only the rest of the film were so exact.
A Mighty Heart
Angelina Jolie screaming in despair. A team of FBI officials and international detectives scrambling around a war room in search of the truth. Scenes of torture. Scenes of heartbreak. It isn't perfect by any stretch, but Michael Winterbottom's faux-documentary and biographical tribute is a bona fide emotional rollercoaster. Combining the timebomb thrills of
24
with a central story of love, courage and unity - this was a movie that surprised me with its entertainment value.
Zodiac
A few weeks ago I was walking around the piers of San Francisco and suddenly envisioned the sweeping introductory shot of the Port of San Francisco during the opening of David Fincher's psychological thriller, and the recollection was enough to make me stop walking immediately.
Zodiac
was a movie that got under my skin, creating its creeps with mood music and shadows, chilling in the silences as much as the shocking scenes of murder. It deftly combines elements of Hitchcock with Fincher's distinctly modern sensibility.
I'm Not There
Playing like Dylan's "Desolation Row" come to life, this was an ambitious and ultimately puzzling attempt at telling the story of one of our great storytellers. Though I suppose that if it wasn't so confusing we might be complaining of its simplicity, because there has never been a public figure as deserving of a perplexing biopic as Bob Dylan. And the fact that I regularly think about this film and its many "characters" weeks after seeing it has to be a good sign.
Eastern Promises
Vigo Mortenson fighting for his life naked in a Russian bathhouse. For that scene alone he deserves an Oscar nomination, but the way he maintains that steely look in his eyes for the full running time is what really carries this film.
Because I Said So
This film arrived in my mailbox dressed in a plain brown, unassuming package. Little did I know it held one of the more atrocious pieces of cinema in recent memory - which I unfortunately will not soon forget.
---
Josh Zanger's List Of Six Rented DVDs From 2007 That I Didn't Think Were Going To Be THAT Good
1.
Reign Over Me
I thought touching on 9/11 yet again would be nauseating, but here the terrorist attacks are just part of the backstory. The focus is the delicate balance of loss and friendship, and there are two amazing performances from Adam Sandler and Don Cheadle. I watched this movie three times in three days and enjoyed it each time.
2.
It's Always Sunny In Philadelphia: Seasons 1 and 2
This is one of the best, funniest, most original TV shows in a long time. The cast members play off of each other so well, and Danny DeVito is hysterical.
3.
The Lookout
Yeah, it's that kid from
Third Rock From the Sun
as an adult (Joseph Gordon-Levitt, who was also excellent in
Brick
). The plot is well crafted and full of twists and turns.
4.
Hot Fuzz
From the same guys who did
Shaun of The Dead
. These Brits keep the laughs coming and the action scenes are pretty exciting too.
5.
Zodiac
The way the production team captures the feeling and look of an era is nothing short of amazing. This movie is pretty creepy, especially considering there really was no conclusion. One of those that really makes you think.
6.
Blades of Glory
Definitely not Will Ferrell at his best. The combination of Ferrell and Jon Heder in skin-tight ice skating outfits is funny without anything else even happening.
--
The LAS Staff
A number of the Lost At Sea staff have worked and continue to work for various publications, both independent and commercial. Often very stifling in their narrow focus, conventional media outlets left our writers hungry for something bigger, more diverse, more communal. More active, because this is the twenty-first century and it makes sense. During it's short life LAS has accomplished many of its goals (but not all) and has in turn set new ones. Everything that we accomplish is through teamwork and cooperation, both with our regular staff writers and with our contributing writers. LAS is nothing short of a collective. Another contrasting point to some of the magazines out there is that we've checked our egos and scene ethics at the door. We welcome anyone and everyone to contribute and cover a wide range of topics. LAS does not follow your guide lines.

See other articles by The LAS Staff.
If you'd like to help spread the word about LAS, or simply want to outfit yourself with some adhesive coolness, our 4" circle LAS stickers are sure to hit the spot, and here is how to get them:
-->
Send an with $2 in PayPal funds to cover postage. Don't worry, we'll load you up with enough to cover your town. Then just be patient. They will arrive soon.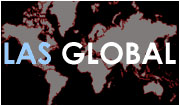 LAS has staff and freelance writers spread across North and South America, Europe, and a few in Southeast Asia as well. As such, we have no central mailing adress for unsolicited promotional material. If you are interested in having your project considered for coverage, please contact us before sending any promotional materials - save yourself time and postage!