LITERATURE
»
Full Dark, No Stars
- Stephen King's new novella questions mankind's ability to trust others.
[02.21.2011 by Bridget Doyle]
MUSIC
»
The Top 30 Albums of 2010
- Fashionably, fabulously late, our favorite music (and believe me, there was a LOT) of 2010, the year that some have called the best year for music ever. And only some of those fools work here. Plenty of usual suspects, lots of ties and a few surprises that I won't spoil, including our unexpected #1.
[12.24.2010 by The LAS Staff]
LOSTATSEA.NET
>
FEATURES
>
August 11, 2005
For 10 years, Allen Epley and his band, Shiner, taught the indie world math, or should I say math-rock. Incomprehensibly complex and heavier than nightfall, Shiner brought devastation to rock clubs here and abroad with a live show that was loud and surreal. Over the course of four full-lengths, Shiner developed a heightened sense of melody and designed increasingly detailed sonic towers that they'd demolish in powerful, sweeping crescendos. It all came to a head with
The Egg
, the band's brilliant, if spooky, last will and testament. Here lies Epley, Jason Gerken, Paul Malinowski, and Josh Newton, with an epitaph that reads, " Holy shit … did I just hear what I thought I heard?"
That was how I responded to
The Egg
, and so, when Shiner decided to disband, people like me grieved. Epley didn't. The band broke down. The gears had stopped moving. Songs weren't coming the way they used to and for his part, Epley had grown tired of trying to be more complex than the other guy. And so, he abandoned math-rock for a new sound, one that harkened back to simpler times, like the 80s. In The Life And Times, he was reborn. At first, it was just he and drummer Mike Myers. Then bassist John Meredith came aboard and an EP pregnant with gorgeous, dark epics emerged. Soon though, Meredith and Myers left, and Epley was forced to start over … again.
Enlisting former Ring, Cicada bassist and synth player Eric Abert, Epley rebuilt The Last And Times. From the start, songs seemed to gush out of them. And after they recruited drummer Chris Metcalf, the band went into the studio and through some kind of sorcery man has yet to conceive of, out came
Suburban Hymns
. Released earlier this week,
Suburban Hymns
feels like an ode to youth and memories of fast cars, love that was overwhelming to the point of obsession, and moments of recklessness and danger that could have turned tragic, but at the time, felt inspired and life-affirming. So, here's to all the amazing musicians Epley has ever played with - the anchoring bassists, the drummers who played with all the fluidity and purpose of martial arts experts, and those who coaxed incredible, sinister sounds from keyboard and guitar sounds. Your legacy is safe. And as for Epley, he's following his own muse, just like he always has. Where it leads, who knows?
LAS:
Talk about what the last year's been like, with a lot of personnel changes in the band and everything, is there just kind of a sense of relief about getting this record out now?
Epley:
Yeah, it really is. Yeah, it's a huge deal to get it out. I don't think about a turnover and personnel, I really don't. Most people honestly don't remember that Shiner started with two people. That's one of the things they don't remember. Nobody remembers Jeff Brown and Shawn Sherrill, who I started Shiner with, so they always go, "Where's Tim [Dow, former Shiner drummer]?" or whatever.
Things happen and people have lives or whatever, so it's hard to find the right people. It's not as though I shoot for the moon or end the world, or you know... I'm not trying to be Michael Jackson or some shit... I mean really not trying to be Michael Jackson. But I am trying to do something that's fairly serious, do some tours and stuff. A lot of people have wives and jobs and lives and it's hard to find people that it matches up with, so yeah it's been a huge deal, the recording. Eric [Abert, the bass player, plays in Ring, Cicada] came on about the time right when Mike [Myers, the original drummer for The Life And Times, plays with The String And Return] found a great job. And, so we found ourselves with just me and Eric for like seven months. We were trying out like four or five different drummers and that was hard. We played with some great guys who just weren't right or couldn't do it for whatever reason. Lived in another town, maybe. And we finally found Chris Metcalf from a badass Kansas City band called The Stella Link. They're a great, amazing band, and he was kind of under our nose the whole time - old friends, acquaintances - and we finally just kind of bumped into each other and said, "What are you doing?" and he was like, "I don't know, what are you doing?" He was kind of into it, so we rocked.
It was very easy from the very beginning and we started writing a bunch, and that was summer of last year. And then we went to record in November with Paul [Malinowski, former Shiner bassist] in Champaign, Illinois. That went really well. We started mixing. The mixes were half and half, so we decided to go out and do some mixing with J. Robbins, to get a fresh perspective. That was January '05 and we got it mixed and finished by about midway through January. We went out to Baltimore to mix with J., Eric and I did. And then we got it done, yeah. It took forever though. The artwork and the mastering was a real pain in the ass, but I think it's great. So yeah, it's been so long coming. It's a huge relief to get it all done, but we feel great about how it sounds, you know. We think it's awesome.
LAS:
Yeah, I've just been listening to it a little this week. It seems a little more moody and atmospheric than maybe the EP?
Epley:
Oh yeah? Atmospheric, definitely... oh, the EP, yeah, absolutely, for sure. Well, I think, honestly, the EP was really cool, and it is what it is, but it didn't really represent what we had been demoing at the time. When we went to go record with Dan [Dixon, from Dropsonic] it should have been more layered and have more extra sounds on it, but it ended up - because we went with Dan Dixon - it ended up kind of stripping down and it was what it was. We liked the EP, but this is more... it represents us. I see it as pretty straightforward in a lot of ways.
LAS:
Really?
Epley:
Yeah. I mean, I do. And if you compare it with Shiner, I find it to be much less dark and difficult than Shiner was.
LAS:
Yeah, yeah ...
Epley:
I find it to be prettier ...
LAS:
Yeah, it's more shimmering ...
Epley:
Absolutely, absolutely. So that's my opinion anyway.
LAS:
Going back to after Shiner broke up, to those first few days, did you have a plan of what you wanted to do?
Epley:
Yeah, I mean it wasn't unanticipated. You know, we had talked about it. I mean we were just four guys who wanted to like ... we'd been doing it for 10 years and felt like, we're all really good. We're not so, like, nervous about doing something else that we're just tied to this band. So we figured we all had good things to offer to the world and we knew some people would be disappointed, but we weren't necessarily writing that much. We didn't have any huge label offers. We had some cool label offers, but nothing that was a step up and we all felt like it was time to shit or get off the pot ... sorry, sorry, you don't have to use that.
But I don't know, it kind of felt like that and Jason Gerken [former Shiner drummer] wanted to do a lot of things. He needed to move to L.A. He wants to play with lots of people, you know, and Josh wants to play with different people and he was writing his own music at the time. And Paul kind of wanted to keep the band going it seemed like. So, we were just like ... I was kind of really dead-set on doing something else. I've always had a lot of demos. So, like I say, it wasn't completely unanticipated, so when it happened there was a sense of relief. Like a girlfriend or boyfriend you have to break up with at some point, and you're just ... aarrgghh, you're dreading it, but then you're just kind of loving it afterward, you know. You're loving it ... [laughing]. So there wasn't really a mourning process ... a little bit, but not really so much. To a certain extent there is, but you kind of prepare yourself for it, I think. But there were also the days following it that were filled with music making with Myers. In fact, we were very busy. I probably wrote 30 songs with Mike Myers ... before John Meredith ever joined the band. We just demoed and demoed and demoed. It was like being with a new girl or boy afterwards, do you know what I mean? It's like, you know how it is ... [laughing].
LAS:
How does the collaboration differ from the guys you're with now and the guys you were with in the early incarnation?
Epley:
It's very easy. It's very like ... right. And before, when you play with just a drummer and you just have a guitarist and a drummer, it's actually pretty easy. But when it became John, Mike and I, it was less easy. Because John's a songwriter and he just has his own muse. He's an amazing guy and a great instrumentalist and musician. You know, Someday I? And so, they're amazing. But the music-making process wasn't as free and natural as it is now. Just our personalities all just really vibe together and honestly, I wouldn't be doing any of this if it wasn't. And that's part of it. I'm not so hurting for a job that I couldn't go teach or whatever. Eric and I are actually buying a building and starting a business here in a few years in Kansas City.
LAS:
Oh, are you?
Epley:
It's going to be some cool shit.
LAS:
What does that involve?
Epley:
It's going to be multi-tasking some things, but there'll probably be a brew-and-view and probably a restaurant and maybe another room for shows. So, it's a pretty big deal, we've got some people involved. We're excited.
LAS:
Sounds good. I was just reading on the Internet the other day, did I hear that your dad is a vocal coach?
Epley:
My dad is an amazing singer and is a choral conductor and a great vocal teacher. He's my vocal teacher and was my voice teacher all through college, and many, many peoples' voice teacher and he is a mentor to thousands, tens of thousands. He got me a free ride at this great school which, in fact, drew me from Louisville, Ky., to Kansas City. It's in Liberty, just north of K.C. It's called William Jewell College and it's like Time magazine's No. 1 Liberal Arts College for '04 and '05 or '03 - like insane. It's a great, great school that I had no business attending - terrible grades and smoking as much pot as I did at the time. He helped me get in and I was on academic probation for a semester. He's great. He's also the conductor of the Kansas City Symphony Chorus, so he gets to work with amazing world-class conductors and he just did "Carmina Burana" by Carl Orff. It's very racy ... so they just did that and they do a lot of cool things. There's a Brahms Requiem coming up and they do all kinds of stuff. It's just amazing. So he's very busy with that but his main deal is head of the voice faculty and conductor of the concert choir at William Jewell.
LAS:
So is there kind of a sense that you're taking over the family business here?
Epley:
No, no ... I teach lessons at home, guitar lessons, but no ... he's always been very supportive and is a great guy, even though he knows nothing about rock. My mom knows a lot more about rock than dad does, but he doesn't know shit about rock. He really doesn't.
LAS:
Do you see the new album, to me, it's kind of an extension of what you've done before, but it seems like a real breaking away?
Epley:
I think so too.
LAS:
In what way do you see that?
Epley:
I think there's an easiness. For some reason it's just easier to just like to kind of go back to the things that really formed my musical structures. I mean like early REM and stuff and I really grew up on old U2 and things like that. And Swervedriver - great stuff like that. Not that it's as like as trippy as Swervedriver gets, but I think there's some real touches of it on our record. I've always found it very easy to write more compact tunes on my own. Not that this was on my own, because this was very much a band record, but I find it since post-Shiner is when I'll say, and even post-Flat End ... EP, it's just been very easy to write. It just flows and we're not afraid to do things that might sound like someone else ... where you say, "Oh, that sounds like old U2," and I'd say, "Yeah ... awesome." So, we don't give a shit, really.
LAS:
So you hear the Smiths and Joy Division elements ...
Epley:
Sure, yeah, I hear it somewhere in some of that. I was a Smiths fan. Yeah, absolutely, if you hear that, that's great. I think, I mean, yeah for sure.
LAS:
How's the reaction been so far to the new stuff?
Epley:
Pretty great. It has been very solid and people who are less warm to it are generally people who are very hard-core Shiner fans that also happen to be, like, Tool fans, things like that. They really want me to be something like that and we really just fuck that up. I'm not necessarily in that mode, I'm not that angry, and I'm not in a mode to play a bunch of odd-meter shit. It's not what I'm playing. I want to just like be powerful, be beautiful and just crushing. I don't want it to be ... difficult. I'm tired of people being mad or with scowls on their faces or doing the standstill, all dudes ... You know what there's a lot more of at these shows? Girls, and girls buying merchandise and talking to us afterward. Not that we're after like ... whatever. But it matters. I'm tired of every time we go play it's like, it's like ... just a bunch of old Tool fans, Tool and Shiner fans. It's like ... come on guys!
LAS:
Are you surprised at how that kind of group just can't seem to let go?
Epley:
About Tool or about that group of guys?
LAS:
No, about Shiner ...
Epley:
Or about that group of guys ... Yeah, I am surprised. But, to a certain extent, it's flattering to a certain extent because it's a band I started in my basement 13 years ago ...
LAS:
Was that your first band?
Epley:
No, I had a band before that called The Industry in college. We were very much like Rush ... The Police and Rush.
LAS:
One thing I wanted to ask ... and we can end here if you need to get back in ...
Epley:
No, no ... I'm just drinking beer in there.
LAS:
Lyrically, it seems like this album might be a little less cryptic, and a little more from the heart, would you agree?
Epley:
Absolutely, absolutely ... versus Shiner?
LAS:
Yeah ...
Epley:
Yeah, definitely, there are points of breaking like on
The Egg
and you can hear that. It's in the sound and lyrically it's in it in "Top Of The World" and "The Egg" and all that shit ... a man on the edge. I was in an interview the other day and this guy said, "It doesn't sound like you're afraid to say, 'I love you' in certain ways or whatever, something I would never say usually, even though it's said kind of like ... in the first song "My Last Hostage" is like of love gone wrong and obsession but it's more like a little wink. Yeah, there are some love songs on there. "Coat Of Arms" is a love song. I think "Running Red Lights" is a love song.
LAS:
Are these kind of like your first love songs?
Epley:
Maybe, maybe ... "Shift Your Gaze" is a love song. Definitely. But they're love songs without having to say "love" in them ever. I think it's really cool to be able to write about relationships. What else is life about? There's a whole school of thought that thinks all art has to be related to human interaction. We're not to that point, but ... definitely more human and less cryptic. SEE ALSO:
www.thelifeandtimes.com
SEE ALSO:
www.davidjcubberly.com
--
Peter Lindblad
Peter Lindblad lives in Appleton, Wis., and bleeds green and gold just like all the Packer fan nutjobs in the area. He does draw the line at wearing blocks of chedder on his head, or any other body parts for that matter, though. His professional career has taken weird twists and turns that have led him to his current position as an editor at a coin magazine. He hopes his stay there will be a short one. Before that, he worked as an associate editor at a log home magazine. To anyone that will listen, he'll swear that Shiner was one of the greatest rock bands to ever walk the earth. Yet he also has much love for Superchunk, Spoon, DJ Shadow, Swervedriver, Wilco, Fugazi, Jawbox, ... And You Will Know Us By The Trail Of Dead, Queens Of The Stone Age, and Modest Mouse, among others.

See other articles by Peter Lindblad.
If you'd like to help spread the word about LAS, or simply want to outfit yourself with some adhesive coolness, our 4" circle LAS stickers are sure to hit the spot, and here is how to get them:
-->
Send an with $2 in PayPal funds to cover postage. Don't worry, we'll load you up with enough to cover your town. Then just be patient. They will arrive soon.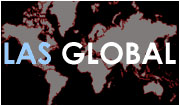 LAS has staff and freelance writers spread across North and South America, Europe, and a few in Southeast Asia as well. As such, we have no central mailing adress for unsolicited promotional material. If you are interested in having your project considered for coverage, please contact us before sending any promotional materials - save yourself time and postage!