LITERATURE
»
Full Dark, No Stars
- Stephen King's new novella questions mankind's ability to trust others.
[02.21.2011 by Bridget Doyle]
MUSIC
»
The Top 30 Albums of 2010
- Fashionably, fabulously late, our favorite music (and believe me, there was a LOT) of 2010, the year that some have called the best year for music ever. And only some of those fools work here. Plenty of usual suspects, lots of ties and a few surprises that I won't spoil, including our unexpected #1.
[12.24.2010 by The LAS Staff]
LOSTATSEA.NET
>
FEATURES
>
October 26, 2007
Ed Foster has been bicycle crazy since childhood. As a boy he would spend sunny days riding bikes, and rainy days taking them apart, as the story goes, and recently Foster founded La Suprema, a startup company allowing him to continue his passion for bikes, in the professional realm.

An extension of his bike workshop, Ed's Bikes, the Tucson, Arizona-based as La Suprema is Foster's avenue for the production of high quality, handmade custom bicycle frames, an arena with a tradition of craftsmanship and rabid connoisseurs to rival gunsmithing or winemaking. Unlike many of his boutique-label contemporaries, however, Foster's mission is not to sculpt dainty showpieces, but rather to fabricate frames which are built to purpose, strong, simple, reliable, and affordable. As a longtime cyclist I was intrigued by this local company, especially after a chance run-in with Foster at my Xoom shop, an encounter that inevitably let to talking about bikes. I was also keyed up about Foster's role in creating regular, community-based group rides here in Tucson; I've since ridden with the Sunday night pedal pushers, and can attest to its success. Full of questions for a guy that arguably qualifies as a local bike guru, I recently indulged in a thorough picking of Foster's brain on behalf of Lost at Sea, which has chain grease lubricating its magazine drivetrain.
---
LAS: OK Ed, before we get started, my requisite first question: have you been for a ride today?
Ed Foster
: Yes! Today is a good day. This morning I rode with El Groupo, the high school cycling team. We did 60 miles; through town, out Old Spanish Trail, over Pistol Hill, and back. They are a great bunch of kids, lots of energy, fun to ride with.
We both hail from the vicinity of San Francisco; where did you live in the Bay Area, and did you enjoy it?
The Bay area has so much; there's something for everyone. I love diversity - the art galleries, good food, sailing, and the smell of the sea - and the bike riding. I deeply enjoyed biking on Mt. Tam [across the Golden Gate in the Marin headlands], the attested birthplace of mountain biking. A favorite memory is sailing to Angel Island, and then biking the island's single track. An old friend and I did this whenever we got the chance. I had a spot in Berkeley, on Telegraph Avenue, close to campus.
When, why and how did you find your way to Tucson?
It was six years ago this month, part of a self-reinvention and reevaluation of priorities. I had grandparents in Tucson, who moved here for the dry weather. My friend with the sailboat fell into poor health, and moved to the desert as well. Another friend bought a historic house in downtown Tucson. He asked me to help fix the place, and that was the final push. I moved here with few possessions: A chest of tools, a box of books, a trunk of clothes, and a handful of bikes. Priorities, you know.
What did you think about cycling and bike culture in the Bay Area?
Bike culture runs deep in the Bay Area. Cycling for some is an identity, a way of life. There are roadies, commuters, messengers, flatlanders, and kids riding fixed gear - all of them dynamic and committed to the fullest. The Bay Area has a high concentration of bicycle frame builders, and awesome bike shops as well: Missing Link bike co-op, Jitensha Studio, American Cyclery, Sycip, Rivendell, Ibis, et cetera. And there are so many places to ride: In the City, Marin County, Berkeley Hills, Sonoma.
How would you compare cycling in the Bay Area to The Old Pueblo?
San Francisco is compact, dense. A person can reasonably walk from one part of town to another, Berkeley is similar. And there's a lot to see: It's not unusual to meet a family with bicycles on [Bay Area light rail system] BART; or on MUNI, with a pair of sneakers as their only means of transportation. Tucson is different, we're spread out. Roads are straight, wide, and unadorned. Cars go screaming past. And then there's the heat: commuting by bike in Tucson takes grit.
Ever had any close calls with cars, buses, trains, planes?
Every day. This morning, someone was whipping a trailer behind an old pickup truck. The thing missed us by an inch. Yesterday a truck downtown did this cut in front/slam on the brakes maneuver. It put me in this crazy half sideways skid with a hand full of front brake, directly on his bumper. I mean it was really close. Another close call recently: It was a dark and stormy night - it was - and I was riding fast with the Sunday night group. We were playing in traffic when I caught a patch of grease in the Stone Ave underpass. Luckily the Chevy truck riding my rear wheel cared to stop.
Most unforgettable is getting doored in Berkeley on Valentines day. I was hurrying, running a little behind; I had a date. Some guy parked on College Ave just threw his door open, I swerved and caught the knife-edge. Man, that hurt.
Tell me about your bicycle workshop, Ed's Bikes - what do you mainly do there?
The shop is in a 100-year-old warehouse built as a millwork. It's part of the Downtown Tucson Warehouse Arts District. Mainly, I make bicycle frames and forks one at a time. The frames and forks are made with specialty tools that I made in this shop.
How did you get into frame fabrication?
I had a job as a production machinist; I made gun parts, brackets for things, and pieces for satellites. I also made tools to make those things. The machine shop was noisy, unsafe, and co-workers were obnoxious. My commute, 12 miles one way, was the best part. So I kept the things I liked about my day, and scrapped what I didn't. I like bikes, I like positivity, and I like making useful metal goods. I just put the good things together.
What is the learning curve for building frames, and what sort of training does it entail?
As a machinist, I have two Associates' degrees. As a welder, I have 20 years of practice. As a bicycle maker, I found some old books, talked to a few seasoned frame builders, a metallurgist, and ran the idea past an old time production engineer. Then I figured it out myself. Learning was painful. I used a careful, scientific approach, applying everything I knew about geometry, machining, and tool design. It took several months to make the tools and develop a process. And I'm still learning. The best projects are those that break the routine and make me think.
A tremendous amount goes into building handmade frames; indeed it's an art. What makes your frames different and special?
Price. Supremas cost half that of similar bikes on the market. I want them to be within reach of any working stiff with a plan. These bikes are made by hand, one at a time, with devotion. I play old jazz records for them. They are silver brazed, which is more gentle on the steel than the usual method of bronze. This makes a stronger joint and a livelier, better riding frame. In developing a method, I solved several measuring and alignment problems, for which a veteran frame builder had said there were no solutions. Trade secrets, I suppose.
Can you walk us through the process, from concept and design to welding, and production?
First, what kind of bike does the customer need? Mountain, road, cyclocross, fixie [fixed gear], all-arounder? Then determine the fit: Measure the customer; fine-tune these measurements on the size cycle. And zero in on the exact frame geometry based on riding style. The type, diameter, and thickness of steel are [determined] by rider weight, strength, and experience. Next we choose how the bike will look: Lugs, fillets, fork style, and any extra braze-ons.
The rest is up to me. I start by drafting the frame on a precision surface plate. This is a 900 pound slab of granite, polished flat to .0004 inches. I build the frame two sections at a time, starting with the fork crown and steer tube, and working back. In this way, the frame has no internal stresses, and the geometry is as intended. From here, I do an alignment check, braze-ons are added, and the frame is filed, sanded, and prepped for paint. The frame is sent to TST for powder coat paint or to Hughes Moto Art for wet paint & graphics. Last step: I chase and face the threads, apply decals, and make a final inspection.
How about the name La Suprema, which I dig; aside from the "roll off the tongue" aspect, from where did it come?
La Suprema is similar to Acme, Pinnacle, or Top - it's universal. Cigars, a fancy cruise ship, and locally made tortillas all have the name La Suprema. I chose the name in Spanish because it has a feminine sound, like a two-word poem. Also the text "La Suprema" just looks cool as a logo. The script logo is reminiscent of the old Iver Johnsons and early Schwinn Paramounts.
When did the company form, and how's it going thus far?
La Suprema started exactly one year ago. It's fun. I've met a lot of people, made new friends. I ride more, I work harder. Right now, the business is right where it should be, neutrally buoyant and debt-free.
Where and how do you procure the raw materials for building your frames?
High quality tubing is still drawn by a handful of companies worldwide: True Temper in America, Columbus in Italy, and Tange in Japan. These tubes, as well as small parts and castings come from distributors such as Quality Bike Parts, Henry James, and Nova. Also a high quality German-made steel tube is made for aircraft frames, and works well in some bike designs. For parts that are not readily manufactured, I make them myself.
Are the frames custom made to order?
Every one of them. There are no ready-made frames. Each is numbered and cataloged, too. There's a record in case one needs to be duplicated.
Who are your main customers - roadies, commuters, fixie fanatics, all of the above?
It comes in waves. Lately it's fixie frames, and commuters wanting touring upgrades on their old bikes. In July, I only got small repairs, and orders for forks. Fixed gear and track bikes are the new black. I predict touring bikes will be the next hot item.
How does one go about getting their hands on a La Suprema frame? How much will it set one back?
Just ask, and throw down. I take half up front to cover costs. The rest is due when the work is done. And the wait is relatively short, about a month. A nice fixie or road with classic True Temper tubes goes for about a $Grand.
Do you have any long-term growth plans or strategy for the business?
A business can put up signs, make ad campaigns, and all that. But in the end, I believe happy clientele and affirmative words between friends will build the best customer base. La Suprema will continue to stay small, and offer a handmade product.
You are steeped in cycling, what are some of your proudest moments?
Crossing the Golden Gate at dawn, when I was the only vehicle on the bridge. It was a grand tribute to a guy on a bike.
Your website has antique images of bicycles, and bike history is an area of interest to you. Could you elaborate?
The invention of the bicycle caused quite a stir, socially. Ministers condemned it, roads were paved because of it, and women started wearing pants. Mass production in the United States owes its start to the Pope bicycle factory. Henry Ford, and the Wright Brothers were bicycle mechanics. The U.S. Army dreamed up mountain Biking: soldiers on bikes could cover more ground than soldiers on horses. Check out Archibald Sharp's treatise in bicycle design,
Bicycles and Tricycles
, published in 1896. It's all there: Elliptical chainrings, aero wheels, suspension, clipless pedals.
How would you define bike lifestyle in the 21st century?
Those who bike daily, as their main form of transportation, usually live in urban centers. San Francisco, New York City, Portland, Chicago, et cetera, are hubs of urban cycling because of their layout. There aren't many commuting cyclists from the suburbs. Ergo, I feel cycling will continue to be polarized, [tending] toward city centers as fuel and parking become scarce; cities will become more bike friendly as a result. Human power will become the norm, and the automobile will be a delivery vehicle. Think Holland. Internal combustion is so 19th century.
When I lived in San Francisco, I admired the strong numbers of bike messengers, and even wanted to be one. What about you, have you ever been a messenger?
They work way too hard. And every now and then, one would get pinned under a MUNI car. Those guys (and girls) are in the trenches, fighting city traffic, dealing with people in offices. I admire their passion.
Do you think towns like Tucson, being smaller & more spread out than urban centers, can benefit from having bike messengers?
I see this as a potential niche market, like "organic produce delivered by bicycle." Tucson's curriers drive Civics; we are too spread out for bikes to be effective.
Speaking of San Francisco, it was the first city to host Critical Mass, a concept imported from China. Did you ever ride it, and what are your thoughts on it?
I avoided it. A clutter of bikes converging on downtown at rush hour seems counter-productive. It just upsets people who are already grumpy, and plugs up streets that are not flowing. To me, the lone cyclist who effortlessly slices past a long line of cars makes a stronger statement.
You and a friend, Nick, have created a group ride here in Tucson - tell us more about its origins, purpose, and whatever else we should know.
We got the ball rolling for two different night rides. The Tuesday night ride is a community ride; all are welcome. This ride has grown much larger than we had expected, and has taken on a life of its own. It's starting to look like Critical Mass: leaderless, spontaneous routes, blocking intersections, and all that. The main difference is that we are pro-bikes; Critical Mass is anti-car.
To date, it's a positive group. We try and keep to one lane, ride slow in front, respect motorists. We're not trying to cause a scene. We ride at 8pm, so traffic is light. It's up to 300 riders, and growing. And I'm not the only one on this ride who has made new friends and business connections. The vibe is warm and happy. The ride ends downtown for foot-down games and hanging out.
Tuesday night started because Nick turned 21 on a Tuesday. We got some friends together for a ride to celebrate, and it stuck. Sunday night is a completely different scene. Two dozen fixed and track bikes burning through city streets after dark. Races are improvised, games invented. Regulars have scars from this ride. You're welcome to join us tonight.
In the grand scheme of getting more bikes used as alternative transportation, how can you and/or La Suprema help the cause?
Tuesday nights are getting more people on bikes. Cyclists with less experience feel comfortable in the pack. Many riders have expressed an increase in confidence from this ride. Seeing people on bikes will encourage others, and just setting an example helps. Contrary to what is in big newsstand bike magazines, Spandex and tap shoes are not necessary for efficient or fun riding. Any bike with any set-up will work... The bakfiet is the other missing element. I'd like to offer a big hauler. Something that can carry a living room set. I have short-range plans for a trike. The shop can use one.
Are there companies that you admire, either in your industry or not, that you consider emulating with aspects of La Suprema?
La Suprema will remain a small, one-at-a-time frame shop, so I admire other local businesses that have stood the test. Taņas Mexican food - Rudi sells burritos and big-time real estate. He's so focused, always on. If he ran for mayor, I'd vote for him.
In the industry:
Bohemian Bicycles
, a local frame builder, has made a super-sweet product for 15 years. And David is a friendly, helpful guy. I feel I can call his shop for any reason, and he'll do whatever he can to lend a hand.
The bike world is full of colorful characters, met any worth noting?
Every November, 5000+ cyclists come here for
El Tour de Tucson
, a 109-mile charity ride. One guy rode the whole thing in a Darth Vader helmet. Another guy had green chili tamales in his pockets. He gave me one, it was delicious.
I ride a fixed gear and love the simplicity. What's your take on the recent wave of fixies out there, especially in hip cities like Portland, and on college campuses?
If someone came to me and said "Build a bike that will get me through Armageddon," I would build them a lugged steel fixed gear. The simplicity of fixies makes them reliable and efficient. Fewer parts mean less to buy, less to repair. An old road bike with worn components can be converted easily, by removing all the unnecessary bits and changing the rear wheel. Bikes have faded in and out of fashion since the beginning. They were popular in the 1890s, in the 50s, the 70s, and now it's happening again. I like the fad. People are on bikes again, and that's cool.
What is your personal bike, and how's it set up?
Presently my favorite is a fixie with a front basket. I call it "Skid Mark." It's the first frame I built. Lugged here, filleted there, tig-welded in places. No paint, just oiled to halt the rust. She's light, about 17lb. Every nut, bolt, and screw on the thing came from
BICAS
, our local bicycle nonprofit and educational resource.
What do you do when your not in the workshop, any other jobs or activities that keep you busy?
Painting, photography, rides, rides, and more rides. There's a neighborhood art show coming up - I'm 'gonna show some paintings and a bike.
With the growing popularity of iPods, more folks are riding with their personal soundtracks. I personally like to have me ears open for screeching cars, what's your take in this trend?
Never mind the cars, they can't hear other bikes. I've had more close calls with plugged-in people, whether it's iPod or cell phone.
Are you a culprit?
I've tried it. The cord is in the way, the cars are still audible, and wind noise seems amplified. It's not for me. The iPod, however, does come in handy at the supermarket. Especially those huge corporate places that play a brackish mix of lite-rock-love-songs and commercials. Just drown it out!
Final question: clipless, flat or toe-clips?
Toe-clips. It's nice to get where you are going and have comfortable walking shoes. SEE ALSO:
www.edsbikes.us
SEE ALSO:
www.critical-mass.org
--
Ari Shapiro
A staff writer for LAS, Ari Shapiro mixes up pretty unique smoothies at XOOM in hot Tucson.

See other articles by Ari Shapiro.
If you'd like to help spread the word about LAS, or simply want to outfit yourself with some adhesive coolness, our 4" circle LAS stickers are sure to hit the spot, and here is how to get them:
-->
Send an with $2 in PayPal funds to cover postage. Don't worry, we'll load you up with enough to cover your town. Then just be patient. They will arrive soon.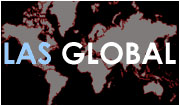 LAS has staff and freelance writers spread across North and South America, Europe, and a few in Southeast Asia as well. As such, we have no central mailing adress for unsolicited promotional material. If you are interested in having your project considered for coverage, please contact us before sending any promotional materials - save yourself time and postage!